How to Maintain Your Interpersonal Relationships
Most people desire to have a healthy partnership with a spouse or significant other, but interpersonal relationships, in general, are also important.
Learning interpersonal relationship development skills can help you to communicate with and get along better with those in your life, so you can enjoy more satisfying relationships with the people around you.
Tips for how to maintain interpersonal relationships are helpful to keep in mind.
What are interpersonal relationships?
Interpersonal relationships can be described as the connections you have with the people closest to you. This includes your romantic partner or significant other, as well as family members and close friends.
You also have interpersonal relationships with neighbors and people you regularly interact with, such as coworkers.
Relationships fulfill a variety of needs in our lives, and they contribute to physical and emotional wellbeing.
This is why it's so important to know how to maintain interpersonal relationships.
We all have various relationships with different types of people throughout our lives, and while some relationships may not be lifelong, the skills required for healthy interpersonal relationships are useful for just about any relationship.
Related Reading: 

Types of Interpersonal Relationships
Stages of interpersonal relationships
One of the characteristics of such relationships is the fact that they develop in stages.
In a study conducted by George Levinger, he identified five stages of interpersonal relationships and called this stage theory, which includes:
Acquaintance

Buildup

Continuation

Deterioration

Ending (termination)
1. First stage – Acquaintance
In the beginning, a person with whom we have an interpersonal relationship is merely an acquaintance. To begin a relationship people need to know each other well.
Two people may meet at some spot and in a split second hit it off. Individuals feel pulled in to one another and choose to go into a relationship.
Getting acquainted helps us to get to know one another and start a relationship.
2. Second stage – Build up
After the first stage the relationship moves to the buildup stage and then the continuation stage.
This is the stage when the relationship really develops. People are no longer outsiders and begin confiding in one another.
Compatibility is essential for the relationship to proceed for a more extended timeframe.
People with comparative interests and foundations will in general gel with one another more when contrasted with people from assorted foundations and various goals.
This stage in a relationship is regularly described by two people approaching, being enthusiastic and feeling for one another.
3. Third stage – Continuation
This is the stage when a relationship blooms. It is when individuals in the wake of realizing each other well, choose to be together.
Trust and straightforwardness is fundamental for the appeal to remain in any committed relationship.
4. Fourth stage – Deterioration
The fourth stage is the deterioration stage, when the relationship begins to unravel.
Absence of similarity, trust, love and care regularly lead to false impressions and issues in relationship.
People once in a while discover it very hard to change with one another and in the end choose to end their relationship.
Bargain is a vital piece of each relationship.Individuals neglecting to bargain with one another think that it's hard to take the relationship forward.
5. Fifth stage – Termination
Deterioration is followed by termination when a relationship results in a breakup and ceases to exist.
The final two stages are the reason that it is important to learn how to have positive interpersonal relationships because these stages occur when the relationship is not maintained.
It is also important to understand that some relationships never make it past the acquaintance stage.
If you want deeper relationships that provide emotional and social support, you will need to develop strong interpersonal skills so that you can have more meaningful connections with those in your life.
While interpersonal relationships do require effort to maintain, it is also helpful to keep in mind that not all relationships are meant to last forever.
You may change jobs or move to a new town, and it may not be feasible to maintain close relationships with former coworkers or with friends who live across the country.
It is still important to cultivate the relationships that are most important to you so that these relationships do not deteriorate beyond repair.
Related Reading: 

Steps to Repair Your Relationship
Why are interpersonal relationships so important?
Building relationships and maintaining them is so important because these relationships improve our lives. Quite simply, healthy, close relationships with others make us happy. They also fight off loneliness and make us feel as if we belong.
Relationships with family members, friends, and romantic partners also provide us with social support. These relationships offer emotional support when we are struggling, and they give us someone to turn to when we need advice or a listening ear.
Close relationships also give meaning to our lives. For instance, through caring for loved ones and being available to them, we create a purpose for ourselves.
Even casual friendships and acquaintance relationships provide our lives with meaning. We may meet with friends or acquaintances to engage in shared hobbies, such as exercising, playing sports, or crafting.
The importance of interpersonal relationships also applies in the workplace. In fact, a 2018 study found that highly stressed doctors experienced reduced stress levels and improved sleep quality when they had support from colleagues.
Another research found that the quality of interpersonal relationships at work affects an employees' propensity to engage in counterproductive work behaviors.
What this means is that healthy interpersonal relationships are beneficial in the workplace, as well as in your private life.
Cultivating these relationships not only provides you with people to share the joys of life with but also gives you support for getting through life's challenges.
Also Try: 

Is There a Workplace Romance Stirring for You Quiz
10 ways to maintain powerful interpersonal relationships
Once you understand the importance of interpersonal relationships, it is also helpful to know how to maintain interpersonal connections so you can reap the benefits of strong interpersonal skills. Here are ten useful strategies:
1. Communicate conflicts
All relationships involve conflict from time-to-time. Managing relationships requires addressing conflict when it arises.
You may be tempted to hold in your feelings to keep the peace, but if you experience a disagreement or something is bothering you, it is important to communicate this, whether it is with a relative, a close friend, a coworker, or your significant other.
Be honest about your needs, but also willing to listen to the other person's side of the story.
2. Be receptive to constructive criticism
Sometimes, people we are close to may have to provide us with constructive criticism or feedback. For example, in the workplace, this may involve a colleague offering advice on how we can improve our performance.
In friendships, we may receive feedback or advice about certain life decisions. If you want to maintain healthy interpersonal relationships, you must be open to feedback instead of becoming defensive.
Oftentimes, when people who are close to us offer constructive criticism, they are looking out for our best interests because they care about us.
3. Try to be open
If you are guarded with your thoughts and emotions, building interpersonal relationships will be difficult.
If you want to develop connections with people and grow closer to them, you have to share parts of yourself with them and allow them to share parts of themselves with you in turn.
4. Express empathy
Empathy is an essential component of social interactions.
The ability to be empathetic, or put yourself in someone else's shoes, is critical for improving interpersonal relationship dynamics. When you are empathetic, people will feel heard and understood.
The next time a friend or loved one expresses their feelings, try to imagine yourself in their situation so you are able to be more empathetic.
5. Put time into the relationship
One of the greatest gifts we can give to the people we care about is time. Sometimes, life gets busy, and it is difficult to catch up with friends.
Everyone understands this, but if you can make time for a phone call or quick check-in, even when life gets busy, this shows the people you are closest to that you care about the relationship and want to maintain it.
With close friends, you may have to make an effort to get together for coffee or catch up with a phone call, but the effort is worth it if you want strong relationships.
6. Set healthy boundaries
All successful relationships require boundaries. For example, if being involved in your children's activities is important to you, you may have to communicate to people at work that you cannot stay late on days that your children have games.
In addition, you may value your three weekly sessions at the gym and ask your partner to tend to the children for an hour so you can make these sessions a priority.
Setting boundaries in this way allows you to take care of your own needs and builds respect within the relationship.
Be sure also to respect the boundaries of other people in your life. You will be less likely to resent people in your life if you set boundaries, and they will build respect for you when you honor their boundaries as well.
Also watch: How to set boundaries in your relationship

7. Learn to listen
It may seem cliche, but being a good listener is so important for strong relationships. Listening to the people you care about communicates to them that their needs and feelings are important to you.
It also makes them feel valued and important. When you are having a conversation with a close friend, a family member, or a colleague at work, be sure to truly be present with them and listen to understand.
Remember, listening makes up half of all communication.
8. Express appreciation
Everyone wants to feel that their efforts are acknowledged and valued. When the people in your life do something nice for you or go out of their way to make you happy, be sure to express your appreciation.
Remind them of how much they mean to you and how grateful you are for what they do to help you.
9. Be accepting of diversity
One important part of how to maintain interpersonal relationships is the ability to be accepting of diversity. You will encounter people with various values, beliefs, and cultural backgrounds.
If you want to connect with others, you must respect diversity and open your mind to experiences and opinions that are different from your own.
This means that while you may not always have the same worldview as those in your life, you can still respect them. It can be helpful to learn about the cultural backgrounds of friends, coworkers, or acquaintances who are different from you.
10. Prioritize trust
Healthy interpersonal relationships require trust. Trust leads to feeling safe within a relationship and requires you to admit to your mistakes, apologize when you are wrong, and be dependable.
Quite simply, if you say you are going to do something, such as help a friend or meet a certain deadline at work, follow through with it.
If you make a mistake, take accountability for it, offer sincere apologies, and do better the next time. Relationships flourish with this level of trust.
Related Reading: 

Tips to Build Trust in a Relationship With Your Partner
Conclusion
Interpersonal relationships are important for your overall well-being, as they can reduce stress and provide you with a source of emotional support.
There are a variety of different types of relationships, such as those with friends, family, coworkers, and your spouse or significant other. Given the importance of relationships, it is critical that you put effort into maintaining them.
You can ensure healthy interpersonal relationships by making an effort to communicate, being open to sharing your feelings and accepting constructive criticism, and taking time to prioritize these relationships and express your appreciation.
It is also important to build trust and set healthy boundaries. The efforts you put toward managing relationships are sure to pay off when you experience the benefits of close ties with other people.
Share this article on
Want to have a happier, healthier marriage?
If you feel disconnected or frustrated about the state of your marriage but want to avoid separation and/or divorce, the marriage.com course meant for married couples is an excellent resource to help you overcome the most challenging aspects of being married.
More On This Topic
You May Also Like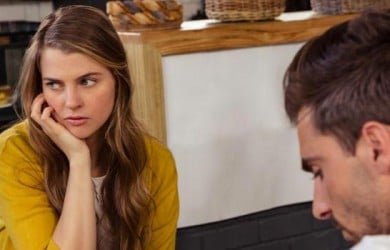 Popular Topics On Married Life