100 Best Words Of Encouragement For Men
The average man you'll meet in your life may look strong. You might look at his confident posture and assume that nothing can make him feel down. You may not know that words of encouragement for men mean a lot to them.
When you use the right inspirational words for men, you make them at ease and remind them of the winner in them. Determining when your man needs these words can be difficult because he may look okay on the outside, even when he feels dejected inside.
So, as you get into a relationship, make it a point of duty to use your words to encourage your man. Saying the right things to him will help boost his self-esteem, keep your relationship exciting, and make him love you more.
What if you don't know what to say? Then don't worry. This article will give you all the information you need.
Why say words of encouragement for men?
According to statistics, about six million American men get depressed every year. Because men are usually raised differently, it is easier for a man to be depressed for a long time without anyone noticing a change.
Often, this depression can result from pressure, personal or societal expectations, and when he feels like his life isn't going as planned.
Because of this, knowing how to use encouraging words for men is a skill you should consider picking up. The best part is that you don't have to wait until you get into a relationship.
You can easily use these words to keep any man in your life going, even when he looks and feels dejected.
So, as you pick up all the supplementary love skills you need in a relationship, learn how to encourage a man. Thankfully, this article will show you 100 powerful words that can make any man feel good.
100 best words of encouragement for men
If your partner is having a bad day, words of inspiration for him can add some positive energy to his day. It can make them focus on the things that are important and healthy for them.
Here is a list of some impactful words of encouragement for men. Please pick out the most appropriate from this list and try as many as possible on your man.
Words of affirmation for men
I am proud of the man you have become.

I love working on projects with you. You are dedicated, resourceful, and committed to your work.

I am glad you've got my back, even when it looks like we can't stop arguing.

I love knowing that I can count on you. Your presence reassures me.

You inspire me to push through the limits.

I love knowing that you want me as much as I want you.

I am grateful to have you in my life.

I can't wait to share the rest of my life with you. I want to grow old with you by my side.

Being with you makes me happy. There's an indescribable excitement I feel when I know you're here.

I am praying for you today. I know you have what it takes to be successful.

You've got this, and I've got you.

I love, respect, and celebrate you. I will always love and celebrate you for as long as we are together.

I have searched, but no one makes me feel like you do.

You are the only man I want. Even when I act like I don't want you, know that my love keeps reaching out to you.

You occupy a special place in my heart and life. No one can be as special as you are to me.

You have made a great partner to me. I am glad we are together.

Tough times don't last, but tough people do. I know you will get through this because you are a tough man.

Think of all the things you've survived in the past. If they couldn't keep you down, I am sure this will not end your life either. I know you will be fine.

Keep your attention on doing the right thing; the rest will sort itself out when the time is right.

Don't trade your peace of mind and values for anything. When the chips are down, nothing else matters more than that.

No one and nothing can stop you from achieving anything you set your heart to. You will always surmount every mountain on your way.

You are my man, and I love knowing you are the one for me.

Thank you for working hard to give us the life we deserve. Thank you for supporting my dreams and allowing me to be the best version of myself.

I look at you and see beauty. You are just one handsome man who has made me a lucky partner.

You know the right things to do to make me happy and safe. Thank you for being your amazing self.

You made a mistake? Don't beat yourself up for that. You are only a man, and you may make mistakes. But I know you are not just a man because you will pick yourself up and move on immediately. Soon enough, you will look back and not remember these mistakes.

I love how we complement each other perfectly. You make being in love feel so good.

I trust you'll make the right choice for us, so I will allow you to make this decision. Rest assured that you have my unwavering support in anything you choose to do.

Your happiness makes me happy. So, I will do all I can to keep you happy.

You are a strong man. Nothing can keep you down.
Words of gratitude for him
Some of the best words of encouragement for a strong man is to make him know that you are grateful to have him in your life.
Encouragement for men can give a positive boost to their life. Here are some words that will show him you're grateful for his presence and love.
Thank you for loving me the way you do. I love being with you.

You make the best boyfriend. I would know because I have never felt this way before.

Thank you for being so thoughtful and making my life easier than it would have been without you in the picture.

You make me feel beautiful, cherished, and appreciated. I love and celebrate you for this.

You are honest and truthful. For these reasons, I feel safer in this relationship because I know you'll never try to harm, hurt, or deceive me.

I am fortunate to have you in my life.

You complete me. Thank you for being your authentic and unreserved self with me.

You are one of the reasons why I am where I am today. Thank you for pushing me beyond what I thought was possible. Your faith in me has helped me have more faith in my capabilities.

You are sexy. I love how you make me feel when we are getting intimate. You make my body light up in pleasure.

I love how you understand my needs even when I don't feel strong enough to tell you exactly what I want. I love how you play my body like a harp and cause me to light up with pleasure.

You are just perfect. Your smile, voice, and wisdom are enough reasons to love you daily.

Thank you for being an amazing father to our children. We see you, and we love you for being here for us.

I remember when I was in a fix and desperately needed help. Thank you for coming through all those times when I called on you out of thin air. Your dependability is worthy of emulation.

Thank you for standing up to them for me. I am sure they'll never try to make a mess of me again because they know you're on my side.

Thank you for the numerous sacrifices you make for this relationship to work out. I see your compromises, and I will do my best to ensure you enjoy this relationship as much as I do.

Thank you for always standing for what is true. I love how predictable our lives are because I completely believe in your uprightness. Don't stop being this honest man I have known all this while.

You are a great model for the people in my world. I love that I can tell them to look at you if they need the perfect picture of who a great partner is. Thank you for being the best.

You have encouraged me to become who I have dreamed of becoming. Since we got together, I have seen myself soaring higher than I have ever thought possible.

Thank you for being loyal. You always give me the benefit of the doubt, no matter how bad things may seem.

You always put a smile on my face. Being with you has made me a happier person. Thank you for always adding a bright spark to my day.

You are an amazing role model to me. I have learned so much just by watching your dedication, attentiveness, and commitment to excellence.

You are every inch as committed to yourself as you are to others. Thank you for always going for knowledge and ensuring that you end each day better than you started it.

You live in your truth and encourage everyone to shun the lie. Beyond this relationship, you have been a true friend. Thank you for making me feel safe to confess my secrets to you.

My biggest pride is knowing that you are my man. You make me proud to be associated with you.

You helped me overcome the demons from my past. I love how much the negative energies have left since you came in with your light and love.

If I were to ask for another man, I would choose you again and again.

You have taught me what it means to dream big and pursue my dreams with all I've got. Now I know that there's nothing I wish for that I can't have.

If I were to give you another name, I would call you courage. I love how you go after what you want and shut your ears to what people say or think about you.

Thank you for the little things you do, even when I don't ask. I don't take your thoughtfulness for granted.

Our family knows how amazing you are because you make out time to be with us. Thank you for prioritizing us out of everything that could be at the top of your list.
To learn why showing your appreciation is your superpower, watch this video:
Encouraging messages for when he has a hard time
One of the best times you can use words of encouragement for men is when they're experiencing hard times. These hard times could be in their career, personal lives, or concerning their ambitions.
Here are some inspiring words for men that can cheer them up.
Please keep your mind open to opportunities. Your prayers will get answered. Sometimes, they'll get answered in ways different from what you've imagined.

Please stay on the right path for yourself. Though the tunnel is dark, never forget that there's always light at the end – no matter how long the tunnel may seem.

Even if you lose everything, please don't lose your happiness. No amount of loss is worth your peace and joy. Hold onto them, and everything else will return.

Remember that the real limitation is in your mind. Once you believe you can, nothing else can stand in your way.

This too shall pass.

Just remember that I am here for you. If you need anything, do not hesitate to reach out to me.

With me, you have a shoulder to lean on. Don't be ashamed to cry on my shoulders.

Keep a smile on your face even during the storm. The smile attracts your helper and keeps you stronger.

I will always stand by your side, no matter what people say. Rest assured that you have a loyal ally in me.

It may have been tough, but know that we are here for you. Never think, for one second, that you are alone.

I believe in you and your ability to make things right again.

I trust you.

I won't let anything or anyone tear you down. I will do my best to build you up with all I've got.

Think about all the times you came up with the perfect solutions. This won't be any different.

Accept your faults. They will serve as lessons and stepping stones to the future you desire to walk into.

With you by my side, I am sure we can weather all the storms life throws. You are the best.

Although the times may be dark, never lose sight of the guiding light shining brightly within you.

When life gets too difficult, don't forget that there's an inner strength that can keep you going. You just need to unlock it.

Although you feel alone, don't forget that you owe yourself self-care.

Maybe, life was trying to use this disappointment to teach you how to stop putting much faith in people.

It only gets better. Trust me!

Don't forget to turn on the light that shines within you everywhere you go. Others may not see it, but I can.

Don't lose sight of your childhood dreams. They can inspire you to keep dreaming as an adult.

You are a warrior.

Keep your hope alive, and you won't get beaten down by life's challenges.

I have put you in my prayers. You will be fine.

You can get through this, even though it looks bad.

Depression has got nothing on you.

Every storm you've gone through only made you a stronger man.

I want you to see limitations as stepping stones to your ultimate success.

Do life at your pace. Don't judge your success by another's standards.

I consider your strength of character incredibly sexy.

Even when you don't believe it, don't stop telling yourself that you matter.

I am here.

You are not alone. I will ride this storm with you.
Inspirational quotes
Here are some quotes to serve as words of motivation for him:
Try not to be a man of success. Instead, focus on being a man of value. – Albert Einstein.

The good man is the man who, no matter how unworthy he is, strives to become better every day. – John Dewey.

There are two ways of meeting difficulties. You either alter the difficulties or alter yourself to meet the difficulties. – Phyllis Bottome.

The ultimate measure of a man is not where he stands in times of comfort and convenience but in where he stands in times of challenges and controversy. – Martin Luther King Jr.

You spend time with your family? Good. Because a man who doesn't spend time with his family can never be a good man. – Don Vito Corleone.
How do you encourage your man when he is down
Science has shown a relationship between a man's mood and words. This is why you must learn how to use words of encouragement for men if you plan to be an amazing partner.
Use the words we have covered in this article to encourage your man when he is down. Then again, it is up to you to find the best words of encouragement for him from this long list you have been provided with.
In addition, remember to always create a conducive environment for him to feel at home with you.
In a nutshell
Knowing how to use inspiring words for men is an important part of every thriving relationship where a man is involved. At some point, your man may feel depressed or overwhelmed. Using these words can help improve his mood and, by extension, the quality of your relationship.
If you try everything you can without success, don't hesitate to suggest that he gets professional help. Also, let him know that you'll be with him through the process because it can feel overwhelming.
Share this article on
Want to have a happier, healthier marriage?
If you feel disconnected or frustrated about the state of your marriage but want to avoid separation and/or divorce, the marriage.com course meant for married couples is an excellent resource to help you overcome the most challenging aspects of being married.
More On This Topic
You May Also Like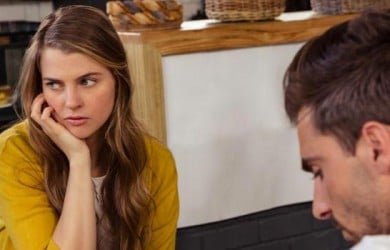 Popular Topics On Married Life