10 Critical Questions for Couples
Newlyweds, just fresh from the romance of their courtship, never imagine their marriage going stale. They are still starry-eyed from the romantic build-up where night long lovers texting kept them enveloped in their own lovers world.
But how quickly years pass and all the idyllic talk, romantic questions for couples or sweet nothings turn into realistic monotonous daily chores, no one ever sees that coming.
But the good news is all this can be avoided. Couples can stay connected and happy for life. One of the easiest ways to keep a happy marriage is to be open to your partner.
Find mandatory time for your partner and ask each other meaningful open-ended relationship questions for couples.
Concentrate and focus on your answers, and you will be surprised how easy it will be to keep your marriage young and happy for life.
Here is a list of 10 best questions for couples that may turn your world for the better. You can also use these relationship-building questions as a part of relationship question games for couples to make the process even more fun.
1. What is your finest and most awful memory of your childhood?
Childhood experiences make you the person that you are. Whether the experiences have been happy or hurtful and violent ones, talking about them with your partner helps to understand their personalities, their beliefs, and their vulnerabilities.
This is one of the essential 'couple questions' to ask your significant other to better understand them on times when you think they are unreasonably upset or angry, and even when they are genuinely happy.
2. Rundown your three most important requirements, and how might I satisfy them?
This is one of the important relationship questions to ask your spouse as satisfying your partner's needs is an essential element to a happy, healthy relationship.
Talk about each other needs and how you can fulfill them. This will create a strong bond between you, interwoven with trust and love.
3. Of all your loved ones, who do you think has the most beautiful relationship?
Occasionally one is not able to convey their real feeling to the other. Observe and recognize in your close family and friends' group or the other happy couples around, what you want or need in your relationship and then communicate it to your partner.
You must consider these kinds of good relationship questions for couples if you want your relationship to get better and more fulfilling with time.
4. Which part do you find as the best in our togetherness?
This is one of the crucial questions to ask in a relationship that you must not miss asking your partner in any case.
Passing the time and advancing years will bring many experiences your way — some of the bitter lessons, other happy memories.
These will change answers to several questions for couples with time. So, keep up to date with changing times, so you never lose your intimacy and togetherness.
5. What are my habits that you do not like, which I should stop?
Encourage your partner to be open about your annoying habits.
Many spouses ignore their partner's unsavory habits just to avoid conflict and to keep a peaceful balance in life.
But with time, all these pent-up emotions can erupt as rage and resentment, destroying years of companionship. So, be realistic.
Encourage your partner to be honest about your "bad" habits. This will clear all negativity that might build up in your happy life. Thrive together to deal with issues that annoy the harmony of your happy life.
Watch this video:

6. Any thoughts keeping you awake at night that you have kept secret from me?
A lot of caring couples do not want to burden their loved ones with their personal problems and stresses. They keep their stressful secret buried deep within their hearts, showing a tension-free, joyous front to their spouse.
Ultimately, these tensions and stresses take their toll, physically and emotionally. By taking the help of these questions for couples, you can try to win the confidence of your spouse, encourage them to share their burdens, and find solutions together.
Marriage is all about support and understanding.
7. Are there any unfulfilled dreams of yours?
Everyone dreams of achieving a particular goal. Take time to find what are your spouse's dreams and what hurdles stand in the way.
These kinds of questions for couples can help you to become the motivator and supporter, that your partner needs to achieve their goals, which were till now unfulfilled.
8. What is your reason for loving me?
Differences will always be present in a marriage. Furthermore, saying, "I love you" is not still enough. Love is expressed in your actions and feelings towards your partner.
Recognizing the uniqueness of your partner, accepting their vices and virtues and standing solidly by their side is true love.
So, you can ask your spouse questions like, when was it you felt my love the most or why do you love me and similar such questions for couples to let your spouse revisit the reasons for loving you.
9. What would you consider the most inexcusable act, and why?
Shallow hurtful statements are conveying what hard decisions you would take if your partner blundered over some issue, and can destroy a long-lasting happy relationship.
Stop and think. Being intimate partners should not be a superficial thing. You should be able to sit and talk in-depth about what things you do not like and, if done, will hurt you terribly. And, these questions for couples can help you do that effectively.
This will create a better understanding between the couple, and there will be an avoidance of things that are deemed as unforgivable.
10. How can we improve intimacy and sex in our lives?
Many times, dwindling physical intimacy leads to an unhappy marriage. Sex in a sensitive issue and repeated rejection of sex is considered a personal rejection.
These issues must be resolved gently, positively, and with deep understanding. Focus on your wants and needs. Talk about your sex issues. This will never let any disconnection set in and help you build up a healthy, happy relationship.
Share this article on
Want to have a happier, healthier marriage?
If you feel disconnected or frustrated about the state of your marriage but want to avoid separation and/or divorce, the marriage.com course meant for married couples is an excellent resource to help you overcome the most challenging aspects of being married.
More On This Topic
You May Also Like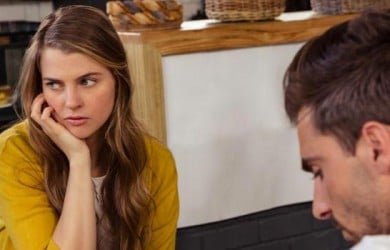 Popular Topics On Married Life