4 Categories for Grading Your Partner in the Relationship
The demographics of relationships and family structures are changing rapidly. The values of couples and views on the underpinnings of a healthy relationship are also changing. Age-old gender roles and antiquated stereotypes are falling by the wayside.
However, with this newfound relational consciousness comes the increasing need for both partners or spouses to make sure they are living up to each other's expectations.
The divorce rate statistics in this country have been somewhat skewed by the Covid Pandemic, and now it's at a fifty-year low. However, these numbers can be misleading since forced cohabitation due to quarantines and lower rates in housing availability have made it even more important for partners to be on the same page.
John Gottman wrote about four horsemen of the marriage apocalypse.
Gary Chapman wrote about the five love languages to understand each other's ways of showing and receiving affection.
Masters and Johnson wrote about four stages of sexual response in partners.
Baumrind wrote about the three types of parenting styles, and every couple should be recommended to read about all of them.
In short, there are four categories for grading your partner in the relationship that stand out as crucial factors in determining the success of any relationship.
It is important to familiarize ourselves with these factors of grading your partner in the relationship, thus identifying where these problems may lie and opening ourselves up to our partner's perspective.
So, how do we do this?
Related Reading: 

20 Keys to a Successful Long Term Relationship?
4 elements for grading your partner in the relationship
The first thing I have couples do when they begin the counseling process is to grade each other on a five-point (A-F) scale, with 5 being the highest/best mark they can give their partner through four distinct categories.
The four categories I ask couples for grading the partner in the relationship are:
1. Intimacy
Is there romance, intimacy, and closeness in this relationship?
This is an important category for grading your partner in the relationship, as intimacy is the only factor that distinguishes a personal relationship from a plutonic one, and sex is not the only variable within this category.
Romance or intimacy can take on many forms, from the simplest endearing touch to the most outrageous role play. However, it is necessary for a personal relationship to thrive.
Related Reading: 

How Important Is Intimacy in a Relationship
Check out this video to understand how to create conscious intimacy in the relationship:

2. Business partners
The second category for grading your partner in the relationship is business partners. Do you agree with your partner's handling of finances?
The age-old adage of "Sex and money" being the main thing couples argue about is not far off the rails, in the sense that managing finances well will lead to longer stability and greater opportunities down the road.
Being business partners does not necessarily require complete transparency, as long as your partner is comfortable with your role in the relationship.
For instance, client A may resent client B for not having joint accounts and/or complete transparency. While Client A may believe they are doing well for budgeting correctly, whereas, in a different scenario, Client A may have complete transparency, while there is no budgeting of any kind by Client B.
Being business partners means that you are simply aligned with each other in terms of finances and spending.
3. Friends
The third category for grading your partner in the relationship is friends. Do you have fun and trust each other?
Communication is an oversimplification of what it takes to make a relationship work, but feeling as though you can open up to your partner is a key component in a friendship that makes them such vital supports in each other's lives. Lastly,
4. Co-parents
Do you align with your partner's parenting style? Now, not all couples have children. However, it is an important category nonetheless because if you both plan on not having children, then this category is still relevant in that you are in consensus.
If you differ in your parenting styles and/or may resent your partner for the role that you are portraying in the relationship, then this category would be of significant importance to work on.
Many couples fall into the good cop/bad cop routine, as the parent who spends the majority of time with the children typically embodies the bad cop/disciplinarian, simply because their partner tends to be more loving and frivolous to make up for the lost time.
If there is a good balance of time being spent on communication and understanding within the parenting roles, then this typically does not occur and is avoidable.
In any case, it is a worthwhile starting point for each partner to grade the other in the four roles and have a discussion about it. In some instances, communication alone may be able to shift the dynamics.
Related Reading: 

How to Be Good Partners in Parenting
Partner grading quiz
How to evaluate a relationship? Take the partner grading quiz with relationship evaluation questions and analyze your relationship:
A: Almost always
B: Frequently
C: From time to time
D: Rarely
F: Almost never
(Add up the grades and average them out, A=4 points, B=3, C=2, D=1, F=0)
Part 1: Intimacy
How often do you and your partner engage in non-sexual intimacy (i.e. hugging, holding hands, cuddling)
A B C D F
How often do you feel that sexual intimacy is mutually initiated with your partner (i.e., both take turns initiating and/or scheduling sexual intimacy)
A B C D F
How often do you and your partner prioritize alone time and intimacy with each other (i.e., date night and/or some form of romantic interaction)
A B C D F
Part 2: Parenting
How often do you feel as though you and your partner's parenting styles align?
A B C D F
Do you feel as though you and your partner have an equal part in playing the role of disciplinarian (i.e., do you share in the role of good cop/bad cop)
A B C D F
Do you feel as though you and your partner align with planning and/or engaging in family activities with the child/ren?
A B C D F
Part 3: Business Partners
Do you feel as though you and your partner align in terms of budgeting and finance?
A B C D F
How frequently do you and your partner have conversations and/or transparency about financial goals and/or savings?
A B C D F
How often do you question each other's purchases?
A B C D F
Part 4: Friends
How often do you look forward to coming home or going out to spend time with your partner?
A B C D F
2) How often do you feel as though your partner aligns or mutually enjoys themselves whilst engaging in interests and/or activities?
A B C D F
3) How often do you and your partner share in emotional conversations?
A B C D F
Takeaway
Relationships can be tricky, but with the right approach and relationship evaluation, after you understand the elements of a relationship, it becomes easier to put the effort in the right direction and make your bond happier, healthier and stronger.
Share this article on
Want to have a happier, healthier marriage?
If you feel disconnected or frustrated about the state of your marriage but want to avoid separation and/or divorce, the marriage.com course meant for married couples is an excellent resource to help you overcome the most challenging aspects of being married.
More On This Topic
You May Also Like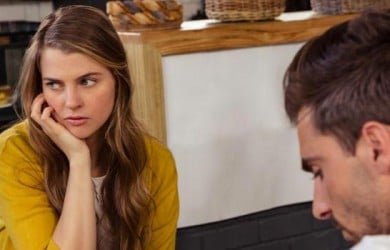 Popular Topics On Married Life