10 Ways to Make Your Partner Feel Secure in a Relationship
Part of your emotional responsibilities in a relationship is to know how to make your partner feel secure with you.
When relationship security is established, they can channel the energies they would have spent on trivial things into ensuring that your relationship waxes stronger and that you crush bigger goals together.
We have often been taught that assurance in a relationship solely depends on the individual. We believe it is a person's responsibility to feel safe in their relationship. However, time has proven that complete security in a relationship results from calculated steps taken by all parties.
This article will examine the practical steps to make your partner feel safe in a relationship.
What does assurance "really" mean in a relationship?
Science has revealed that being in an assured relationship can improve one's life expectancy. As revealed by a study, age-adjusted death rates for males and females were lowest for those happily married at their time of death.
These facts have proven a direct correlation between feeling secure in your relationship and your overall life quality. However, this leaves one question unanswered.
What exactly does relationship security mean, and how can you create that in your relationship?
Relationship assurance is simply the process of putting your partner at ease, knowing that you are committed to them and the relationship.
When you are committed to building a secure relationship, you make your partner understand that another cannot take their place in your life. You dispel their fears and never act in a way that makes them doubt your sincerity.
10 ways to make your partner feel secure in a relationship
Now that we have put some things in context, this is how to make your partner feel secure in a relationship.
1. Communicate with them
Communication is an essential part of every type of relationship. When you communicate, you help someone else understand how you are feeling. One of the many misconceptions we have held in our lives is that the most effective way to deal with things is to keep our emotions bottled up.
However, if you are with the right person, this can backfire and create more friction in your relationship.
One effective way to make your partner feel secure in your relationship is to talk to them. At the same time, honesty is necessary. If there's something you feel they can do better, effective communication will help you get the message across.
Suggested Video: How to talk to a partner so they will listen:
2. Appreciate and celebrate them
Another way to make your partner feel secure in a relationship is to appreciate and celebrate them intentionally. If you are committed to them, you must never assume they know how much you love and celebrate them.
Constantly say the magic words with your mouth.
Related Reading: 

8 Ways to Show Appreciation to the Love of Your Life
3. Let your actions reflect what you say
You can't be saying "I love you" to your partner every day, but your actions say otherwise. Non-verbal communication is as essential as the words that tumble out of your lips in your relationship.
If you say that you love, appreciate, and celebrate them, ensure that your actions tally with your words. Then again, another way to show that you are serious about what you say is to appreciate and celebrate them publicly.
4. Take yourself out of the market
Nothing screams 'relationship insecurity' more than a refusal to get out of the dating market. One sure way to make your partner feel secure in the relationship is to let everyone know that you are no longer on the hunt for a significant other.
There are many ways to send these signals out to the public.
For one, you may want to start by deleting all your accounts on dating sites. Then again, as you build secure love with your partner, you should also consider stopping flirting with anyone who isn't the one you are in a committed relationship with.
When you flirt with others, you make your partner feel like you need something else they cannot give, and this usually spells 'disaster' in relationships as they may start getting jealous and withdrawn.
5. Don't leave them hanging
We all love to be chased and to feel desired at some point in our lives. It is okay to keep someone in the friend zone (for a limited time) as you decide whether you want to date them or not.
However, it becomes cruel when you allow them to hang on for the longest time when you know that you have no intentions of dating or committing to them.
These mind games are cruel and can cause them to distrust you deeply, even if you finally accept their proposal to commit to a relationship.
Swift communication is necessary when you know you aren't willing to date a person. Let them know what's going on in your mind. By doing this, you rid yourself of that knowledge that you have just pulled someone along and wasted their time for nothing.
Playing terrible mind games on them? That's not how to make your partner feel secure in a relationship.
6. Don't give them room to doubt your sincerity
Have you suddenly changed the passwords to your devices without letting them know?
Do you now come home late from work, smelling like another person?
Do you always have to step out of the room to take calls – no matter how casually you do this?
Rest assured that your partner is taking notes, and one day, they may confront you.
As you try to help your partner feel secure in a relationship, you have a responsibility to ensure that you never give them room to doubt your sincerity.
Once they sense dishonesty creeping into your actions and words, they may get defensive. This is usually the beginning of a lot of disasters in relationships.
Related Reading: 

16 Signs of Insecurity in Relationships
7. Little thoughtful actions show them that you listen
Another way to make your partner feel secure in a relationship is to carry out those little thoughtful actions that show them how attentive you are. For example, your partner may have mentioned that taking out the trash every other morning is a bit stressful.
How about you consider taking out the trash every morning as you leave for work?
As little as that action seems, it sends the information that you are mindful of their well-being and want them to be comfortable in the relationship. This way, you make them want to listen and return the favor where and when they can.
8. Extend this warmth to their friends and family as well
Another way to make your partner feel secure in your relationship is to extend your warmth to their friends and family. In addition to leaving a positive experience in their minds, you show your partner that you are willing to make things work with their family.
When they believe this, they will be more open to treating your relationship as a long-term commitment, not just a fling.
However, while you try to ensure that your partner feels secure in a relationship, please don't overshoot.
The subject of friends and family can be touchy, and you want to approach it with diplomacy. Let your partner lead this conversation. Just ensure that you are ready to put in the effort when it is time to meet the family.
9. Introduce them to the people that matter in your life
This is a big step, but it is one of the fastest ways to build a secure relationship with your partner. This feeling of assurance comes when your partner knows they have met your family and closest friends.
Then again, before they arrive, ensure you have put in good words for them.
By doing this, you send a subtle signal to your tribe that you are bringing someone special to you. When you have done this, they will be more accepting and warm toward your partner. This also scores you some extra brownie points as well.
10. Show your partner that you have big plans for the future
Being secure in a relationship is not all about what happens now. Relationship security is also a result of how goal-oriented and driven you are.
When you let your partner see that you are headed somewhere in life and your future has a space that only they can fill, you introduce a level of security that only compliments cannot bring.
So, while you do all that needs to be done now, what plans for the future do you have?
Related Reading: 

Dreaming Together: 3 Essential Tips for Having a Happy Future as a Couple
Summary
While discovering how to make your partner feel secure in a relationship, there are critical steps you must take. This article has covered 15 simple steps you can take to ensure they get the memo.
However, remember that your partner also has to play a part in feeling secure in the relationship. Your responsibility is to follow the steps outlined in this article and reassure them of their position in your life.
It is now up to them to do the rest and believe that they occupy a special place in your heart.
Share this article on
Want to have a happier, healthier marriage?
If you feel disconnected or frustrated about the state of your marriage but want to avoid separation and/or divorce, the marriage.com course meant for married couples is an excellent resource to help you overcome the most challenging aspects of being married.
Learn More On This Topic
You May Also Like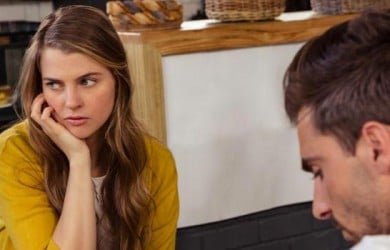 Popular Topics On Married Life