How to Fight Less and Love More
It is widely recognized that sharing your life and daily routines with a partner, even though precious, has its challenges. Like everything else in life, a partnership goes through lifecycle stages.
Once the first stage of magical affection, commonly known as the honeymoon phase comes to an end, you might start noticing some less desirable characteristics in your partner. Perhaps you noticed them before too, but you were drunk on love to actually care. These seemingly tiny details can accumulate aggravation on both ends, ultimately leading to petty squabbles, and fights.
Surely, fighting is normal and there is no relationship that is completely harmonious. No partnership is prone to arguments and fights. Presumably, even Napoleon and Josephine would have fought about small things, like Napoleon forgetting to take the dogs out for a walk.
Nonetheless, there are partners that handle fights more productively and grow through them. There are ways to control relationship disputes in order to fight less and love more.
Accepting the person, not mistakes
We are all human and as such we are flawed. Yet, we are capable of change and improvement with the proper approach and motivation to change. Although we are flawed, we are still worthy of love and support.
Accepting that a person can make mistakes and still be worthy of appreciation can lead to fewer fights and more love in your relationship.
Once both you and your partner, realize you both have flaws, you can start building an atmosphere of growth. Accepting someone with all their flaws doesn't mean you won't work together on changing them, instead creates an atmosphere in which change is more likely to happen.
This kind of environment will lessen the fights and promote open talks and discussions. In turn, this will help you improve and grow as a couple. Honesty and openness will prompt that you fight less and love later.
Invest continuously in the relationship
At the beginning of the relationship, it is relatively effortless to be romantic.
You are propelled with fresh emotions which elevates you and instantly make you more creative and energized. You will soon find yourself on your way to fight less and love more.
After a while, you may become comfortable and cease to invest so much in improving the relationship. We all know at least one couple that cohabits together, stares at the cell phone now, but once looked in each other's eyes and devotes more attention to the TV than to each other.
If you do not try to consistently revive the initial zest of the relationship, it may happen to you too.
Make it a habit of doing something new and invigorating for your significant other. Additionally, talk to them to do the same for you. Perhaps you can have a date night weekly and take turns organizing it for each other.
When you invest in increasing the love and fun in a relationship, you are more likely to let go of the little things that annoy you and cause fights.
This will, in turn, lower the fights that you have over insignificant peeves.
Maintain passion flames
Besides feeling loved and respected, we also need to feel desirable and sexually attractive.
Some relationships end because the sexual spark disappears and some people start contemplating how to feed the sensual desire elsewhere.
They might end up looking outside of the relationship when they can't find what they need inside it. They could end up desperately seeking the additional 10% elsewhere when they could do it at home if they put in the effort.
Furthermore, intimate frustration stemming from the bedroom is often a reason for frequent fights. One way to fight less and love more is to regularly set aside time alone to reconnect and relive the beginning of your emotional relationship.
Having some time for the two of you only and doing the activities that make you feel like when you just started dating can spark the flames again.
Focus on the present
Have you found yourself arguing with your partner about things that are to happen in the future or not happen at all?
Some like to plan long in advance and if their partner does not do the same, they tend to fight and feel as though they don't care about the same things. Eventually, they may end up portraying their partner as disorganized or uncaring.
What could be done instead that could encourage couples to fight less and love more?
List the things that are for sure important to plan ahead and those that can be done with less planning. If your partner is one that does things more spontaneously, it could be wise to ask him to plan with you those highly critical items.
Leave the ones less important for a time closer to the event.
Remember, a sure way to destroy the present moment is to overthink about the future.
Positive daily communication
Take ten seconds to reflect on the tone of your everyday communication with your partner in the past 7 days? Was it kind, rude or plain informative?
Tiny positive and cheerful habits with the daily communication routine can go a long way. Saying "good morning, handsome" is likely to prompt a similar response from your partner. Introduce an activity before going to bed that help you both reconnect. Turn off the TV, set phones aside and talk. Follow this habit and you will see that you both fight less and love more.
Kiss each other goodnight every night. Instead of saying "I love you" try backing it up with things you like about your partner. Try saying "I love you because…". They will appreciate it so much more. After a while, this will become the new normal and raise the bar of how you communicate.
Ultimately, it will encourage you to fight less and love more.
Be there for each other
Imagine for a moment your partner as a player on the field competing against all sorts of problems, challenges, and other people.
You are his cheerleader, fan, and a water boy. In turn, he does the same for you. We don't necessarily have to do intense activities or invest money into wild holidays to improve the relationship. There are so many things we can do for free that are priceless.
Compliment your partner's efforts, support him in his struggles and acknowledge his disappointments. All those things do not cost anything but will greatly benefit your relationship.
Not only will your partner feel recognized and supported, but he may even prosper in those challenging areas and help you do the same.
Partners that are growing together through mutual support are unlikely to often argue about socks lying on the filthy floor.
A relationship is like a team, together you can do so much more than you could ever do separately.
Share this article on
Want to have a happier, healthier marriage?
If you feel disconnected or frustrated about the state of your marriage but want to avoid separation and/or divorce, the marriage.com course meant for married couples is an excellent resource to help you overcome the most challenging aspects of being married.
More On This Topic
You May Also Like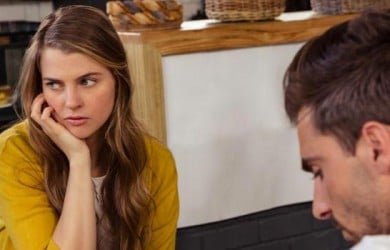 Popular Topics On Married Life