Rift in Relationships – the Most Agreeable Reasons
What is love? This is a question that had people pondering over it for centuries, and still, they are unable to answer this.
This question has led to some grand work of art in the human history such as the Taj Mahal, Hanging Gardens of Babylon and some grand gestures such as abdication of the throne and escaping the prison camps.
This question has even led singers to write some of their greatest hits such as a singer of the 90's, Haddaway; yet we still don't really know what love is.
Even scientists have attempted to answer this question and have come up with a technical answer in terms of hormonal and chemical reactions. They have even explained attraction that one feels and the need for a companion, but even this does not help us in explaining the emotions we feel in a relationship.
Is love a feeling?
Many people may find it hilarious when answering this question because love is definitely a feeling but what if you find out that isn't true?
Love is not a feeling and instead is a choice.
This was made clear to everyone by a 25-year-old girl named Taylor Myers who lives in Dayton, Ohio and took a class known as "Relationships for life."
This girl decided to share her thoughts on this matter to the world and instead wrote it out in the form of poetry.
This girl, who goes by the username of acutelesbian, shared her thoughts while going into the depths of the emotional bitterness people undergo when in love. Her post was full of regret and was so raw and fearful that it touched the souls of many people all around the world.
Difference between intense admiration of love and the cold ashes of reality
Many people who found her words relatable were people who had experienced the shocking difference between intense and burning admiration of love and the cold ashes of reality that were left behind when their fire of love was extinguished.
In this post, she claimed that when people ask her what her biggest fear is she does not give answers such as closed spaces or heights, but instead she says that her biggest fear is the fact that "most people fall out of love for the same reason they fell in it."
This line is what hit most people who went through their post; many married couples even agreed to it and claimed that this was what led to their divorce.
At first, you adore your lovers' stubbornness; you might even pinch their cheeks and call them cute but as time passes by this stubbornness may become their refusal to compromise in the relationship.
Soon their one track mind starts to show signs of immaturity, and their spontaneity becomes reckless, and everything that you once adored about your lover might become another distraction in your extremely busy life.
Soon you might become ugly to someone who once saw stars in your eyes, and this becomes a fear that many people are scared of.
How is love a choice?
When this post went viral, Taylor claimed that she had no idea a single post that she wrote in a state of emotional turbulence will get so much love and attention all over the world. However, what she missed out on this post she added in the next one.
The post that she wrote was written in an extremely bitter and sad state, however; when she wrote again, she explained the most beautiful part of love.
In the class that she took, her teacher asked her students whether love is a feeling or a choice? Like many people today, most of the children claimed that love is feeling and Taylor explains that this is where we are wrong.
Today most people leave their relationships or break off their marriage because they believe that the butterflies that they once used to feel are gone and that they don't experience the feeling of love anymore.
This is where our society today is wrong; we so desperately want to believe that love is a feeling and a spark we experience that we lose track of reality.
Love is a conscious choice you make to stay committed
Love is not a feeling; it is a choice. It is a conscious choice you make to stay committed and faithful to one another. It is something that you choose to make it work every single day.
At one point in marriage, you may lose the feeling of love, but that does not mean you should leave and get a divorce; the feeling of love will vanish, and you might even get unhappy some days because feelings always change.
However, in times like this, you must think hard about the choice you made and why as this will help you in making sure your love is alive and strong in your heart.
You cannot base a marriage on feelings as they keep on changing; if you want to build a marriage that will last you will have to build it on a strong foundation, not something as shaky and fluctuating as feelings.
Share this article on
Want to have a happier, healthier marriage?
If you feel disconnected or frustrated about the state of your marriage but want to avoid separation and/or divorce, the marriage.com course meant for married couples is an excellent resource to help you overcome the most challenging aspects of being married.
More On This Topic
You May Also Like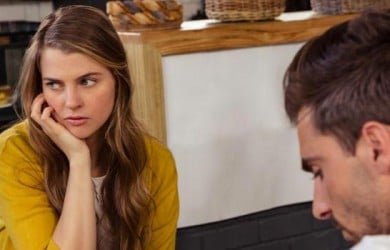 Popular Topics On Married Life