How to Deal with an Angry Husband
Anger – an emotion we all are familiar with. We all have had days where an outburst or two helps us calm down. However, we do not know if that emotion we call anger is also gendered biased.

As a stereotype, it is believed women are supposed to be gentler and less aggressive compared to men. If this is the case, their emotional stress most likely would be pointed inwards, whereas for the men of the house they are expected to have a shouting match, show off their temper and no one bats an eye.

This discrimination has driven women silent and given men the power that they can get away with anything. Next time when your husband decides to show his masculinity try on the following tidbits.

Here's how to deal with an angry husband:
1. Take the high moral ground
As clichéd it sounds, it is true. No relationship is perfect, even the best ones go through a rocky patch. However, this is the time to test your patience, if your husband has had a rough day for some godforsaken reason he has decided to take it all out on you. The least you can do is take the high moral ground and not return the favor.
An angry husband is looking for a fight. When they are verbally bashing you or being harsh, they are trying to ignite a response that would eventually lead to a full-fledged fight.
Do not bow down. Do not give them that satisfaction and ruin your day.
2. Wait for the dust to settle
There is always an action behind a certain reaction. However, do not kid yourself into thinking that you can solve the problem by talking to them at that moment in time.
They are not looking for a solution, they are looking for release, a release of all pent up anger and frustration.
Let them vent and try your best to ignore their tirades. When he is tired and all calm, then start your investigation and get to the root of the problem. Then maybe you can try and help them if you want.
3. Stand your ground and set your boundaries
Put down certain things that you can or are willing to endure and certain things that are absolutely out of the question. And then stick to the word as if it is a command from the Almighty.
The worst thing that you can do in a relationship is, go back on your word and let the significant other belief that you are all talk and no action. Once your husband knows that an ultimatum is exactly what it is, they will not test you again.
4. Put yourself in his shoes
Try to see where his anger is stemming from. Most of the time it is the slightest thing that results in a fight which could easily have been settled if some attention was paid
5. Don't try and mother him
Though he, at times, may act like one he is your husband, not your child. So scolding him for a mistake he made or a misjudgment will not do. Deal with him as an adult.
Try to see his point of view, let him breathe, then see the damage and what can be done to rectify it.
6. Lose the battle, win the war
Marriage is not that different from a battlefield. It is a well-known strategy of generals that they would, with great strategy, lose a battle or two in order to win the big war.
You can try this technique at home.
Let your husband have a win or two, but whenever there is a war looming over, take your station and let 'em rip to shreds.
They would not know what hit them. Let the angry husband know that you can get angry as well.
7. Do not settle for anything less, especially when it comes to respect
If a person loves you, they will respect you. Any sort of stress or frustration or tension related to work does not give anyone the right to disrespect you. You are partners, which means equals. You are supposed to take comfort from each other's presence and not be scared or feel dejected because of the other.
If your husband has started to disrespect you, abuse you – be it mentally, emotionally, or physically – it means there is no love remaining as well. Would you try and spend your life with a person who does not love and respect you. That is the time to bow out.
Marriage like every other relationship needs work, sacrifice, and compromise. But keep it in mind that you should not be the only one to do the giving. It is a relationship of giving and take, and your husband is responsible to give you something from time to time. Be it his love, peace of mind, or just a win.
Share this article on
Want to have a happier, healthier marriage?
If you feel disconnected or frustrated about the state of your marriage but want to avoid separation and/or divorce, the marriage.com course meant for married couples is an excellent resource to help you overcome the most challenging aspects of being married.
More On This Topic
You May Also Like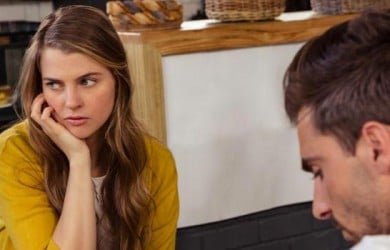 Popular Topics On Married Life