All You Need to Know About Cross Cultural Marriage
Marriage is something to which most women and men look forward. Some are fortunate to remain married lifelong to a single partner while a few couples separate or divorce for various reasons. The ancient proverb states: "Marriages are made in heaven." No comments on this axiom.
However, laws, rules, regulations, religions, and cultures are made by humans. Yet these elements often play a decisive role in success or failure of a marriage. More so, if you are female or male marrying a foreigner. Matrimony with a partner from an alien culture can be exciting but could also become a harrowing experience. To prevent marital nightmares, it is imperative to know what exactly a cross-cultural marriage entails.
Defining foreign spouse
The system of 'mail-order brides' that flourished from the 1970s to 1990s is booming. Several countries have banned 'mail-order brides', since it is tantamount to flesh trade. It involved young women from economically backward countries being brought as "brides' to richer nations and sometimes for marrying men old enough to be their grandpas.
The system now stands replaced with legal 'matchmaking agencies' that flourish on the Internet. For a small membership fee, a male or female can select from several prospective partners from any part of the world. Unlike mail-orders, the prospective bride or groom has to travel to the country where the prospective spouse resides and get married by completing all legal procedures.
There are other types of marriage partners too that meet the definition of a foreign spouse:
Native of one country who has acquired citizenship of a foreign land

Child of immigrants holding passport of the country where parents settled

Son or daughter of spouses from different nationalities
There are no astute definitions of a foreign spouse but generally, they can be considered as persons who come from very different cultures and ethnicities.
Important information
Marrying such persons is common nowadays as several countries accept skilled immigrants and offer citizenship after meeting certain criteria. However, there are two major concerns you need to address for successful, happy marriage with a foreigner. These are:
Legal Requirements

Cultural Differences
Here, we discuss this important information in a little more detail.
Legal requirements
Here we list some laws, rules, and regulations commonly practiced by countries around the world. However, you may check with your local immigration office and lawyers to address any specific concerns.
You cannot settle in the native country of your spouse without proper clearances from its government. Meaning, marrying the citizen of one country does not automatically entitle you to residency rights there. Often, a series of clearances is sought by different departments of the government before granting permanent residency or even an entry visa to the country of the spouse. The law is to prevent illegal migration or 'contract marriages' where a foreign spouse is brought in only for the purpose of gaining citizenship.
Providing proof that you are single or unmarried or legally entitled to enter into matrimony is compulsory. Without this document issued by an appropriate authority in your country, you cannot marry a foreigner.
You may get married at a religious ceremony in some shrine, which might not ask for the proof of being single or unmarried or entitled to marry. However, this document is prerequisite while registering your marriage at a civil court and diplomatic mission.
Registering the marriage in your country as well as that of the spouse is essential. Due to differences in matrimony laws of various countries, the foreign partner and you have to conform to laws of both countries. This is vital to ensure your spouse or progenies can become your legal heirs. Not registering can lead to your marriage being deemed illegal and kids being labeled as 'illegitimate'.
Additionally, if you are living in a third country, you need to register the marriage there as well. These laws exist to ensure that both spouses get the required protection and rights while residing in that country. However, registering the marriage is needed only if you wed in that country. That way, the country can grant your spouse the visa or residence permit required under the new, married status.
Unless both spouses of foreign origin hold the same nationality, you need to decide the citizenship that your kids should be given upon birth. Some countries automatically grant its citizenship to the child born on its soil while others are strict and do not allow women in advanced pregnancy to enter their borders. You need to weigh pros and cons of your children taking the nationality of either the father's or mother's country.
Cultural differences
If legal wrangles are something to reckon with while marrying a foreigner, bridging cultural differences is also equally essential. Unless you have lived in the native land of the spouse or the other way around, there are a lot of things you need to learn before and after marriage.
Food habits are something very common over which most foreign spouses find themselves at odds. Adjusting to alien cuisines is not easy. Your spouse may be unaware of culinary habits and palates of your native culture. While some may adjust to foreign tastes immediately, others might never yield. Quarrels over food can lead to domestic disturbances.
Know the economic status of your spouse's family. Money quarrels between couples are a major cause of divorces in the US and other parts of the world. If your spouse's family is economically weaker, they would expect financial assistance. This means, your husband or wife could end up sending a considerable portion of earnings for their support. Understandably, they would require the money for essentials ranging from food to healthcare and education. Hence, it is better to know about monetary sacrifices that marrying a foreigner might entail.
Excellent communication is vital to the success of any marriage. Hence, it is essential that your foreign spouse and you have expert level fluency in a common language. People from different countries speak English in various ways. An innocuous remark by a foreigner can be taken as an offense in another culture and can severely mar relationships.
Knowing differences in religious practices and preferences is also a key to a successful marriage with a foreigner. Though you may follow the same faith, native traditions often influence the manner in which it is practiced. For example, some nationalities celebrate the death and welcome mourners with sweets, pastries, liquor or soft drinks. Others hold somber vigils. You may feel offended if your spouse celebrates the death of some beloved relative on grounds the departed soul has gone to heaven.
Others may see melancholic rituals as over-reaction to this natural passage of human life.
Family bonds of a foreign culture can be very different. Often, Hollywood movies highlight these nuances. In some cultures, you are expected to take all members of your spouse's households to a movie or dinner. Enjoying privately with your spouse can be viewed as rude or selfish. Also, while gifting something to the spouse, you may also have to buy presents for the family to conform to foreign traditions. With some nationalities, it is common to take uninvited friends and relatives along to a party. You need to prepare for receiving at least double the number of invited guests if your spouse hails from any such ethnicities.
Spending habits differ according to each nationality. Some cultures encourage thrift and frugality as a sign of modesty while others indulge in wanton splurges to signify wealth. This makes it important for you to know the spending habits of the culture in which you wish to marry. Else, you may end up living a life bereft of stuff you once took for granted. On the other hand, you may run into financial doldrums if your spouse is an extravagant spender, due to cultural compulsions.
Enjoyable experience
Marrying a foreigner can become a very pleasurable experience, provided you can counter all legal wrangles posed by laws of different countries and walk that extra mile to learn cultural differences. Millions of people around the world have married foreigners from vastly different cultures and are leading very happy, fulfilled lives. Hence, acquainting yourself with the vagaries of marrying into a different culture and legalities involved can prove rather rewarding.
Conclusion
Some people across the world suffer from xenophobia. They are wary about foreigners in the family and neighborhood. You can do little to tackle such people who may sometimes go as far as indulging in a racial slur. There is no point in retaliating since it will only increase the already prevalent hostility.
If you are marrying a foreigner, learn to take such remarks in stride. Some people may shun your company or not invite your spouse or you for an occasion. This is no reason to get agitated. Ignoring these xenophobic people is the best answer.
However, you may need to acquaint your foreign spouse about the possibility of such occurrences.
Share this article on
Want to have a happier, healthier marriage?
If you feel disconnected or frustrated about the state of your marriage but want to avoid separation and/or divorce, the marriage.com course meant for married couples is an excellent resource to help you overcome the most challenging aspects of being married.
More On This Topic
You May Also Like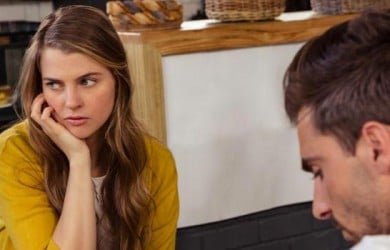 Popular Topics On Married Life