Strategies to Tackle Your Marriage Problems
The day we say "I do" to our beloved, we imagine that we will always have the same high level of joy and happiness. After all, we've been dating this person for a long time so we know we love them to the core. And love can solve every little problem that might crop up during our marriage, right?
Unfortunately, it takes more than love to smooth out conflicts large and small in any relationship, even a committed one like a marriage. Here are five situations and the corresponding strategies that you can implement the next time you hit a rough patch in your marriage.
How's your communication going?
At the source of all relationship problems—whether they be in your marriage, workplace or with friends and family, is poor communication. You may think you are an excellent communicator, but if you are constantly checking your phone or pc while your partner is trying to talk to you, or you to them, that puts you in the "poor communicator" category.
If you and your spouse are sitting down to address a problem that has surfaced in your marriage, the first thing you will want to do is turn off the phone, the tablet, the pc and the television.
Gently establish some rules for the discussion, such as no interrupting the other while they are speaking, no blaming, no digging up past ills to bulk up your present argument, no tears, no screaming, and no walking away from the conversation.
Speak to each other. This means looking each other in the eyes to show you are present and listening.
If you have trouble keeping voice levels down, or you find your efforts to address problems just go in circles and you never get any satisfactory solution, find an expert marriage counselor or therapist to guide you and your husband and provide you with advice for effective methods for conflict resolution.
How's your sex life?
It is very common for the fires of passion to die down as your marriage progresses and you get caught up with child-rearing, job advancement and all the other wonderful (but distracting) elements that married life brings. But remember: sex is important. It brings you and your spouse together, releases hormones that keep you together, and is a vital part of the chemistry of a happy and healthy couple. So if you sense that your lovemaking is falling by the wayside:
Schedule sex on the calendar
(maybe not the calendar that hangs in the kitchen, but on your phones.) Yes, it sounds so clinical, but if you don't get it on the schedule, you may never get around to having it. An advantage of having sex scheduled is you can spend the day leading up to this "appointment" sending racy texts to each other, heightening your excitement so that when you finally get to bed, you are ready to go!
Have an open discussion about what really turns you on
One creative way to do this is for each of you to come up with a few questions for your partner, such as "What is the one thing you'd like to do in bed that we haven't yet done?", or "If you were in bed with a porn star, what would you ask them to do to you?" These are great ways to find out your spouse's secret desires and then incorporate them into your sex play. It's all about keeping things fresh and hot!
What's your financial situation like?
Money is one of the top problem areas for couples. This can stem from a mis-match in spending or saving styles, or being secretive about resources.
You need to be honest with each other
Take a good look at your entire financial situation: cash, savings, investments, real estate, car, home and student loans. If you are drowning in debt, you must make some changes so that you can get back to solvency.
When talking about your finances, take the approach that you are both on the same team, working towards a positive bank balance and debt-free lifestyle. Banish statements like "If you didn't buy so much (clothing, sports equipment, beer, or whatever), we'd have a lot more money in the bank!" This conversation needs to be non-threatening and non-blaming.
Allow each of you some "fun money" by setting aside a little but that each of you can spend without having to account for it. (Make sure this is realistic. If you have a heavy amount of debt, this may not be.)
Who does what to keep the household going?
If both of you work outside the home, you need to divide home tasks equitably. Often this is not the case: women consistently do more work around the house than men do. This can lead to problems in the marriage so it is important to address the imbalance before this turns into a deal breaker situation.
If you are financially able, the best solution might be to outsource the housework, laundry, ironing, and garden maintenance.
If that is not the case, use a chore list and write down all the tasks that need to be done to keep the household running. If you have children, involve them in this conversation; they can all pitch in to help. Even a two year-old can dust the furniture. The goal is that the tasks are distributed fairly over the week.
Best marriage problems advice: Seek help early
If your couple is experiencing problems that are causing resentment to build up between you, don't wait for a big explosion to happen. Get yourselves to a marriage therapist where you can air out your grievances before they become too large to unknot. Not only will it help your marriage get back on track, but you will learn valuable ways to problem solve, skills that you will be able to use when you hit another bumpy time in your marriage.
Share this article on
Want to have a happier, healthier marriage?
If you feel disconnected or frustrated about the state of your marriage but want to avoid separation and/or divorce, the marriage.com course meant for married couples is an excellent resource to help you overcome the most challenging aspects of being married.
More On This Topic
You May Also Like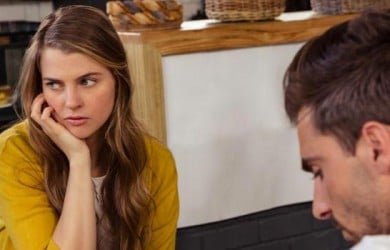 Popular Topics On Married Life