Get to Know the 6 Common Challenges of Dating a Divorced Man
When you least expect it, someone will come to your life and change it – literally.
When it comes to love, don't waste your time in focusing your energy into looking for someone within your "preferences" because reality is, we don't control who we fall in love with.
Of course, we want to date someone who is independent and single but what if you find yourself falling for a divorced man? What if dating a divorced man gives you all the unquenching thrill? Do you get high for dating a recently divorced man?
And, last but not the least, how prepared are you to face the challenges of dating a divorced man?
Dating a divorcee – what to expect?
Choosing to date a divorced man may seem overwhelming and the truth is; it is very hard to adjust especially when you will date a man that has a complicated history in his divorce and his ex. Also, dating a recently divorced man with kids just add to your list of complications.
Setting expectations is the first thing that you should be aware of before deciding to go on a date with someone who had a divorce. The most common reason why it doesn't work out is because you're not yet ready for this situation.
It can become overwhelming to have to adjust with his situation, that's why being ready is your best foundation if you want your relationship to work out.
What do you expect when you are dating a divorced man?
Expect a lot of adjustments, expect that you will have to cancel plans unexpectedly and expect that this person has and will be dealing with issues and a whole lot more.
As they say, if a person is important to you, then, you can overcome the challenges if you wish to continue loving a divorced man.
Here are the most common challenges of dating a divorced man.
Common challenges of dating a divorced man
1. Commitment won't come easy
If you think it's just women who get traumatized with commitment after divorce, then you're wrong. Men also feel this way, no matter what the cause of the divorce is; it's still breaking the vows that they have promised each other.
For some, dating can still be fun, but when they feel that it's getting serious, they might feel that they need to get out of the relationship before they get hurt again. You need to assess things out.
Is this man ready to get serious again or do you feel that he's just looking at dating girls right now?
2. Take it slow
This may be one of the challenges that you'll be facing when you choose to date a divorced man. As he won't easily be ready to commit, the relationship would, of course, take a slower pace than the usual relationships that you know.
He may be a little reserved so don't expect to meet his friends or family yet. Also, as frustrating as it may seem, don't nag him about it or take it against him. Rather, it's better to understand where he is coming from.
Enjoy your relationship and take it a little slow.
3. Expectations vs. reality
Remember how expectations hurt? Remember this especially if the man you're dating is a divorcee.
You can't expect him to be there for you every time you need him especially when he has kids. Don't expect him to ask you to move in with him just like your previous relationships.
Know that this reality will be different than your expectations. One of the major challenges of dating a divorced man is that you will need to understand what you're getting yourself into.
4. Finance issues will be present
Be ready for this one.
You need to know the difference of dating a divorcee and a single guy without responsibilities. There are times where the divorce process may not be final or has taken a toll on the guy's finances.
Don't take it against him if he can't treat you in a fancy restaurant or a grand vacation.
There will also be times where he'd suggest that you just have take-out dinner and eat in your house rather than in a restaurant, so don't think that he's not willing to spend money on you – understand that this will happen.
5. Kids will come first
This may be the toughest challenges of dating a divorced man -especially when you're not really into kids. Loving a divorced man is tough, but if the guy you're dating has kids, then by no means he'll choose you over them.
This is the hard truth that you need to accept before getting into a relationship.
There will be times where he would cancel your date when his kids call or if the kids need him. There will be times where he won't let you come into his house as his kids aren't ready to meet you and many more situations where you might feel that you can't have him all by yourself.
6. Dealing with the Ex
If you think handling time and his kids are hard, you also need to face the challenge of hearing a lot from his Ex-wife.
This may depend on their situation, there are times that ex-spouses remain friends and there are some who will still have disputes over the custody and so on.
The kids will also have a lot to say especially when they would first meet you. You can hear a lot of "my mom" words so be ready not to be too sensitive about it.
Can you handle the challenges?
All of these challenges may seem overwhelming and come to think of it, it is hard but the key here is that you are able to assess yourself first before deciding to go through the relationship.
If you think you're not ready to face these challenges of dating someone recently divorced or if you think you can but you are not sure – don't go through it.
This may not be the advice that you are looking for but it's the right thing to do.
Why? Simple – if you realize this in the middle of the relationship, then you are most likely to back out on the relationship and this will cause yet another heartbreak to the guy you are dating.
Spare him this if you are not a hundred percent sure that you can accept him as he is and that you are willing to take on the challenges of dating a divorced man.
Share this article on
Want to have a happier, healthier marriage?
If you feel disconnected or frustrated about the state of your marriage but want to avoid separation and/or divorce, the marriage.com course meant for married couples is an excellent resource to help you overcome the most challenging aspects of being married.
More On This Topic
You May Also Like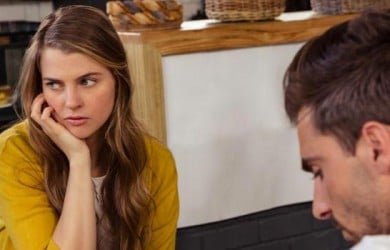 Popular Topics On Married Life