What Is a Bait and Switch Relationship? Signs & How to Cope
Marriages are challenging, but they are also rewarding. When work is put into a marriage, it can be a healthy, fulfilling, lifelong relationship. On the other hand, things become especially difficult when one or both spouses engage in confusing or unhealthy behaviors.
A bait and switch relationship can lead to problems in a marriage. You think you're marrying one person, only to find out they are someone else. Or, you might think your spouse treats you perfectly, only to have them change completely after you say, "I do."
So, what is bait and switch in a relationship like a marriage? Learn the details below, so you can figure out if this is the problem impacting your relationship.
What does bait and switch mean in a relationship?
Before you decide what's going on in your marriage, it's helpful to understand the bait and switch meaning. Essentially, a bait and switch relationship occurs when a person behaves one way before the start of the marriage but behaves differently after tying the knot.
Bait and switch psychology explains the essence of the bait and switch marriage. Essentially, a bait and switch occurs when the marriage's expectations do not align with the reality of what one or both spouses experience after the wedding day.
Based on how your partner acted before becoming married, you have positive expectations and expect this behavior to continue during your marriage.
With a bait and switch relationship, on the other hand, once the marriage is set in stone, one or both partners change their behavior and stop putting as much effort into the relationship because they've gotten what they wanted.
Bait and switch relationships happen because people think that once they've gotten what they want, they no longer have to try. They can also become a cycle in which one person changes their behavior, so the other person changes in response and the cycle continues.
Signs of a bait and switch marriage
There are ways to tell if your marriage is a bait and switch. There are numerous examples of baiting and switching in a relationship.
Consider the signs below.
1. Your partner was attentive before the marriage, but not anymore
Emotional baiting occurs when your partner is incredibly affectionate and did all the right things to meet your emotional needs before the marriage. Still, once you tie the knot, all of this disappears.
Perhaps your spouse used to shower you with compliments, but now you can get a new haircut and put on your Sunday best, but they don't even seem to notice.
Your significant other might have felt the need to "wow" you to win you over, but once they know you belong to them for life, they no longer bother to put forth the same degree of effort.
Over time, negligent behavior can become quite damaging because you may start to pull away from your partner, creating a vicious cycle of emotional distance.
2. Your sex life is non-existant
Bait and switch sex occurs when a person seems very sexual and attracted to their partner before marriage but puts the breaks on the sex life soon after the wedding day.
Maybe it seemed your spouse had a high sex drive, or they spoke as if sex was important to them while you were dating.
In a bait and switch relationship, your partner's sex drive and need for intimacy seem to be completely different after marriage than it was before tying the knot.
Perhaps your partner wanted to act like they were interested in a satisfying sex life, but they couldn't stay true to this after marriage because they were putting up a front to keep you interested.
If you're experiencing bait and switch sex, this can become a real problem in your marriage, as a satisfying sex life is important for a healthy marriage.
3. Your spouse is a completely different person now
When you're in the middle of a bait and switch relationship, it's not unusual to realize that your spouse is entirely different from when you were dating.
Maybe your spouse shared your interest in health and fitness or spoke fondly of someday having children, only to completely change their interests once the marriage was finalized.
Alternatively, maybe your spouse seemed to share most of your values during the dating stage, but now it's come to light that they don't see eye-to-eye with you on major issues.
For instance, maybe they agreed before marriage that you would split household responsibilities, but now you're left doing 100% of the housework.
Or, maybe the two of you discussed an equal partnership in which you would share decision-making and finances, but now your partner wants to be in charge and leave you out.
In some cases, your spouse's behavior change has to do with the pretense of marriage. They felt they needed to be perfect and align with you in every area for you to agree to marry them, but they couldn't keep up the front after you got married.
Learn more about why a partner goes cold on you by watching this video:
How to deal with a bait and switch relationship
If you recognize signs that you're in a bait and switch marriage, you're probably confused, unhappy, or even angry.
You thought you knew your spouse, but now that you share the same last name, they aren't the same person anymore, and you're not so sure that this is what you signed up for when you promised to stay together for better or for worse.
Fortunately, there are some strategies you can use to help you deal with situations in which it seems that your partner switched at marriage:
Related Reading: 

5 Stages of a Relationship and How to Survive Them
1. Try to look at the root causes
Sometimes a bait and switch relationship doesn't develop because of malicious intent. Instead, it happens over time because of the reality of marriage and adult life.
When bills, long hours at work, and household responsibilities add up, the marriage may not be all rainbows and butterflies anymore.
In this case, it can be helpful to give your spouse the benefit of the doubt. Maybe they'd like to be affectionate and spend quality time together, but they're so drained from work and other responsibilities that they haven't made the same effort.
You might consider planning a fun date night at a time when you're both free, so you can rekindle some of the sparks that brought you together.
2. Have a conversation
If emotional baiting or other forms of bait and switch negatively impact your marriage, it's probably time to sit down and talk with your spouse.
Pick a time when you're both in a good mood and not distracted, and express your concerns to them. You might mention, "Before we got married, you said that you wanted kids, but now you act upset whenever I mention planning for kids in the future. What changed?"
Having an honest conversation can be helpful. Maybe your partner will admit that they behaved in a certain way while dating because they wanted you to stay with them. If this is the case, you can discuss what you'll do to compromise, so both of you are happier.
Related Reading: 

10 Relationship Conversations You Can Have With Your Partner
3. Consider your behavior
In some cases, both partners have shown signs of bait and switch psychology, which only makes matters worse. Or, at the very least, your behavior may contribute to your partner's bait and switch tendencies.
For instance, maybe you were extremely affectionate and attentive before the marriage, which made your partner sexually attracted to you. If you've stopped being so affectionate now that you're married, your spouse may lose some of their sexual attraction.
In this case, the bait and switch sex could be resolved if you'd make more effort to meet your partner's emotional needs.
Conclusion
A bait and switch marriage occurred when your partner seemed to be one person while you were dating, and now they're completely different. Maybe they seemed to share your interests and values before marriage, but now you can't agree on anything.
If you determine that your marriage was a bait and switch situation, there are things you can do to resolve the situation.
Maybe your partner was so captivated by you that they were willing to say and do anything to earn your love. Or, perhaps the realities of marriage have changed the state of the relationship.
If you're unable to heal from and bait and switch marriage on your own, you and your spouse might benefit from working with a counselor or therapist to learn strategies for improving your communication and meeting each other's needs.
Counseling can be beneficial for improving marital satisfaction, even in a bait and switch relationship.
Share this article on
Want to have a happier, healthier marriage?
If you feel disconnected or frustrated about the state of your marriage but want to avoid separation and/or divorce, the marriage.com course meant for married couples is an excellent resource to help you overcome the most challenging aspects of being married.
More On This Topic
You May Also Like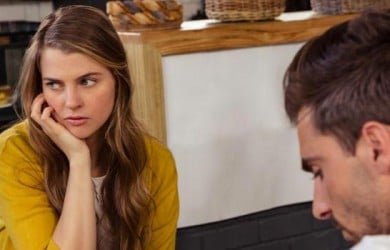 Popular Topics On Married Life