How to Break the Pursuer Distancer Pattern in Your Relationship
Autonomy and connection are the two most important aspects that form the foundation of a romantic relationship that is fulfilling and secure.
How is it possible to be autonomous and well-connected with your partner? Through balance.
Establishing a delicate balance between being autonomous and connected is the way to have a secure romantic relationship.
The problem arises when there's an imbalance in connection and autonomy. That's why it's imperative to learn about the ways to break the pursuer distancer pattern.
If you're dealing with a pursuer distancer relationship, you're in luck! Your concerns and questions will be addressed here! Read on!
Meaning of pursuer distancer pattern in relationships
It's imperative to learn about the pursuer distancer dynamic before you learn about the various ways to break the pursuer distancer pattern.
For breaking the pursuer distancer pattern once and for all, let's learn about the meaning of the pursuer distancer pattern in love.
Do you feel like you're becoming distanced from your beloved? Do you feel like your romantic relationship is not balanced? Do you feel like one of you is putting way too much effort and the other isn't working on the romance at all?
These are all indications that your relationship may have fallen into a pursuer distancer cycle.
Unfortunately, research shows that this issue is a major cause or contributing factor of divorces globally. More often than not, in heterosexual relationships, the wife is the pursuer and the husband is the distancer.
However, it's also fairly common for the boyfriend or husband to be the pursuer and the girlfriend or wife to be the distancer.
In a pursue withdraw relationship, one partner ends up demanding or pursuing affection and attention while the other partner is striving for their space and independence.
As you can see, the pursuer seeks connection while the distancer seeks autonomy.
Here's how the pursuer behaves in the relationship-
This person tends to move towards their beloved when

dealing with relationship stress

.

Discussion, togetherness, communication, and expression are the primary needs of pursuers.

They tend to try and fix (even when their help isn't needed or requested) their partner's problems.

They tend to feel anxious that their beloved doesn't love them enough and are worried about their

partner's abandonment

.

They're scared of the romantic relationship ending.

They may tend to criticize their beloved too frequently for being emotionally distant or disconnected.
Here's how the distancer behaves in the relationship-
Their response to relationship stress is to move away from their beloved.

They seek autonomy, personal space, and distance.

They are self-reliant and private individuals.

They feel approachable and accessible when they aren't being pursued, pressured, and pushed.

They may come off as cold, unavailable, shut down, and withholding individuals.
What happens if the pursuer stops pursuing
Now that you're well aware of the pursuer and distancer let's look at what can happen if the pursuer in the relationship stops pursuing the distancer.
Identification is fundamental before you start implementing the ways to break the pursuer distancer pattern, irrespective of whether you're the distancer or pursuer in the relationship.
You're aware that a pursuer's primary needs are connection, affection, and vulnerability from their partner. They may come off as "nagging" because they're trying to fulfill these needs mentioned above.
It's pivotal to know that pursuers behave this way because they have an intense fear of being abandoned and the relationship ending if they stop pursuing. With this in mind, it'll be easy to avoid the pursuer distancer pattern in romantic relationships.
Related Reading: 

20 Tips on How to Stop Nagging & Build Better Communication
Pursuers believe that their pursuing behavior is what keeps their romantic relationship alive.
But the truth is, if the pursuer ends this pattern of pursuing, the distancer may feel freer to be vulnerable! As already mentioned, distancers express themselves the best when they're not being pursued!
So, if you're a pursuer looking for ways to break the pursuer distancer pattern, it may be worth considering that your behavior towards your beloved could be driving them further away from you.
Do all romantic relationships have a pursuer?
Another important thing to learn about before implementing the different ways to break the pursuer distancer pattern is whether this pursuer withdrawal relationship pattern is common.
The truth is, this distancing behavior in relationships is widespread. A lot of romantic relationships and marriages have a distinct pursuer and distancer.
Why?
It's because pursuers are attracted to distancers and vice-versa. Pursuers perceive the distanced individuals to be self-reliant, confident, and calm.
Distancers consider pursuers to be ambitious, passionate, and direct. Distancers feel that pursuers have what they lack and vice-versa. Hence, the attraction!
Some effective ways to break the pursuer-distancer pattern
So, why is it fundamental to learn how to break the pattern of distancer pursuer in relationships? It's because this imbalance in romance is what can lead to marital breakdowns.
So, if you've identified as either a distancer or pursuer in your relationship, it's worthwhile to implement the ways to break the pursuer distancer pattern. These can be divided into strategies that can be implemented by distancers and pursuers separately.
For the pursuer-
1. Call off the chase
In a pursuer distancer relationship in marriage, if you're the pursuer, you must understand that your partner may desire distance from you because they feel like their autonomy is being threatened.
If you call off the chase, you may see that your partner is more open to being emotionally, sexually, and physically connected with you. That makes it an effective way to break the pursuer distancer pattern in your relationship.
Related Reading: Physical or Emotional Relationship: What's More Important
Have a look at this video that discusses what you can do instead of chasing your partner:
2. Fulfill your needs and interests
Another big step in learning how to stop being the pursuer is to pursue your needs. As a pursuer, chances are that you may be too focused on your beloved's needs and solving their problems even without them asking for your help.
Therefore it's a good idea to use that energy to focus on your needs and effectively break the pursuer distancer pattern.
A distancer appreciates ambition. Remember that. If you're ambitious about your career and interests, it'll be attractive to your partner too.
Related Reading:

 How to Communicate Your Needs in a Relationship?
If you go after your interests, you will get yourself the time to break the cycle of things. Your brain and time will be consumed by other activities you enjoy, which will help.
3. Give your beloved their personal space
You must understand that autonomy is a fundamental need for your beloved. So, when they directly or indirectly seek space or alone time, give it to them.
It doesn't mean that they're losing feelings for you. It simply means that they want that time to focus on themselves.
Related Reading: 

10 Personal Boundaries You Need in Your Relationship
4. Connect with loved ones
Spend a part of your energy in pursuing relationships apart from the one with your beloved. Invest your time connecting with the other important people in your life, such as your friends, relatives, and parents.
For the distancer-
1. Initiate emotional intimacy
If your partner understands and fulfills your need for autonomy and space, it's important to allow yourself to be vulnerable to your beloved by initiating emotional intimacy with them.
Your partner has a strong urge to get to know you and figure out what's on your mind! It's important to routinely communicate your thoughts, feelings, and ideas with your partner.
2. Intimate sexual as well as physical intimacy
Apart from emotional connection, your partner also greatly valued affection. So, it's important to be physically intimate and sexually intimate with them.
3. Schedule quality time with your beloved
Another great way to express your love and care for your beloved is to initiate, plan, and execute date nights and other ways of spending quality time (regularly) with them.
4. Identify your partner's needs
It's probably true that your partner tip-toes around you to identify and fulfill your needs. So, you can show how much you care about your partner by focusing on some of their needs too!
How can you avoid the pursuer-distancer pattern in love
The pursuer distancer dynamic can be harmful to both parties and the relationship, as it never allows you to be yourself ultimately. Let's look into how to stop pursuing a distancer and avoid this unhealthy pattern in love.
● Identify your attachment style
Self-awareness is fundamental for secure and fulfilling relationships. Identify whether you're prone to being a distancer or pursuer in relationships.
Think about your dynamics with your parents and other loved ones to figure out your attachment style as it determines the nature of your connection with your partner.
● Look out for signs of unhealthy attachment in your beloved
Refer to the list above of pursuer and distancer characteristics to identify unhealthy attachment patterns in your beloved. These will help you identify your partner's attachment patterns and thus, you can avoid a pursuer distancer marriage.
● Seek psychotherapy or counseling
One of the best ways to break the pursuer distancer pattern is by seeking professional help with your romantic relationship. Consider psychotherapy and couple's counseling or even doing a course with your beloved to avoid this pattern altogether!
Conclusion
Now that you're well-acquainted with the ways to break the pursuer distancer pattern in romantic relationships, just remember that too much pushing (from the pursuer) and excessive distancing (from the distancer) can jeopardize your opportunity to experience true love.
Share this article on
Want to have a happier, healthier marriage?
If you feel disconnected or frustrated about the state of your marriage but want to avoid separation and/or divorce, the marriage.com course meant for married couples is an excellent resource to help you overcome the most challenging aspects of being married.
More On This Topic
You May Also Like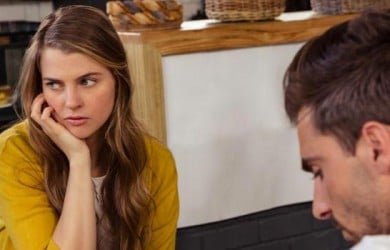 Popular Topics On Married Life