How to Know if You're the Toxic One in the Relationship
When there's a problem in a relationship, in many cases, both partners contribute to it. In healthy relationships, two people can come together, compromise, and move past problems.
However, in toxic relationships, nothing ever seems to be resolved. Sometimes, there is one party who is maintaining the cycle of toxic behavior. If you're asking yourself, "am I the toxic one in the relationship?" The following insights can provide you with clarity.
How toxicity ruins a relationship
Before jumping into signs of a toxic significant other, it's helpful to understand why toxic behavior is so damaging for a relationship. As psychology researchers explain, toxic relationships are poor quality, because they are characterized by power and dominance.
In toxic relationships, there are repeated patterns of harmful behavior. Over time, this leads to the deterioration of the relationship, because it is full of stress, conflict, and in some cases, abuse.
A toxic relationship can take a toll on a person's physical and mental health, leading to problems like depression, anxiety, and even the development of health conditions.
Learn more about recognizing toxic relationships in this video:

15 ways to know if you're the toxic one in the relationship
If a relationship is going poorly or is causing more bad than good, you might begin to ask yourself, "am I the toxic one?" Below are 15 signs you are toxic in a relationship.
1. You threaten to break up at the first sign of conflict
Constantly threatening your partner with a breakup destroys the security and trust in the relationship. You should only discuss breaking up if you actually intend to do it.
When you threaten to break up at the first sign of conflict, what you're really trying to do is control your partner with the threat.
2. You totally avoid conflict
This is a lesser-known sign of a toxic relationship, but conflict avoidance certainly falls under the category of toxicity. Some conflict is natural and even healthy in relationships, and if you avoid it, you'll never grow as a couple.
When you are conflict avoidant, your partner will walk on eggshells, fearful of discussing anything that isn't entirely positive.
3. You expect your partner to read your mind
If you're asking, "Am I the problem in the relationship?" consider whether you expect your partner to read your mind. This looks like feeling that your significant other should know what you want without you ever asking and then getting angry when they can't figure it out.
4. You never take accountability
When you make a mistake in a relationship, the best response is typically to take accountability and apologize. If you never own up to your mistakes and you blame your partner for everything that goes wrong, it creates a toxic environment.
5. You're controlling
No relationship is healthy when one partner tries to maintain control over the other. Telling your partner who they can hang out with and when, or punishing them when they don't give in to all of your demands, are forms of control.
Such behavior can leave them wondering, 'is my partner toxic?' Expressing that you're uncomfortable hanging out with an ex-partner is one thing, but it becomes controlling when you're cutting them off from friends and family.
Related Reading: 

25 Signs You are in a Controlling Relationship
6. You don't communicate with them
Healthy relationships rely upon open communication. If you don't talk with your partner about problems that arise or things that you're feeling, you're contributing to toxicity in the relationship.
7. You gaslight
Gaslighting is a form of manipulation in which one person tries to convince the other that they are crazy and that their understanding of reality is flawed.
For example, a gaslighter may do something incredibly hurtful and tell their partner that they are remembering incorrectly, or that they're just being overly sensitive.
A gaslighter may also undermine a person's intelligence to convince them that they could not possibly understand what actually happened.
Related Reading: 

Am I Being Gaslighted

?
8. The relationship revolves around your needs
To arrive at an answer to, "am I the toxic one in the relationship?" take some time to really consider the dynamics of your relationship. Do you and your partner both have your needs met, or does it seem to revolve around your needs?
It's important to be honest with yourself because if the relationship is one-sided, and you're the only one who gets support and validation, you're probably the toxic one.
9. You're not willing to address your own flaws
If you spend a lot of time demanding that your partner change, but you're not willing to consider that you have flaws as well, you may be the toxic one in the partnership.
No one is perfect, and when there are problems in a relationship, both parties have to work to resolve their contribution to the problem.
10. You don't support your partner in front of other people
For a relationship to thrive, both people in it need to have the other person's back. This means that when friends or family members talk badly about your partner, you should stand up for them.
If you don't offer this support, or you repeatedly speak negatively about your significant other to friends and family, you're showing toxic behavior.
11. You refuse to give your partner personal space
Even in the healthiest of relationships, people need time apart to explore their own interests. If you're the toxic one in the relationship, you'll punish your partner for wanting time on their own or spending time with friends.
You may go so far as to tell them that you'll leave them if they do their own thing.
12. You're a manipulator
Repeatedly and intentionally manipulating your significant other is one of the signs you are toxic in a relationship. This could involve lying to them to get your way or exaggerating your point in arguments so that they will see things your way.
Related Reading: 

25 Examples of Manipulation in Relationships
13. You constantly criticize your partner
Relationships grow and survive when each person has an overall positive view of their partner. In a toxic relationship, one or both partners are overly negative toward the other. This may involve frequent name-calling, put-downs, or complaints, with a lack of appreciation and love expressed for the significant other.
14. You play the victim
If you're toxic in a relationship, you're probably known for playing the victim. Instead of taking accountability when you make a mistake, you may cry, blame your partner, and talk about how hard life is for you. Ultimately, this leads your partner to feel guilty for even being upset with you.
15. You repeat the same patterns in every relationship
If every relationship you have is full of the same unhealthy patterns, such as constant fighting, emotional abuse, withholding affection, and always needing to be right, chances are that you're toxic in your relationships.
You move on to a new partner expecting the next relationship to be better, but it will be just as toxic as the last if you don't make an effort to change.
How to stop being toxic in a relationship
Now that you've learned how to know if you're toxic in a relationship, you can take steps to stop this harmful behavior. The first step is self-awareness, so recognizing that you display toxic behaviors can go a long way toward correcting them.
Once you identify toxic patterns in your own behavior, you can begin to address them. For example, if you tend to shut down and not communicate, now is the time to practice direct communication with your partner.
If you tend to be controlling toward your significant other, stop punishing them for wanting to spend time with friends or explore their own hobbies.
If you're struggling to change toxic patterns, you may benefit from seeking counseling to help you overcome underlying mental health issues that are contributing to toxic behavior.
Common questions
Here are some more questions concerning the topic of toxic partners and relationships. Read the answers and check if they are relevant to your situation.
What do toxic boyfriends say?
Do people ever ask you, 'is your relationship toxic because of your partner'? There are a number of behaviors that fall under the category of toxic, so there are several things that a toxic boyfriend might say.
He may criticize you, lie to you, blame you for his shortcomings, tell you that you're too sensitive, or say that you're selfish for wanting to spend time with friends.
Can a toxic girlfriend change?
A toxic partner can change, but they have to be willing to take accountability for their behavior. If a toxic partner refuses to acknowledge their own shortcomings, they will continue the same behaviors.
By developing an awareness of their patterns and in some cases seeking counseling, someone with toxic traits can change, but they have to be willing to do so.
Break the pattern of toxicity
If you're asking yourself, "am I the toxic one in the relationship?" you may be noticing some unhealthy patterns in yourself. The good news is that if you recognize that you're behaving in a toxic way, you can take accountability and make an intentional effort to change harmful behaviors.
It can be helpful for you and your significant other to work with a relationship therapist as you work toward correcting toxic behaviors. In therapy sessions, you can process your emotions, learn healthy coping strategies, improve your communication, and address irrational or negative thinking patterns.
Share this article on
Want to have a happier, healthier marriage?
If you feel disconnected or frustrated about the state of your marriage but want to avoid separation and/or divorce, the marriage.com course meant for married couples is an excellent resource to help you overcome the most challenging aspects of being married.
Learn More On This Topic
You May Also Like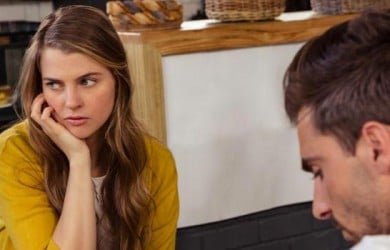 Popular Topics On Married Life