10 Signs You're in Love and Should Marry Him
Once you are in an intimate relationship, there are certain signs you're in love with him enough to marry him.
You might have even been sure that you wanted to spend the rest of your life as the Mrs as soon as you exchanged the first "Hello."
However, when you're infatuated with a guy, you might lose your objectivity. So, if you don't recognize the following signals in your relationship, take a step back and let things evolve independently.
Here are signs you're in love with him and should marry him-
1. You can (and often do) imagine the future with him
When we fall for someone, we tend to imagine ourselves as the couple from a fairy-tale, who live happily forever together. Everyone has done that at a certain point in their lives.
This uncontrollable need to dream of a delightful future is fueled by hormones and the chemistry of falling in love. Yet, not every relationship will (and should) develop into a marriage.
So, what's the difference?
Imagining yourself with a man forever or considering him as your future husband can be considered a sign you're in love. However, that does not mean that marriage is a realistic option for the two of you.
But if your imagination doesn't sound like a fairy-tale and you can look past that dreamy picture and imagine the reality of it, the arguments, the stress, the crises, and how the two of you resolve conflicts, then it is one of the definite signs you should marry him.
2. You can support your partner even when you disagree
One of the obvious signs you're in love is when you want to be one with your partner. You want the two of you to merge into one divine being, and to remain that way forever.
But that's not how it works, and even though it is one of the signs of being in love with him, it might also be a sign that you should not marry him.
As Harriet Lerner advises, you should approach the matter of marriage with a clear head, and not from the perspective of being swept by the surge of emotions.
A healthy relationship (and potentially a great marriage) is when you disagree, but you have the ability and the empathy to support your partner in their viewpoint.
Not only to defend his stance in front of the others but also to understand their perspective even when it's directly opposing yours.
3. You are able to forgive and move on
Yes, you might think your new partner is faultless and perfect in every aspect at first. It's usually that period of a relationship that makes you want to seize him and never let anyone else have him.
But let me assure you he is not, as you aren't because no one is, for that matter. He will err, he might hurt you, he will do things you disagree with.
Knowing you're in love isn't always enough; for a relationship to end in a marriage, you should be able to forgive and move on.
Transgressions will happen; that is part of being human.
But, when you are in love with someone, enough to give the rest of your life to them, you should be guided by your empathy and not by your own ego, because your own empathetic concerns and that of your partner can have a significant impact on your relationship satisfaction.
Hence, you should try to understand and to let off.
4. You can make room for each other's individuality
As we already said, one of the signs you're in love is to be one with that person. But, in every relationship, the time comes when you just can't move as a single entity anymore; you need to have your own space and pursue your dreams.
You are two adults, two separate people, who have chosen to go ahead through life together.
This notion can trigger separation anxiety in some people. But, if you feel this way, it is a certain sign that you might not love him (although it might feel as if you were deeply in love), not in a healthy way, at least.
A healthy relationship with a future happens only when both partners can thrive as individuals.
5. You have the same future goals and aspirations
Wondering how to know if you should marry him?
One of the fundamental signs you're in love and should marry him is when you both have similar future goals and aspirations.
Results from a study examining the influence of goal conflict between romantic partners on relationship quality showed that partners' with higher goal conflict were directly associated with lower relationship quality and lower subjective well-being.
Being on the same wavelength regarding your future is essential for you to be together everlastingly, and it is a major sign that he's the man for you.
On the off chance that you find someone whose future objectives and dreams aren't shared, or possibly similar, you must discuss this disparity if you choose to get hitched.
Otherwise, you both might end up compromising too much and may wind up unsatisfied with your lives.
On the other hand, if your life goals and aspirations align, you can have a very happy and fulfilling marriage. So, no matter what your fantasies are, if they are similar, you are in the ideal relationship that you can transform into a marriage.
6. There is no pretense between you
How to know if you should marry him?
For starters, does he know who you truly are and vice versa. Put aside all the signs you're in love and ask yourself if there is even a smidge of pretense in your relationship.
Most importantly, before you consider marriage with somebody, know if you can act naturally around them.
Unless they can acknowledge and adore you for who you are, marriage should not even be considered.
You should be able to share all that you need to be without feeling judged by him, and likewise, he should feel like he can be absolutely himself around you.
Being accepted for who you are is one of the essential signs you're in love, and you might not have to think twice before seriously considering getting married.
If you do get married to somebody that you can't act yourself around, at that point, you are setting yourself up for disappointment.
Marriage is a long-lasting affair, and acting like somebody you're not won't get you too far.
7. You overcame hardships together
Perseverance in getting over hard times is also one of the signs you're in love and should marry him.
If you were able to overcome something in your relationship that was hard to manage, and you didn't let it break you, the relationship will solidify further.
It can be anything; however, for instance, it may be the case that one of you was sincerely depending upon the other after an awful breakdown.
It could even be that there was an absence of trust in the relationship at an early stage, yet you have worked through it. If you can work through some terrible circumstances, nothing else can shake your faith in each other.
You realize that your relationship would now be able to endure and thrive, in any event, when things don't go to design.
If something that occurred between you is gradually ruining the connection between you, then that is an issue.
You are simply not the type of individuals to work through issues and life's terrible circumstances with one another. You probably won't be the best at speaking with one another, or you may very well not care enough to work through a tough time.
Whatever the reasons are, you shouldn't consider getting, because life is just actually going to toss more difficult circumstances your way, and not every one of them will be positive ones.
You should be in a marriage with somebody that you realize you can rely upon and work at things with.
Wacth the following TED talk where Psychologist and researcher Joanne Davila describes how you can create the things that lead to healthy relationships and reduce the things that lead to unhealthy ones.
How do you know you're in love?
There are many different aspects to knowing if you are in love with someone, and one such aspect is 'Trust.'
A relationship headed for marriage is a tremendous measure of trust, both in one another and in the quality of the relationship.
So when you've discovered somebody you want to marry, you'll not just feel like you can confide in them with anything, but also be sure they place a similar measure of trust in you.
You'll definitely know that you're both ready to do whatever you can to guarantee your relationship makes due over the long haul.
9. Your life is more peaceful with them
Marriage is for the long haul and takes a lot of time, effort, and commitment to keep it going.
However, when you marry someone you love and who is right for you, even after all the hard work, you'll feel an overall feeling of peace and harmony in your relationship.
If you have found the one you ought to marry, all the questions or reservations you had about your future with them will drift away.
10. Your reactions are your compass
We talked a lot about how you should have an understanding of your future husband if so happens. But there is one final sign that you should consider before deciding to marry someone.
It's how you feel when they do something. Is there some nagging feeling that somewhere along the line, you might not be able to tolerate and to love them?
Ideally, you should feel in perfect sync with your future husband. But some turbulences are also fine.
The main thing is – are you expecting him to change? He won't, and it's not fair for you to expect it. You have to accept him as he is right now and observe how you react to his actions. If you feel comfortable with him and you love him, venture on!
Share this article on
Want to have a happier, healthier marriage?
If you feel disconnected or frustrated about the state of your marriage but want to avoid separation and/or divorce, the marriage.com course meant for married couples is an excellent resource to help you overcome the most challenging aspects of being married.
Learn More On This Topic
You May Also Like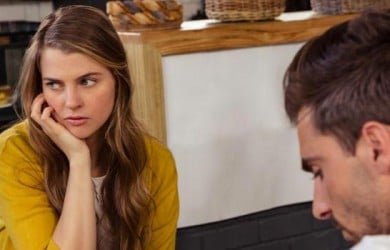 Popular Topics On Married Life