10 Signs You Have a Great Husband
Have you ever wondered if you're the kind of husband that your wife deserves, well why don't you read on and find out!
1. Helping your wife around the house
There's nothing more attractive than a man who knows his way around the kitchen or maybe the laundry?
Chores are a hectic ordeal and you lending a hand to share some of the workloads really makes life easier for your wife.
If you're one of the good ones than you budge in every now and then wash the dishes, do the laundry, pick the kids from school or shop for groceries because you know that you're wife and you are in this together, she doesn't have to do it all alone and she can always depend on you.
2. Having an empowering attitude toward your wife
Being a dutiful husband you're in tune with the fact that your wife just like you has her own brand of passions, ambitions, and dreams.
You constantly inspire her to pursue whatever she's passionate about whether it's writing a blog, or starting her own business; you make sure that she knows you're confident about her competence and you believe in her skills and abilities.
Nothing makes you more proud than to empower her to stand strong and accomplish her goals.
3. You're a good listener
What women really love and need more than anything in this world is someone to listen to them, someone who gives them importance, and someone who cares about them.
If you're an avid listener then you're definitely gold; you make sure you hear your wife out whether be it about her day, her favorite movie, or a childhood memory from the past, or maybe some undisclosed wishes or desires that she's too shy to talk about.
You ask open-ended questions and listen with interest whatever her answer might be.
This helps you better understand the needs of your wife and provide you with access to useful information like that restaurant she's always wanted to try but never had the chance to or that dress she wanted to buy this will earn you plus points in the future.
4. You do the smallest of things that matter
Light doses of romance when incorporated on a regular basis are more effective and genuine than occasional grand gestures of love.
Don't get me wrong, sporadic surprises are super exciting, and women love them.
But the little things in between those opulent displays of love, plant a seed of love and affection in your benevolent wife's heart; one that she herself is not aware of and it slowly sprouts into a garden of love for you.
This is a sure way to know that you're truly husband-material if you bring her a glass of water without her asking, cook her a meal, give her a foot massage after a long days work or leave notes for her telling her that you love her then you're heading in the right direction.
5. You set your priorities straight
Times were fun when you were a young bachelor hanging out with the guys, or staying out late nights, and flirting around with other women.
Now things are different you have someone who loves you waiting for you at home, and there are few things that you need to chop off from your list of fun things to do.
Your wife comes first before your friends, and before your boyish shenanigans, and you almost instinctively put your wife first in everything; this act alone has a direct impact on your marriage.
6. You still plan romantic getaways with your wife
To you, Marriage does not mark the end of your romance; it's merely the beginning of it.
You constantly search for creative ways to reignite your love life often planning date nights or spontaneous escapades just so you two could spend some time with each other.
The reason you do this is that you're fully aware how happy it makes your wife, and your relationship with her is of utmost importance to you.
7. You've developed an expansive vocabulary
Instead of plain, monotonous, often repetitive sentences of self-expression you communicate via a rich repertoire of words to express your emotional needs and wants in a way in which she can understand.
Vague sentences like "Sure honey whatever you say," "I don't care" or "I'm not sure about this" without any proper description or elaboration do not fully express in reality whatever you're trying to communicate so if you excel in this area than you're definitely an awesome husband.
8. You compliment her every chance you get
Nothing flatters your wife like a sweet compliment making her feel beautiful and cherished.
You make sure that every effort she puts in her appearance is noticed and appreciated. Being the perfect husband you are, all you want your wife is to feel loved and be happy.
Share this article on
Want to have a happier, healthier marriage?
If you feel disconnected or frustrated about the state of your marriage but want to avoid separation and/or divorce, the marriage.com course meant for married couples is an excellent resource to help you overcome the most challenging aspects of being married.
More On This Topic
You May Also Like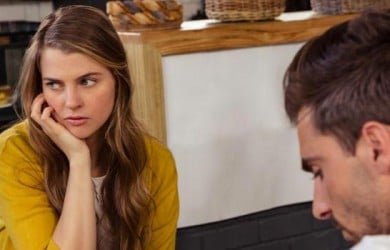 Popular Topics On Married Life