How to Start a Conversation About Erectile Dysfunction With Your Partner
Erectile dysfunction, which is often termed
ED is one of the most prevalent sexual debilitation in men
and the odds of them experiencing ED increases with age.
How does erectile dysfunction affect relationships depends upon how a couple approach the problem.
Talking about ED with your partner can be very uncomfortable and embarrassing in a marriage or relationship.
This may be because ED has significant psychological effects on both partners in the relationship.
Couples experiencing ED in a relationship often tend to blame each other for their condition and frequently have feelings of guilt and low self-esteem.
The good news is that there are many treatment options available for ED. Discussing erectile dysfunction with your partner and facing the condition together can help bring you closer together as a couple.
Use these tips for open & honest conversations about erectile dysfunction with your partner.
Start with the facts
What causes ED includes a number of issues such as restricted flow of blood to the penis, hormonal imbalance, anxiety, depression and other psychological causes
Experiencing ED can bring a lot of emotions to the surface for you and your partner. They might be very frustrated and feel that their masculinity has been compromised.
Your partner may be worried that you no longer find them attractive or that they have done something wrong, and you may feel embarrassed and angry.
Discussing erection problems with your spouse or partner can be difficult, but to identify the cause of this problem and finding a way to resolve it requires that you communicate openly with your partner.
The best way to begin the conversation is with the facts. Sit down with your partner and explain that you are experiencing a condition that more than 18 million men in the United States have.
Reassure your partner that this condition has nothing to do with attraction. Lay out the facts and allow your partner to ask questions. Using literature from your doctor may be helpful.
Once you and your partner realize that this issue is not going to last forever and their are feasible solutions to ED. The next step is to find solutions that would work best for you.
Discuss possible treatment options
Once you feel comfortable communicating about ED, tell your partner about possible treatment options.
Your ED management may include managing other health contentions, taking medication or decreasing the stress in your life.
Moreover, treatment options for ED should be focused towards providing you quick and effective treatment with minimal side effects.
Let your partner know how they can help you. If possible, consider inviting your partner to go with you to future doctor appointments.
Including your partner in the treatment can help them understand the situation.
Be it physical therapy, oral medications, injections or even penile implants your partner take on a specific treatment can be very pivotal for the future of your relationship.
Keep communication open
Are you wondering how couples can talk about erectile dysfunction and have better sex? Well it takes a lot of courage and patience from both partners to work through this issue.
During the initial conversation, it's normal for your partner to not have much to say. Your partner may need some time to absorb the information and may have questions in the future.
Keep the communication lines open so that you or your partner can continue to talk about it as needed.
Being honest and open will help you both as you explore treatment solutions and seek alternatives to receiving sexual pleasure.
The bright side to this phase is that once you and your partner are able to navigate through it your relationship would be even stronger than what it was before.
Couples often experience stronger attraction, renewed sexual confidence and a greater sense of gratitude towards each other after their triumph over erectile dysfunction
Consider couples therapy
If it's just too difficult to talk about ED with one another, you should consider couples counseling.
In many cases of ED the issue might be more psychological then physical. A counselor or therapist can help you find ways to address the cause of ED and find ways to
A counselor can help you both communicate and express your feelings in a non-judgmental setting. A counselor that specializes in sexual issues may be especially helpful.
Talking with your partner about ED can help relieve some of the burden that you may be feeling and can ease your partner's concerns.
Initiating the conversation is typically the most difficult part. As you continue to communicate, you may find that you feel closer to your partner than ever before and that you can experience deeper levels of intimacy.
Share this article on
Want to have a happier, healthier marriage?
If you feel disconnected or frustrated about the state of your marriage but want to avoid separation and/or divorce, the marriage.com course meant for married couples is an excellent resource to help you overcome the most challenging aspects of being married.
More On This Topic
Recent Articles
You May Also Like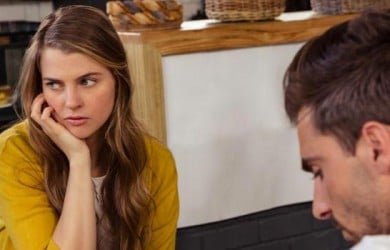 Popular Topics On Married Life