Treating Co-Parenting Relationship as a Successful Business
When nearly half of all marriages end in divorce, which has been consistent since the 1990's, many children are switching back and forth between homes and parents.
This number does not even account for parents who were never married and live apart. With this being a consistent situation for families over the past almost three decades, you would think that parents would have co-parenting down.
Those folks would look at the research about the best interests of raising children in multiple households and follow the steps that help children survive and thrive in this situation. Unfortunately, this is not the case.
While there are research and experience to show what works for the majority of children living in two households, many parents do not follow these steps.
The children caught in the crosshairs
Why is my practice full of children who struggle with divorce? Who are constantly put in the middle of an adult conflict? Who struggles to concentrate on school when they know a court date is coming and their entire schedule might change? Many of these kids are not in the early stages of a divorce. They have been living in the conflict for years and still, their parents cannot figure it out.
The main reason parents are not dealing with their own emotions about the divorce and wounds of the relationship. And who does this harm the most? The children caught in the crosshairs.
Relationships are difficult. Divorce is difficult. There are many tough emotions that will occur including anger, resentment, fear, grief, anxiety, fill in any other tough emotion and I bet divorce can bring it out.
Our go-to way of handling these emotions is avoidance
The problem with avoidance is that it makes most emotions grow stronger over time and they will come out when you least expect it or when you are significantly stressed or triggered by an event (another court date coming up, a change in the parenting schedule, a new romantic partner).
What is the alternative? You are going to have to acknowledge and deal with these tough emotions.
This can be done with a licensed therapist, with the right family or friends (ones who will not fuel the fire), through journaling or meditation. There is not one right way to deal with these emotions, but it is important to deal with them. Not only will you be a healthier person, your children will be as well.
It is truly possible that you will do the work and your ex will not
I can feel some of you getting defensive. What if I deal with my emotions but my ex partner doesn't? Then what?
Well, then you will, unfortunately, have more work to do. We have no control of how anyone else manages or chooses to deal with their emotions. It would be the best outcome if both parents do the tough emotional work, however, it is truly possible that you will do the work and your ex will not. This will most likely bring up more anger and frustration for you and more struggles for your children.
However, your children will have an emotionally safe place to fall if you are doing the work. So, while the work is hard, it is worth it.
What now?
I have found ways to cope with my anger and fear and still feel lost in this co-parenting world. Below are some steps to help promote a smooth(er) co-parenting relationship.
These steps are meant for parenting pairs where there is not a history of power and control, coercive control or domestic violence.
Remember to deal with your own emotions as they come in a healthy way
Transitions are tough for everyone and typically during and soon after a divorce everyone is living in a survival mode.
Many parents only to focus on their children right after a separation and look for any sign of struggle. Of course it is so important to have your children in the forefront of your mind, however, it is much easier to avoid emotions that you are experiencing about the changes and about the divorce while only focusing on your children.
Eventually, any of the tough emotions that you are avoiding experiencing will come out and interfere with your life. Many times there is anger and hurt after a relationship dissolves.
How are you grieving this relationship?
Even if it was difficult for a long time, there was once a dream of what the future could be.
Grieving this loss is an important step to manage your sadness, resentment, anger, etc. If there was an affair or another major event that ended the marriage, then there is more work to do.
Your children do not need to know about how awful you feel the other parent is. They still love that parent and will have time with them. They do not need to worry about hurting your feelings for loving their other parent.
It is for these reasons, as well as many others that it is important for you to find a way to work through your feelings about your marriage, divorce, and your ex-partner. You can do this by seeing a therapist, joining a support group, using supportive family or friends, using the support of your church or temple, journaling, or meditation.
Whatever form of healing you choose will be a lifesaver for you and your children if you are intentional about the work you need to do.
Change your perspective
Treat your co-parenting relationship as a business.
If you only see your children as the wonderful sweet babies that you stayed awake with all night when they were teething or drive back and forth from one activity to another with seemingly little acknowledgement and that you have to share them with someone that doesn't match your motivation and willingness, then co-parenting will be so much more difficult.
It is much easier to co-parent as if your children are a small business. While many small businesses thrive with some emotion and passion behind them, if that is all that is there, the business will most likely fail.
There needs to be a business and marketing plan, financials figured out, structure and decisions need to be made with the best interest of the business at the forefront.
So, even though avoiding emotions is not ideal for most situations, it is for this business arrangement. What is in the best interest of your business; your children? Not you. Your children. Not what will make your ex-partner look bad in court so that you get more time with them. Not what will lower your child support payments. Not what will always be the easiest.
What is in the best interest of your business, your greatest gift, your children.
Commit to putting your best effort and intentions into co-parenting
This will not always be fun.
You may have to return to step one often and remember to put the new perspective in the forefront of your mind. Even if you feel that you have little control over the situation, this you do have complete control over. You can intentionally work towards supporting the co-parenting plan.
Make changes as needed if it will benefit your business
As your children grow older, their developmental needs change.
A baby needs a consistent primary caretaker. Overnight visits with a secondary caretaker may be harmful to development in some situations, whereas shorter visits during the day several times a week can foster attachment with a secondary caregiver without disrupting the important routine that is so helpful for regulation.
In contrast, an elementary school-age child can usually accommodate an equal or almost equal parenting schedule.
As your child matures, it is important to create a new schedule that will best accommodate their developmental level. (Thomas, 1997). If your child is struggling with something, evaluate what is going on and be willing to make the necessary changes.
Repeat steps 1-4 whenever necessary
Since the only person that you can control is yourself, focusing on those things you can control is your best bet for a calmer parenting situation.
Your children depend on you to lead the way. If you do the work, you are providing them with a template for how to deal with difficult situations they may face in their lives. It can be emotionally draining and frustrating, however, it's at these times we remember our children are not just a small business, but our sweet babies. We can do it for them.
Share this article on
Want to have a happier, healthier marriage?
If you feel disconnected or frustrated about the state of your marriage but want to avoid separation and/or divorce, the marriage.com course meant for married couples is an excellent resource to help you overcome the most challenging aspects of being married.
More On This Topic
You May Also Like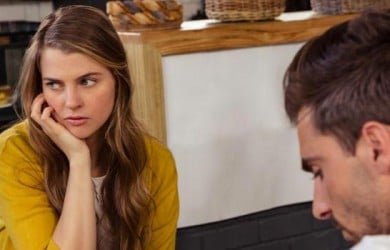 Popular Topics On Married Life