4 Signs to Show Your Business Is Killing Your Relationship
Love is inevitable in life, nothing less – nothing more.
Being a living entity with human emotions, you can't escape falling for someone at least once in a lifetime. That one person means the whole world to you.
Under the influence of this young love, people usually want to go to any extent to make it work.
The aspirations are high, goals are set, two souls unify and become one.
Does the story end over here? What ye say? It's an emphatic no – it doesn't. The point of time that is misconstrued as an end is actually the beginning. With the passage of time, the mutual passion grows old, and other life commitments take over.
Here, one is supposed to create a decent balance between the two contemporary worlds, the love-life and the work-life. You are in absolute charge of both the worlds, you can manage them successfully as long as you keep them apart and detached.
Understand the life of an entrepreneur with sensitivity
Entrepreneurs running their own businesses are loaded with lots of responsibility.
No denying, sometimes it affects their private life too. The merger of these two parts of life is a disaster for sure.
Too much business stress can ruin your relationship and love-life in no time.
It doesn't take lots to get your relationship destroyed. Tiny steps towards the wrong path set the self-destruct button on.
If few things are not taken care of, they can be a pebble in the shoe. It can be annoyingly uninteresting to deal with a problematic relationship.
Therefore, the dissenting elements should not be given enough room to exist.
Be watchful of these signs:
1. No time means no love, no nothing
The partners of entrepreneurs start being concerned about the lack of time.
Lack of time creates an unmeasurable distance between the two. This distance adds fuel to the fire.
The relationship is all set to meet its end when there's nothing but silence and distance.
When the major chunk of your time is absorbed handling the business, very little would be left for the person who deserves it more than anyone and anything.
There would be complaints and grudges in the follow-up, whether transported through words or dispatched via silent treatment.
2. Business shouldn't be the focal point of your talks
Your business should never be the central point of your lengthy conversations.
It's worrisome if you spend all your time talking about business stuff. Don't let yourself engrossed in material things even when you're home.
Make home look like home.
Whereas it is important to familiarize your partner with all the hustle and bustle you go through, it is not mandatory to make it a habit. Once, it becomes a regular action, it can trigger trouble between you both.
Engagement on an emotional level is far more important in a relationship. Domestication is required to keep it going.
Business-related things in no way should be overshadowing the essence of your relationship.
3. Divided attention can cause doubts
Have you ever found yourself lost in another world in the presence of your partner? Have you just nodded your head instead of responding with detail-oriented answers?
It must have happened because of semi attentiveness. What would your partner be thinking about this, ever wondered? This concern needs to be addressed.
Your one-word answers or nods could not have satisfied your partner. This probably left your partner with a serious doubt.
Trust comes first and before anything else.
A relationship cannot survive without trust. However, the burden doesn't lie on two shoulders. Ideally, there should be four of them carrying equal weight.
Blind trust is no prerogative in a healthy relationship.
It has to be maintained from both the ends. One shouldn't be expected to hush the apprehensions and doubts without reasoning them.
Also watch: Top 6 Reasons Why Your Marriage Is Falling Apart
4. The extensive stress can make you bitter
Entrepreneurs and business owners usually work day in and day out to make success kiss their feet.
Waking till 2 am to work becomes a norm for them. Attending business dinners and social evenings for the repute and constant growth of the business is no exception.
Late sittings in the office and outdoor business gatherings, both can consume an entrepreneur's time. The hectic routine of a businessman can snatch some positive vibes leaving him with an unhealthy amount of stress.
Remember, stress is always toxic. It can stir up bitterness. This bitterness and absence of empathy can invoke war of words between the entrepreneur and his/her partner.
No matter how hard we try to keep our professional and personal lives disparate and unfamiliar, they're somewhat interlinked.
Therefore, one can only try to avoid things that kindle relationship stress. No clue, how ugly ''relationship stress'' combined with ''work stress'' would seem.
Hence, business and relationship oughtn't to be merged. These two are completely different institutions that require equal attention to yours.
Share this article on
Want to have a happier, healthier marriage?
If you feel disconnected or frustrated about the state of your marriage but want to avoid separation and/or divorce, the marriage.com course meant for married couples is an excellent resource to help you overcome the most challenging aspects of being married.
Learn More On This Topic
You May Also Like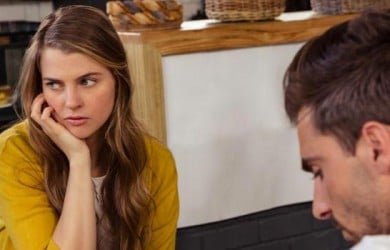 Popular Topics On Married Life