What Is the Sacrament of Marriage: Everything You Need to Know
Sometimes, people claim that marriage is just a piece of paper, but it turns out that there is so much more to marriage than that.
While marriage may represent a contract from a legal standpoint, it is also a sacred union between two people, especially when considering marriage from a religious perspective.
Here, learn about the sacrament of marriage and what it might mean for your union. The sacrament of marriage's meaning is explained below from a Catholic perspective.
What is a sacrament of marriage?
Catholic marriage beliefs often center on the idea of the sacrament of marriage. From this standpoint, marriage as a sacrament means that man and wife enter a convent when they marry. This is more than just a contract; it refers to the marriage between a husband and wife as a permanent union in which both people know and love each other and God.
More specifically, Catholic belief is that the sacrament of marriage means that a man and woman are bound together in a covenant under God and the church. The covenant of marriage is so strong that it can never be broken.
Related Reading: 

15 Helpful Tips for Catholic Marriage Preparation
What is the origin of the sacrament of marriage?
To understand the origin of this concept, it's important to look at the history of the sacrament of marriage. Over time, there has been debate and confusion among the Catholic church regarding whether marriage constituted a sacramental relationship.
Before 1000 AD, marriage was tolerated as a necessary institution to continue the human race. At this time, the sacrament of matrimony was not yet considered.
In some instances, marriage was considered a waste of time, and people thought they were better off being single than going through the challenges of marriage because they were certain the second coming of Christ was going to occur soon.
Fast forward to the start of the 1300s, and some Christian theologians started to list marriage as a church sacrament.
The Roman Catholic church formally recognized marriage as a sacrament of the church when, during the 1600s, they declared that there were seven sacraments of the church and that marriage was one of them.
While the Catholic church recognized in the 1600s that marriage was a sacrament, it wasn't until much later, in the 1960s with the Vatican II, that marriage was described as a sacramental relationship in the way that we understand such a relationship today.
In this document, marriage was labeled as being "penetrated by the spirit of Christ."
Related Reading: 

Trends in the History of Marriage and the Role of Love
The Biblical roots of sacramental marriage
Marriage as a sacrament has its roots in the Bible. After all, Matthew 19:6 addresses the permanent nature of marriage when stating that what God has joined together cannot be broken. This means that Christian marriage is intended to be a sacred lifelong commitment between two people.
Other Biblical passages refer to the fact that God did not intend for men and women to be alone; instead, His intent was for a man to join with his wife.
Finally, the importance of the sacrament of marriage is articulated when the Bible describes man and wife as "becoming one flesh."
Learn more about the Biblical roots of marriage as a sacrament in the following video:
What is the importance of the sacrament of marriage?
So, why is the sacrament of marriage important? According to Catholic marriage beliefs, the sacrament of marriage means that marriage is a permanent and irrevocable bond between a man and a woman. Marriage is a safe setting for procreation and is a sacred union.
Rules for the sacrament of marriage
The sacrament of marriage comes with rules, according to Catholic beliefs. For marriage to be considered sacramental, it must follow these rules:
It occurs between a baptized man and a baptized woman.

Both parties must freely consent to the marriage.

It must be witnessed by an authorized church representative (i.e., a priest) and two other witnesses.

The people entering the marriage must agree to be faithful to each other and open to children.
This means that a marriage between a Catholic and a non-Christian does not qualify as sacramental.
FAQs about sacraments of marriage
If you're looking for information about Catholic marriage beliefs and the sacrament of marriage, the answers to the following questions can also be helpful.
1. Is the sacrament of confirmation necessary for marriage?
According to traditional Catholic beliefs, the sacrament of confirmation is necessary for marriage. However, there may be exceptions. Catholic doctrines state that a person must be confirmed before marriage unless doing so would create a significant burden.
Being confirmed is highly recommended for Catholic marriage but not required in the United States. That being said, an individual priest may ask that both couple members be confirmed before the priest agrees to marry the couple.
2. What documents do you need to get married in a Catholic church?
In many cases, you need to have the following documents to become married in the Catholic church:
Certificates of baptism

Certificate of Holy Communion and Confirmation

Affidavit of Freedom to marry

A civil

marriage license

A certificate of completion showing that you have undergone a

premarital course

.
3. When did the Church make marriage a sacrament?
The history of the sacrament of marriage is a little mixed, but there is evidence of marriage being considered a sacrament of the church as early as the 1300s.
In the 1600s, marriage was officially recognized as one of the seven sacraments. Before this time, it was believed that baptism and the eucharist were the only two sacraments.
4. Why do we need to receive the sacrament of matrimony?
Receiving the sacrament of matrimony allows you to enjoy the sacred covenant of Christian marriage.
When you enter into the sacrament of marriage, you enter into a lifelong bond that cannot be broken and establish a union that is pleasing to God and filled with God's love.
The takeaway
There are a multitude of different belief systems about marriage and relationships. Within the Catholic church, the sacrament of marriage is central. According to Catholic marriage beliefs, the sacrament of matrimony represents a sacred covenant.
For those who belong to the Catholic church, following the rules of the sacrament of marriage is often an important part of their cultural beliefs.
While marriage is sacred according to this belief system, it's important to remember that nowhere in religious doctrines is it suggested that marriage will be easy or without struggle.
Instead, doctrines related to the sacrament of marriage state that couples are to stay committed to a lifelong union, even in the face of trials and tribulations.
Having a marriage grounded in God's love and carried out following the Catholic church's beliefs can help couples remain faithful to each other in sickness and health.
Share this article on
Want to have a happier, healthier marriage?
If you feel disconnected or frustrated about the state of your marriage but want to avoid separation and/or divorce, the marriage.com course meant for married couples is an excellent resource to help you overcome the most challenging aspects of being married.
More On This Topic
You May Also Like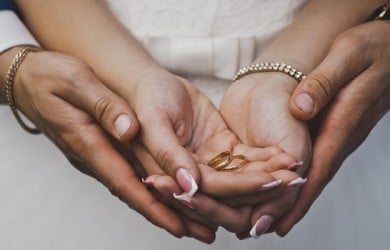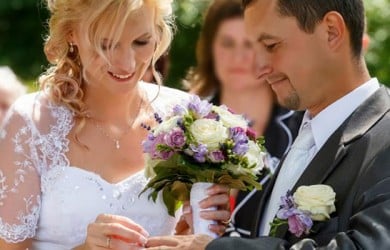 Popular Topics On Getting Married