How Much Money Should You Spend on a Wedding Ring
Figuring out the budget for an engagement ring can be extremely important.
For some, an engagement ring holds immense value and is a tangible reminder of a significant moment in their lives – the beginning of their love story!
For others, an engagement ring may be less of a priority.
When it comes to that engagement ring sparkle, some people can't get enough. So what should you do when wedding ring prices seem too high, but you want to surprise your partner with the ring of her dreams?
Engagement rings have signified different things over the ages. From gender roles to marital expectations, they can symbolize these.
We're answering the questions: how much money should you spend on a wedding ring and how much is a wedding ring supposed to cost? Knowing these, along with the dos and don'ts of setting an engagement ring, will set you off to a good start in deciding what ring to propose with.
What's the average engagement ring cost?
How much is a wedding ring supposed to cost?
The answer for wedding and engagement ring prices depends on a few things, such as the quality and size of the diamond or gemstone, the metal, and where you buy the ring.
According to a 2022 survey, the average couple spent $5,800 on their engagement ring in the United States.
That said, deciding how much for a wedding ring is a personal decision, and there is no set amount you should spend.
The ring you choose for your spouse should represent your commitment and love, regardless of the price.
How much is too much to spend?
You love your spouse and want to give them their dream ring, but choosing a ring you can afford and feel comfortable with is important.
So, how much money should you spend on a wedding ring?
Simply put, if you go into debt over a ring, it is too much money.
How much should you spend on an engagement ring?
How much do you spend on a wedding ring? The answer is a personal one.
Once you know your partner's style and what type of rings they like, you can start narrowing your searches.
If you're unsure how much to spend on a ring, consider the following factors:
Do you have debts, such as student loans, mortgage payments, or car payments?

How much do you make?

Do you have savings and want to spend them on a ring?
How much you want to spend on the ring is your decision. It's important to set a budget you can afford, feel comfortable with, and not go into debt over a ring.
And remember, you can always upgrade the ring later in your marriage. Choose a sparkly anniversary ring to surprise her on a milestone such as ten or twenty years together.
You can also talk to your spouse about your budget and get their input.
Dos and don'ts of setting your engagement ring budget
How much money should you spend on a wedding ring? With the average engagement ring costs well over a couple thousand dollars, it's good to talk to your spouse about setting a budget that works for your income.
Here are some dos and don'ts to consider when setting an engagement budget.
Dos
How much are you supposed to spend on a wedding ring? Consider your financial situation and set a budget that you can afford. It's important to be realistic and avoid putting yourself in debt.

Prioritize the aspect of the ring that is most important to you or your spouse. For example, if having a paved band is important, choose a smaller diamond size to offset the cost.

Research the different types of engagement rings and their prices. How much should a wedding ring cost? Knowing the answer will help you understand what you can expect to pay.

Shop around and compare prices from different jewelers. How much is a wedding ring in your area? Can you get a better deal by going a few towns over or buying your jewelry online?

Consider alternative options, such as lab-grown diamonds or other gemstones, which can be less expensive but still look luxurious.
Don'ts
Overspend or go into debt for an engagement ring. It's important to be financially responsible and not let societal expectations control your spending.

Assume a more expensive ring is better or more meaningful. The more important thing is that the ring symbolizes your love.

Forget about additional costs such as insurance or resizing.

Base your budget on what others have spent or what you think is expected of you. How much money should you spend on a wedding ring? That is completely up to your discretion.

Rush the process. Take the time you need to find out how much does a wedding ring costs and how much you are willing to spend.
How much money should you spend on a wedding ring? Only you know the answer to that. By following these Dos and Don'ts, you'll set yourself up for getting a ring that your spouse loves at a price you can afford.
How to cut engagement ring costs
The average cost of wedding rings isn't cheap. For some, even the thought of spending a thousand dollars on a ring may seem astronomical!
Research shows that the price, size and other aspects of an engagement ring can reveal different characteristics of the relationship dynamics.
How much do you spend on a wedding ring when you don't want to break the bank?
Here are some tips for cutting engagement ring costs:
1. Opt for a smaller carat
The price of diamonds increases significantly with the carat weight (the size of the stone.) Consider a smaller diamond to reduce the cost.
2. Consider a gemstone ring
Wedding ring prices are high, especially if you are considering a diamond. On the other hand, a gemstone (such as an emerald or ruby) is just as beautiful and more affordable than diamonds.
Related Reading: 

10 Ways to Celebrate Significant Anniversary Milestones
3. Choose a simple band
Let the engagement ring sparkle and let the wedding band be a simple and classic companion piece.
4. Buy vintage
Shopping second-hand can cut the average wedding ring cost into something a little more reasonable. Just make sure you are shopping from a reputable seller.
5. Buy rings from conflict-free materials
There are many companies now that are using high-quality diamond simulants that shine just as brightly as a real diamond, though they require more care.
Watch this video to learn more about how to discuss finances with your partner:
Some commonly asked questions
Engagement rings can be important as it is a piece of jewelry that your partner will wear for the rest of their life. Here are the answers to some pressing questions
What are a few engagement ring cost myths?
There are many myths surrounding the cost of wedding rings.
The first "wedding ring price rule" is the two-month salary myth, which suggests the ring you buy should cost as much as your salary of two months.
Of course, this rule isn't based on any real financial advice.
The bigger, the better
The next myth around wedding ring prices is that the bigger the diamond, the better the marriage.
The engagement ring must be a diamond
With slogans like "Diamonds are a girl's best friend" and "Diamonds are forever," it's no wonder diamonds are a popular engagement ring option.
If the average cost of wedding rings has you white-knuckling it to the cash register – choose something different! Gemstone and non-traditional rings are just as beautiful as diamond rings.
The average wedding ring cost should put you in debt
While an engagement ring is a beautiful symbol of commitment, it's not worth going into debt. It's important to set a budget you can afford and stick to it.
How much does it cost to insure an engagement ring?
The cost of insuring an engagement ring depends on several factors, such as:
The value of the ring

The type of coverage you want, and

Where do you live
In general, you can expect to pay between 1% and 2% of the ring's total value. So if your ring costs $4,000, you may pay $40 per year for insurance.
Some insurance companies require an appraisal of the ring before providing coverage.
Insurance aside, some jewelers provide a lifetime warranty, so long as you bring the ring into the store twice a year for inspection. This warranty should cover any damage, lost diamonds, and fading on your ring.
What if my spouse is unhappy with an inexpensive ring?
How much is a wedding ring worth to you? Is it worth fighting over?
If your spouse is unhappy with low wedding ring prices within your budget, a premarital preparation course can help.
Taking a premarital preparation course can teach you how to communicate as a couple. Not only will this strengthen your marriage for the future, but it will also help you talk about the ring (and wedding) budget in a way that is helpful.
Final thoughts
How much money should you spend on a wedding ring? In the end, the cost of an engagement ring is a personal decision, and there is no right or wrong amount to spend.
What matters most is that you choose a ring that reflects your love and commitment to your partner.
Share this article on
Want to have a happier, healthier marriage?
If you feel disconnected or frustrated about the state of your marriage but want to avoid separation and/or divorce, the marriage.com course meant for married couples is an excellent resource to help you overcome the most challenging aspects of being married.
You May Also Like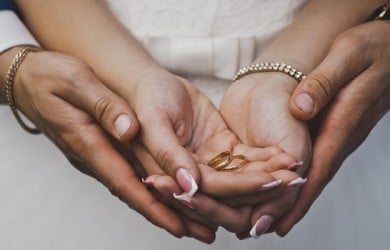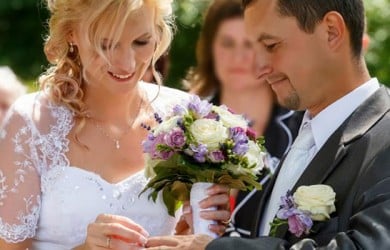 Popular Topics On Getting Married