How to Discuss Wedding Budgets With Your Partner
Planning a wedding may initially seem like one of the most exciting parts of the wedding preparation, but sitting at the core of all wedding planning sits the budget. Budgets are everything when it comes to weddings.
Sticking to your budget and getting everything right is like trying to hit a nail on the head without looking. You can end up being destructive, and needing to repair your mistakes further down the line.
Before any bookings take place, the all-important 'wedding budgets' conversation and financial planning for weddings and relationship success must happen with your partner.
After all, importance of discussing wedding budgets in a relationship stands from a point that this is a union and if you hope to have peace and unity throughout your marriage, planning and sticking to a wedding budget will be one of the first marital hurdles you face.
It is important to keep in mind that this conversation is not as simple as it may seem. Once you get into things, you will begin to realise how much time and attention must be invested in your decision-making.
It is okay to have disagreements and your perspectives, but the outcome of the conversation must be a decision you have made together.
How to discuss wedding budgets with your partner: 7 steps
There's a lot of importance of discussing wedding budgets in a relationship. However, follow a certain steps. Take a look at the following steps you can take for how to discuss wedding budgets with your partner:
1. Let each other speak
First and foremost, you and your partner need to sit down with each other and begin the conversation. The initial conversation you have with your loved one should be open, honest, and avoid any interruption when one person is talking.
Take turns laying out your non-negotiables, ideal scenarios, and expectations. Be reasonable with your expectations, and understand that you may not be able to have all of the essentials that you thought would be possible on your big day.
Perhaps agree to have three non-negotiable additions to your wedding day each, and if you find your budget masses to a larger fund, consider adding more must-haves to your wedding planning.
If your non-negotiables conflict with each other, you might need to spend a longer time discussing an option you would both be happy with.
In this video, Stephen shares 7 keys to effective communication to have a healthy and successful relationship.
2. Find common ground
As mentioned, there may be some things that you both want that conflict with each other. Perhaps you are desperate to have a 200+ guest wedding, but maybe your partner would be content with having an intimate wedding between you and your closest family and friends.
This would be a harder decision to make, however, it is not something that can be brushed under the carpet.
One way to have a productive conversation about wedding budgets is to decide what is most important to each of you, and find common ground.
Perhaps have an initiative wedding ceremony, and have the larger crowds for the wedding reception. It won't feel like you are 'making do' if you can both reach a joint decision that benefits you both.
3. Confirm where the budget is coming from
Once you have confirmed what it is you both want in the wedding, it is time to consolidate where the money is coming from. Different couples choose to pay for their wedding in different ways.
Perhaps one partner's family has decided to cover most of the wedding fund, or perhaps you and your partner are in it alone. Knowing where the funding is coming from is one thing, but ensuring that you will have the money in time to make payments is another.
If you have a family member who has mentioned they are sponsoring an element of the wedding, politely ask if they are still happy to do so. Making sure you have all the payments ready will avoid stress when payments are due to be taken.
4. Confirm the date
A big part of getting your wedding budget right is to confirm the date. The date of your wedding is everything. Not only does the date of the wedding help you map out a timeline of all the necessary events, but it also gives you a time frame in which payments need to be met.
This is also helpful if you are looking to save money in the lead-up to payments being made. Knowing how much you need to be saved by each point will avoid any missed or late payments.
5. Have a budget for each category
The key to budgeting as a couple is to agree on how much you need to spend on each category of expenses. It is all well and good having a £20,000 budget to spend on the whole lot, but being vague about what you can spend on each category leaves room for overspending.
Group each of the necessities for your wedding ranking from least to most important. Set each group a realistic budget, not too tight and not too loose, and make sure the whole amount equates to the value of the overall budget.
Here is an example of some of the expenses you need to budget for:
Venue-

The venue of your wedding can be one of the biggest budgets depending on the number of guests, so make sure you have confirmed your number before setting a budget for this.

Pre-wedding prep-

Your pre-wedding prep is essential. This includes all of your cosmetic treatments leading up to the big day and beauty treatments necessary on the actual day.

Outfits-

Your wedding dresses and or suits will be another cost that will take a chunk out of your budget. Consider having second-hand clothing if your budget is tight, but also confirm how many bridesmaids/ groomsmen you will be paying for.

Wedding planner-

Many people opt for a wedding planner to manage the component of the big day. They can be very costly. Make sure you are trusting an experienced planner.

Wedding rings-

The wedding rings speak for themselves, some people opt for glitz and glamour, but others are over the moon with a simple wedding band. Whatever you decide, make sure you stick to your budget.

Decor-

The wedding decor ranges from flowers for the event, to chairs, tables, centrepieces, and pretty much everything that will make your wedding look beautiful.

Photography-

Wedding photography can also come at a high cost, especially if you ask your photographer to create wedding books for you. Compare different prices online and set your budget to capture the special moments.

Food and beverages-

The food and drinks that will be needed for the big day will accumulate to a large sum, so make sure that you have a realistic budget for this. You might consider saving money by asking people to pay for their drinks.

Honeymoon-

Whilst the honeymoon comes after the wedding, it is best to have your budget set for this if you are hoping to make the most out of your honeymoon.
6. Have realistic expectations
Once you have gathered your maximum expenditures, and set budgets for each wedding category, it is time to set realistic expectations and understand how to reach a compromise on wedding budgets with your partner. There is no shame in feeling disappointed in what financing you have spare for your wedding.
Sometimes your dream wedding is not all about the frills, but instead, the union of you and your loved one is the main focus.
Budgets are needed and exceeding them to meet your material expectations should not be an option if you hope to be comfortable after the wedding. Set your expectations. The last thing you want is to start your new married life with minus signs in both of your bank accounts.
7. Remember your why
Off the back of this, you should also remember your why. Planning your wedding and ensuring the day is perfect is valuable, but not as valuable as holding the reason for the day close to your heart.
Budgeting and planning with your partner may result in bickering or even arguments that show a side of your partner that you have never seen before.
No matter what happens you need to remember why you are getting married, and the importance of the relationship you share between you and your loved one.
Takeaway
Overall, there are many benefits of having a serious conversation about wedding budgets and it is never an easy conversation. When it comes to how to discuss wedding budgets with your partner, you might both have opposing viewpoints that need to be ironed out.
Pre-marriage counseling can also help you both understand the problem and take necessary steps for financial budgeting before the wedding.
Coming together and making the essential decisions as one will be the first indication that you are in a long-lasting beautiful marriage that will be filled with unity and love.
The impact of discussing wedding budgets on relationship satisfaction is definitely there. Plus, having money left from your budget to enjoy the honeymoon is not too bad either!
Share this article on
Want to have a happier, healthier marriage?
If you feel disconnected or frustrated about the state of your marriage but want to avoid separation and/or divorce, the marriage.com course meant for married couples is an excellent resource to help you overcome the most challenging aspects of being married.
Learn More On This Topic
You May Also Like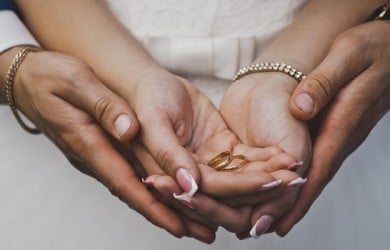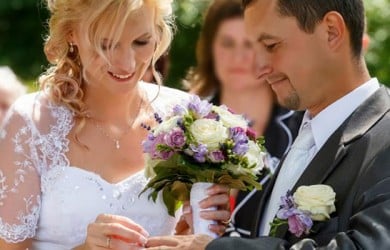 Popular Topics On Getting Married