Premarital Counseling Should Be Part of Your Wedding Budget
As a relationship counselor and coach, I find it interesting that people are willing to spend so much money, time, and energy on a wedding. But when it comes to the marriage, they tend to lose focus and not invest in the marriage.
We have a wedding to celebrate the marriage not to just have a big party, right? If you are getting married, make premarital counseling both part of your wedding budget and marriage. Investing in your relationship can pay dividends in marital satisfaction.
There are people who think, "there must be problems" especially if a couple is going to counseling before they are married! Counseling holds a lot of stigma still today. But couples counseling really is a place to learn about and improve relationships.
Relationships are based on science and most of us were never taught (including myself until I became trained as a couples counselor) how to "do" relationships. If that happened, more people would have gone for counseling before things went "bad".
Recommended – Pre Marriage Course
Did you know that couples wait 6 years to get into counseling after one partner initially requests? Can you imagine walking around with a broken arm for 6 years, ouch!
Premarital counseling is something very few people engage in, unaware that it can be so beneficial.
Let's look at 5 benefits you can get from pre-marital counseling:
1. Focusing on the relationship
Before you get married, a large focus of your time is on the wedding planning and not on each other.
There's just so much involved and lots of details to consider, plan and decide. This puts the relationship on the back burner. When shifting the focus back to the relationship you reconnect with your partner about what's important to the two of you.
2. Getting on the same page or at least knowing your differences
Most couples think they're on the same page when it comes to the important things in a relationship. Yet when push comes to shove that's not always the case.
Relationships can be tough and when you marry into someone else's family, things sometimes can become a bit more complicated. Families don't see eye to eye on everything. Your parents may request that you spend every Christmas with them and your partner's parents may want the same.
Deciding how you'll divide time around the holidays is just one of the many topics (finances, child care, how to raise children, how to care for aging parents, household chores, roles, etc.) you can begin to explore and resolve in premarital counseling.
3. Developing a game plan
Every successful sports team has a coach and game plan and so should every successful marriage. Your marriage counselor is your coach, guiding you and your partner in having a successful marriage.
Many couples say, "I wish I had known that before we got married." Premarital counseling prepares couples for the storm with a game plan before it hits by discussing things couples may face like unemployment or a sudden unpredictable crisis.
When you have a good game plan in place for how to handle those events, you know what steps to take and how to respond, rather than react.
4. Getting clear on the marital messages
We all grew up receiving some kind of messages about marriage and relationships, whether our parents were married, divorced, or single. We took it all with us good, bad or indifferent.
Premarital counseling allows you to explore what you're bringing into your marriage and how it fits with what your partner brings into the marriage. When you create awareness around these messages hidden or clear you get to decide on how you want your marriage to be.
5. Investing in your marriage
Just like you invest financially into your present and future, be sure to invest in your marriage. It is one of the most precious things you have. When we are distressed in our relationships life is more stressful. When we are happy in our relationship life is better.
Working with a trained couples counselor before you're married allows you to explore what "relationship deposits" you can make in your emotional piggy bank, whether it's going on a date night once a month, doing small favors for one another, fulfilling dreams together or just your undivided attention.
Share this article on
Planning to get married?
Just engaged or contemplating marriage? Discover how to transition smoothly into the next phase of your relationship with Marriage.com's Pre-Marriage Course. Begin your incredible journey with this guide designed by experts and lay a strong foundation for your path of togetherness - forever!
More On This Topic
You May Also Like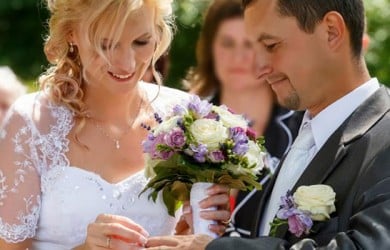 Popular Topics On Getting Married