7 Tips for Marriage Preparation
Right now you are probably over the moon that you have met that special someone who you want to spend the rest of your life with.
While you are excited and perhaps overwhelmed by all the wedding planning and advice that you are already getting, you are probably left wondering what comes after the "I do's" and how you can best ensure your happiness as a couple.
Knowing pre-marriage preparations or the things to do for marriage preparation helps a couple to focus on the essential things such as their finances, future goals, and family planning. However, how to get prepared for marriage isn't always a cakewalk, in fact, it can be very stressful.
The good news is that there are several things you can do to ensure that your marriage stands the test of time. The best way to ensure your marriage gets off to a good start is by making sure that you and your future spouse have discussed and come to an agreement on the major issues.
Not only will advance preparation for marriage save you some unexpected surprises and prevent arguments, but you'll also have experience discussing serious issues and tackling them together as a couple.
So, before tying the knot, make sure you've done your very first bit of "homework" as a couple and discuss the following tips for marriage preparation:
1. Discuss how you are handling money and careers
One of the most essential wedding preparation tips if for you and your spouse to discuss how you plan to handle your finances. Will you be sharing a bank account? Who will be responsible for making a budget and who will pay the bills or will these tasks be shared?
The average American carries $7,950 in credit card debt and $25,745 in student loan debt. So, it is worth asking if your partner has any outstanding loans or debt so that you can work that into your budget before it becomes a nasty surprise.
On the other hand, if you or your partner have savings, it's important to discuss when and how it will be used. You'll also want to discuss financial goals like saving for a home, college funds, a dream vacation or even budgeting for one parent to stay at home with the kids.
It is also important to discuss your careers and what expectations you both have. Are you both working? How stable are your jobs? Is there a chance for advancement or raises? Will it be possible for you both to live on one salary if the need arises?
Openly communicating about money and career goals can instill confidence in a couple who is about to be married. The level of trust you would share from this point onwards would only strengthen the bond in your marriage.
2. Compare your views on having children
Family planning is not only important in deciding the number of kids you want to have or how far apart you want to have them, but it is also crucial in preventing or preparing for pregnancy-related health issues, prevent sexually transmitted diseases, and curb infant mortality rates.
As a part of the marriage preparation tips, you and your spouse need to answer certain questions, such as if you want to have children? If so, how many do each of you see having and do you want to start trying right away or later in the marriage?
Does your wife have any genetic abnormalities that might complicate the pregnancy? If not, have you discussed birth control or more permanent options like a vasectomy?
Recommended – Online Pre Marriage Course
3. Discuss where you want to live
Another one of the vital tips to get ready for marriage urges you to discuss your living situation and what changes you might need to make to accommodate each other.
Are you or your partner set on living in a particular country and city? You'll want to discuss your preferences and each explain why that is your preference and how important it is for you to live there.
Keep in mind that your location will impact the kind of jobs you are able to get, schools for your kids, how close or far you are from family, etc.
4. Talk about your religious beliefs
Couples with different values and belief systems can face a lot of issues in their marriage. Thus, if either of you is religious or if you both come from different religious backgrounds, then you'll want to discuss how this will impact your marriage.
For instance, if one spouse attends religious services, is it important for the other spouse to come as well? What happens if one spouse doesn't like attending services or doesn't like your particular place of worship? If you have kids, what religion(s) do you want to expose them to?
5. Discuss the division of labor
This is probably the most overlooked and yet most hotly contested area of marriage. Who will be responsible for the household cleaning tasks? Who will do the grocery shopping? You'll want to discuss cleaning preferences as well.
In other words, does one of you expect that the house to be cleaned from top to bottom every day or are you happy to just have clutter cleared away?
Division of chores and responsibilities are the key for any married couple to not feel overwhelmed by their relationship. Though a ceratin degree of flexibility is always needed.
7. Talk about your families
Last but definitely not least, you'll want to discuss how much time you envision spending with your families. Also, be sure to share anything that your spouse should know about your family to make their first meetings go more smoothly – i.e. – things not to do or say, things they like, etc.
You'll also want to discuss which holidays or events that they expect to be invited to or that you'd like to spend with them.
Share this article on
Want to have a happier, healthier marriage?
If you feel disconnected or frustrated about the state of your marriage but want to avoid separation and/or divorce, the marriage.com course meant for married couples is an excellent resource to help you overcome the most challenging aspects of being married.
More On This Topic
You May Also Like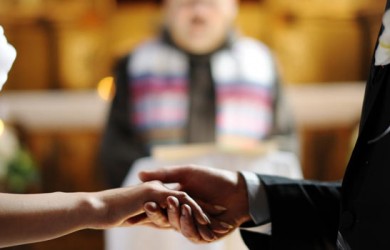 Popular Topics On Getting Married