4 Steps to Budgeting as a Couple for the New Year
Couples who budget together are happier together. According to research, "behaviors that financial practitioners would label "sound financial management" are positively associated with marital quality and stability."
Budgeting for couples is planning for every penny, and every penny should be an intentional financial decision resulting from how married couples want to live their lives together.
Some folks earn enough to make mistakes with money or, at times, spend money differently than planned without significant fallout in the family finances. These incidents likely lead to frustration or disagreements, but the consequences might not be as significant as they are for folks living check to check.
"Economic insecurity increases physical pain." Couples living this way are already on edge, making it even more important to work together to budget.
What does budgeting as a couple mean?
For a couple, especially a married couple, it is important to have all-round conversations. This includes talking about money and finances. Budgeting as couple means planning or devising a couple budget plan that works out in the interest of both partners as a part of the same household or team.
Budgeting as a couple is a part of the responsibilities a couple shares after marriage or moving in together. This is a crucial conversation one must have in order to maintain a happy and secure life for the entire family.
You can engage in this process manually or choose couple budgeting softwares available to buy these days. These tools can make planning a budget for couples much easier and more engaging.
4 steps to budgeting as a couple for the new year
The new year is an excellent time to budget with your partner. The new year is an example of a significant point in time that promotes a break from the past and a sense of renewal moving forward. These points in time encourage a fresh start, increasing people's intentions to initiate goal pursuit.
The most difficult task in the process of budgeting as a couple is the initiation. The beginning is usually the point where you need the maximum amount of push and planning. So, let's see what steps to follow while budgeting as a couple in the new year.
1. How to begin: Schedule a money date
Budgeting begins with a conversation with your spouse. Experts recommend scheduling a Money Date for these conversations. Schedule dedicated time together when you are distraction-free. A budgeting couple can fix a specific time or day to hold this conversation.
The environment should be relaxed, and you should not feel rushed. Anticipate the conversation becoming emotional, and be willing to step away for a bit to collect yourself. Above all, listen to each other. Ask questions to dig deep into understanding their perspective and relationship with money.
Money Dates have less to do with money and more with happiness, values, and goals. Begin the conversation by discussing what brings the marriage happiness and security.
Define the shared values that will guide your tough decisions. And set short-term and long-term shared financial goals that will strengthen your relationship over time. It's only then that couples can establish a budget, quantifying their priorities to control where money should go.
Each spouse should have an equal hand in controlling money, which determines how the household finances should be utilized. The task of seeing this through is managing money: paying bills, managing credit cards, etc.
Some couples elect to do this together, while others entrust one spouse. The only right way is the way that works best for the couple.
2. Think what you need to begin
How to budget as a couple? Consider yourself a journalist in this step in the process. You want to collect as much information as possible about your past spending habits. The further you go back, the more accurate a reflection of your habits will be.
Here are some examples of where you can find the records needed to begin to build your budget:
Credit card transactions.

Checking account transactions.

Savings account transactions.

3rd party mobile wallet transactions.

Brokerage account transactions.

Cash on hand.
3. Remember that budgets don't work alone
People have emotions, desires, values, and goals – and they all influence how and when decisions are made. We are surrounded by temptations and it's important to help each other on financial planning and contributions in order to avoid mistakes.
Research says that budgeting as a couple is much tougher than budgeting alone. Hence, it needs more attention and effort.
People who are good at self-control structure their lives to avoid having to make self-control decisions. In other words, self-control is not necessarily the result of superhero willpower but rather the gift of living a lifestyle that reduces or eliminates what is hard for us to resist.
Make bad habits harder to do and good habits easier. Do you want to spend less using Amazon? Remove the Amazon app from your phone and delete all preloaded contact and credit card information from your account. Make using Amazon an inconvenience.
Multiple accounts at the same financial institution are often used as one big checking account. Do you want to save more together? Open a joint savings account at a different credit union or bank that you currently use and automate your savings by splitting a portion of your paychecks into the new account.
Your savings will be out of sight and hopefully out of mind.
Related Reading: 

6 Steps to Reaching Financial Freedom as a Married Couple
4. Choose the right tools
A budget is a noun. Managing is a verb. Managing money is an ongoing action that requires realistic and appropriate responses to the financial turbulence many couples experience in marriage. Spreadsheets aren't enough. You need to put systems in place that make the most sense for what you face in your marriage.
For example, in recent years, 4 in 10 individuals saw more than a 30% month-to-month fluctuation in income. Such violent income swings make budgets useless that are built to manage steady paychecks and expenses.
Budgeting as a couple is an ongoing process. Plan for the unplanned, and don't get frustrated when that may not have been enough. Stick to each other and the process you worked out together. Give yourselves grace when mistakes are made and don't lose sight of the bigger picture.
For more tips on how to budget together with your partner, watch this video:

Budgeting as a couple shouldn't be forced but fun!
Now that we have shared some insights on how you can make budgeting as a couple a convenient task for you and your partner, we hope you're more motivated to execute this plan in the new year and reap its benefits.
A properly planned budget system can ensure that you and your partner work as a team with a shared sense of responsibility and accountability. A structure where both of you can feel financially stable, strong, and secure to continue for years ahead.
Share this article on
Want to have a happier, healthier marriage?
If you feel disconnected or frustrated about the state of your marriage but want to avoid separation and/or divorce, the marriage.com course meant for married couples is an excellent resource to help you overcome the most challenging aspects of being married.
Learn More On This Topic
You May Also Like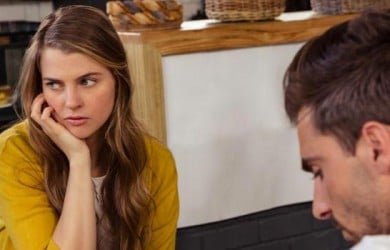 Popular Topics On Married Life