3 Things to Know When Sharing Family Stories With Children
Most children, of all ages, enjoy hearing stories. And the stories that often fascinate them are stories about the lives of their parents, grandparents, and other family members.
Yet, not all stories about family are happy. How, when, and what kinds of stories should parents tell their children?
Here are some guidelines on how much you should share with kids about relationship and type of family stories your kids should be exposed to:
1. Be age-appropriate
Of course, this advice seems obvious, but many parents tell young children stories about family, falling in love, or dropping out of college that might not be age-appropriate.
Make sure that you consider both your child's actual age and maturity level. If you are not sure, make a list of the things that interest or concern your child.
For example, if your child is young and interested in animals, tell a story about the first time you went to a zoo. Were you scared? Did you ask your parents if they could bring you a baby chimpanzee to bring home so it would not have to live in cages?
Telling family stories from your childhood that matched your child's feelings or situations can be a great way to strengthen your bond.
Tell why you wanted a pet—or why your parents did not let you have one. You can also use family stories as an opportunity to talk about your attitude about zoos.
Children of all ages want to know who their parents are and how they think about all kinds of things. And they especially want to know the "why" of what you do and say—and the source of your rules and values.
Teenagers and even adult children also want guidance—as long as it does not feel judgmental or—even worse—hypocritical.
Sexual and intellectual and personal growth are most important at these stages in your children's lives.
If your child, for example, is unclear about their interests—and uncertain of their sense of self-worth, you could tell family stories about how your parents didn't really "know" you, and that you don't want to make the same mistake.
Explain that even though you wanted "to be your person," you privately longed for support and guidance.
Then ask that child to tell you about "who he or she is" at the moment. Ask what questions they would like to know about you and your parents when you were the same age.
2. Know the lesson you wish to convey and why!
Make sure that your family stories fit with your child's situation, age, and emotional maturity.
Think about why you are using this time to tell specific family stories from your past.
Does your story align with your children's struggles at the time? For example, one of my clients wanted to teach her teenage son about the value of money.
She sensed that the talk was important because he had spent all his holiday money at once on an item that, after a short while, no longer interested him.
When her son came to her and offered to do extra chores so he could buy another popular item, she decided it was a good time to tell her story about wanting to babysit neighbors' children so that she could have her own money to buy an expensive denim jacket that all the girls were wearing.
But, by the time she had earned enough money, the jacket was no longer the "in" item any longer.
The mother said that looking back, all she wanted was to "fit in" with the other girls and be liked.
She said that she "knew in her heart" that she didn't like them, but she didn't have the confidence to be herself.
The mother said that after telling her son that, a few months later, the son came to her and asked to do more chores so that he could take a weekend introductory course in auto mechanics.
The mother said that if he completed the course, she would reimburse him for half of it.
3. Decide whether you want to tell a story at all
Sometimes, family stories are not the best way to impart wisdom in your kids, and children do not need to hear about your most intimate experiences.
Talking to kids about sex is important so they can prepare themsleves for how their bodies change as they reach ouberty, however sharing stories of your own experiences might not be the best way to go about it.
When your child makes a serious mistake that could endanger her life, telling family stories may not be effective.
For example, Mr. and Mrs. Green decided to ground their sixteen-year-old daughter, Melissa, for six months after the daughter seriously endangered her life.
The parents gave their daughter permission to take the train into the city with her school friend Laura to get lunch and attend a cosmetics event at the department store.
The parents gave their daughter a credit card to pay for the lunch and event and instructions to take the four o'clock train home.
The daughter arrived home on time, and she went up to her room to take a shower.
When her cell phone rang, and the daughter did not answer, the mother heard the beginning of a live voice message and answered the live call.
She heard a man's voice say: "Hi, Melissa, it's Tyler—from the red convertible–and I can tell you are up for a party. My friend and I will rent a bigger car if your friend wants to come, and we will pick you up and take you to the party we told you about—"
The mother spoke up and said: "This is Melissa's mother, and she is not old enough to go out with men old enough to rent a car. Do not call here; lose this number, or else I will call the police."
Also watch: Children and sexuality: protection or education?
Shortly afterward, when Melissa came into the kitchen, the mother told her that Tyler had called.
Melissa was so excited. She told her mother that the "coolest guys stopped us on the street and told us how beautiful we looked! We just got our free makeup on and—"
The mother interrupted her and said: "I answered your phone. These boys are men—and they are strangers. Your Dad and I thought you were mature and sensible enough not to make seriously dangerous mistakes like this. You are grounded for six months from going anywhere after school. Including weekends."
The mother waited for her daughter's reaction—which she expected to be intense. But, instead, the daughter was silent, and all the color drained from her face. The daughter said in a hoarse whisper, "Okay, Mom."
As I hope you can see, this daughter's lack of judgment could have put her in danger.
If the mother told a story about making a similar mistake, the mother would have greatly diminished the potential threat. The daughter's lack of defensiveness confirmed the gravity of the situation.
If your child's situation carries serious consequences, take serious, appropriate action first. Telling a story later might be helpful, but you risk your child's reply: "See, nothing happened to you! You're making a big deal of it."
Share this article on
Want to have a happier, healthier marriage?
If you feel disconnected or frustrated about the state of your marriage but want to avoid separation and/or divorce, the marriage.com course meant for married couples is an excellent resource to help you overcome the most challenging aspects of being married.
More On This Topic
You May Also Like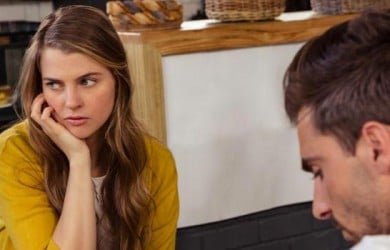 Popular Topics On Married Life