Avoid Sharing 7 Facts with Your Spouse to Maintain Secrecy in Relationships
Keeping secrecy in relationships can sometimes prove to be beneficial for both the partners.
Here, keeping secrets means that you don't want your partner to know about the things that he/she might dislike. In other words, you're trying not to hurt your partner in any way.
Lying is considered bad but, in case of a relationship, lying can sometimes prove to be a smart choice to maintain healthy terms with your partner. There are heaps of things that your partner might feel bad about if shared.
You need to understand that maintaining secrecy in relationships is not bad and you are definitely not cheating them. Let's just say, keeping little secrets from your partner is a way of avoiding unnecessary trifles between you two now and then.
Following are some secrets that you should always keep from your loved one.
1. Secret single behavior
Everyone does odd things when they're alone. It's nothing to worry about. Let's say, on Sundays, you don't feel bad to be in pajamas all day long, but to your partner, this might sound disgusting. He/she may consider you to be very lackadaisical, and of course, you don't want that.
According to relationship experts, your secret single behavior shouldn't be shared with your partner. You should be the owner of your personal space and let your partner be the owner of their own space.
2. Childish relationship doubts
There are some points in life where you feel that your relationship is not fruitful and it should not be continued. These kinds of feelings come and go, and you shouldn't share these with your partner as they may drag your partner towards insecurity and may hurt the other person.
Rather than going straight to your partner, you should sit with your thoughts and deal with them on your own. If such feelings still remain and get stronger day by day, then you must talk to your partner about it. Don't rush towards your loved one just because you've childish relationship doubts.
Doubts which are childish would perish automatically.
3. You wish they were more successful
If you're frustrated due to the inferior rank of your partner in their office, you should never share the frustration with them. Your comments about their job might sound discouraging to them and may lead to unrest. This would shatter their confidence.
But if your partner is struggling in their office, you should give them valuable suggestions but never degrade them. Keep this in your mind that respect should be maintained in order to have a healthy relationship.
Also, sharing such thoughts with your partner can be damaging to the health and heartiness of your marital life. So, maintaining secrecy in relationships at times is crucial.
4. You dislike one of their family members
It gets extremely hard to keep this secret, but you have to if you wish to keep going with your special one. For instance, if you dislike their dear sister and decide to share it, they might think of you as the arrogant one.
It's better to keep it with you if you dislike any of their family members.
5. You think one of their friend is charming
It's normal if you get attracted to one of their friends. But this attraction shouldn't be shared with your partner as it may ignite the feelings of malice and hatred and your partner would start hating their own friend.
This would bring nothing but doubts. Such attractions shouldn't be bothered much as they stay for a very short period of time.
6. Anything negative people say about them
It's better to avoid sharing the initial feelings of your friends and family as they can be very upsetting for your partner and they'd end up having an inferiority complex.
Just keep the comments of your family and friends with you or else you'd lose your partner.
7. You don't like something they can't change
Don't try to be always honest. Let's say if you don't like your partner's hair color, their hobbies or anything else, don't share it with them. As said earlier, in relationships, sometimes it's better to lie.
Don't give negative comments on their innate behavioral and physical traits as they can't be changed. And here you need to maintain secrecy in your relationship.
Share this article on
Want to have a happier, healthier marriage?
If you feel disconnected or frustrated about the state of your marriage but want to avoid separation and/or divorce, the marriage.com course meant for married couples is an excellent resource to help you overcome the most challenging aspects of being married.
More On This Topic
Recent Articles
You May Also Like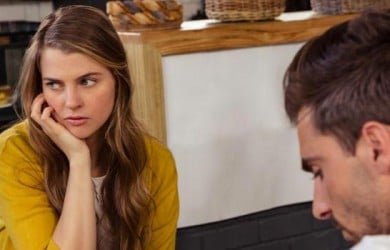 Popular Topics On Married Life