How to Make a Blended Family Work as a Step-parent
If you have ever been apart of a blended family or if you are currently a step-parent, you know how complex blended family challenges can make
family life
.
Sometimes it feels like the back and forth between homes, the differing time schedules, and opinionated adults are controlling everything.
It's easy to forget that you have the power to influence this new life positively, and it's easy to forget that the children in the blended family are watching and what you do (or don't do) can determine the health of their adult life.
As a step-parent in a blended family, you have committed to helping your spouse raise their children and provide stability, which children thrive off.
"A stable home, a stable school which enables children and young people to form positive, trusting relationships so they can thrive, and stable, strong relationships with consistent professionals, all contribute towards helping children and young people to feel safe and ready to succeed," says Debbie Barnes, Chief Executive of Children's Services at Lincolnshire City Council.
More than anything, children need love and respect. Being a step-parent is a tough job, but with intentionality and persistence, you can protect yourself and the children from the hurt that can ensue from blending families.
Here is some blended families' advice on how to deal with blended families as a step-parent.
Don't perform for credit
One of the first steps to bridging the gap between the two homes is not performing for credit.
When you try to say and do the right things to get praise from the children and their parents, you will quickly find yourself disappointed and not motivated to try anymore.
Keep in mind that you are a bonus parent, and you are super to your stepchildren when you genuinely care.
Step-parenting can be a thankless job, but don't let that stop you; you have a significant role to play.
When your sole purpose for doing what you do is for the child (or children) and their future's well-being, you'll keep going even when it seems like your efforts are going unnoticed.
You are important as a leader; let your motivating factor be love. Your reward will be seeing your bonus children's happiness and their transformation.
Also watch:

You are a mediator
Second, you are a mediator in the child's life when things get messy between the biological parents.
Children do not deserve to hear bad things about daddy when they're at mommy's house and bad things about mommy at daddy's home.
The child does not need to be in the same room unless they are of mature age and need to be involved.
For example, if in a blended family, the biological parents are arguing over the phone while the child is watching TV, usher the child to another room to watch TV or play.
Arguments can get heated, and inappropriate words can get exchanged.
Subconsciously, the child is picking up on differences, thinking that mommy and daddy do not like each other. This is a prevalent problem with blended families.
If there is any negative talk whatsoever about the other parent, lead the child away.
Look at it from this perspective: if you are a child that has two different homes, you go to daddy's house to spend time with him, not to hear negative things about your mom.
Ask about their other family members
If they go in between homes, ask how their other parent and other family members are doing when they are with you. Please do not act like they do not exist.
You want them to talk about other family members with you freely. This provides a seamless lifestyle for them.
This is important when they live in two homes, with two different sets of rules and different people. Provide a sense of togetherness by often mentioning their other parent in a positive light.
Here are other practical ways to connect the family:
Make it easy for the child to call their other parent from your cell phone or house phone

Include pictures around the house of their mom or dad

Tell the child that his mom or dad is special to you, too
Invite people over
Lastly, occasionally invite members from your child's other side of the family to your house. It could be cousins for a sleepover or grandma and grandpa for dinner.
The child may have two homes, but they do not have to have two separate households.
The keyword is integration. Inviting other family members to your home takes the mystery out of what the child's life is like when they are away.
Give her cousins, grandparents, and aunts the chance to experience the other people in the child's life.
I love inviting my stepdaughter's mom into our home. It may be a little awkward for us, but my stepdaughter gets to witness the people she loves the most interact with each other. And that makes it all worth it.
Keep in mind that the child did not choose for this to be her situation; he or she did not ask for separated parents. It is up to the adults to make things as pleasant and comfortable as possible to avoid having the child grow up resenting family life.
Do you have any ideas on how you can better integrate two homes? If you lived in more than one home, how did that affect you as a child? How does it affect your adult self?
Share this article on
Want to have a happier, healthier marriage?
If you feel disconnected or frustrated about the state of your marriage but want to avoid separation and/or divorce, the marriage.com course meant for married couples is an excellent resource to help you overcome the most challenging aspects of being married.
More On This Topic
You May Also Like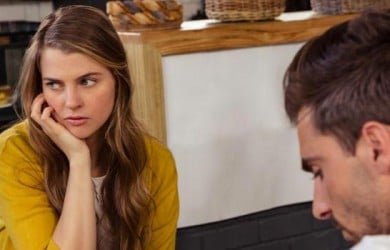 Popular Topics On Married Life