3 Blended Family and Step-Parenting Tips
The dynamics of a family have varied over the years. One that is ever-evolving is the blended family.
It isn't surprising that "50% of the 60 million children under the age of 13 are currently living with one biological parent and that parent's current partner," according to a recent study.
With these new dynamics comes an array of different circumstances or blended family problems, like mine.
For example –
"I am a mother of two one child being biologically mine and the other my husband's child. We have been together since the kids were 2 years old, that was 6 years ago. I can say for both of us it has been a learning curve; from differing parenting styles to deal with the other parents that periodically make an appearance.
Although it has been a rough 6 years. My husband and I have overall made a successful life as a blended family, and here is how…"
Blended family and step-parenting tips
1. We are a team
The foundation of our success was realizing we decided to marry each other, so we have an obligation to fulfill those vows. We both love our children and do all we can for them, but we never allow them to interfere with our relationship.
We know that one day these little people will be adults and leave the nest, leaving me and my husband with each other, so we know that our lives together will last longer than our children are in our home.
Since that is the reality, we always make decision about our kids together, even if we don't fully agree with the other person. Never do we throw the phrase, "that isn't your child" in our home.
Our children, even though young, know that a no from mom is a no from dad. When we establish this early on in our family, we eliminated so many potential arguments and future resentments that can lead to larger problems as the kids grew older.
This is probably one of the best ways to manage blended families for stepfamily success.
2. Be open, and understanding
Our kids live with us full time. There is no split custody on either side, but we do our best and within reason to let our children know their parents.
But there are biggest problems blended families face. That being said, a lot of disrespect has occurred usually toward me from my stepchild's mother.
For example –
"My husband and I live a traditional lifestyle. Much of the time I am with the kid while he works, so did my best when my stepchild's mother decided she'd like to be involved. It became an issue, and although I was hurt I knew this was not something I was an important part of and let my husband handle matters."
"One thing I will always remember is my husband made it very clear that calling being disrespectful would not be tolerated, which I appreciated. My husband never disregards my feelings in any situation. He always reminds me that I am his wife and my happiness it first."
Such situations are common if you are living in a blended family.
3. Remember children have feelings
One thing I will always remember is my 7 years old looking at me asking in all innocence, "mommy, why can't people take the last names of the people who take care of them?"
This wasn't the easy thing hearing. I didn't disregard the statement, instead, I talked to my husband about it and we sat down and discussed the topic to what a 7 year could understand.
These conversations have come up more as their little brains get more inquisitive. My husband and I make it our home a safe place for their emotions. They are beginning to share about almost everything.
As we continue to allow them to know that it okay to feel these things, the closer we have drawn together as a family. I'd like to think them seeing the example of me and my husband has set the tone of the family we've brought together.
With an unpredictable showing off their other parents and the things, they are verbally exposed to having these discussions openly.
I am just grateful we had already begun this in the home, so they were both open with questions. Letting your kids and stepchildren that they are safe with you emotionally is so important for a successful blended family, even if their concerns or thought may hurt you.
Blended family requires the continued support of each other
My success in my beautiful blended family is my husband. With our continued support for each other and the love, we have developed for each other's children is amazing.
As husband and wife, father and mother, the kids pick up our emotions toward each other. When we created a safe, loving, and open environment for each other we created an environment for our family to flourish despite the storms that come.
And, they will come.
So put away pride, anything that would divide you and your spouse, and start making a solid foundation for your blended family. You deserve peace and happiness in your home.
Share this article on
Want to have a happier, healthier marriage?
If you feel disconnected or frustrated about the state of your marriage but want to avoid separation and/or divorce, the marriage.com course meant for married couples is an excellent resource to help you overcome the most challenging aspects of being married.
More On This Topic
You May Also Like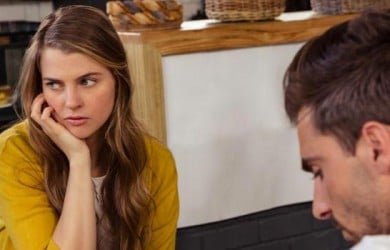 Popular Topics On Married Life