Reasons And Reflections On Renewal Of Marriage Vows
Why would you want to renew your marriage vows? Wasn't the original wedding ceremony sufficient when you first made your vows to each other? Well, these days more and more happy couples are choosing to experience a renewal of marriage vows ceremony in which they take the opportunity to reaffirm their long-lasting love for one another. If this is something which sounds appealing to you, then the following article will help you to reflect on some of the aspects connected with the charming phenomenon of marriage vow renewal.
But firstly, let's look at three of the most usual reasons for renewing your vows. In fact, the overall motive is to celebrate your relationship together, for whatever reason:
1. To mark an anniversary
If you have been together for five, ten, twenty, twenty-five or more years, you might like to mark this wonderful milestone with a marriage vow renewal. Anniversaries are usually a time for remembering your special day in any case, so why not go all out and re-enact your wedding with the advantage of all the experience and hindsight which you have both gained along the way.
2. To make a fresh start
Perhaps your marriage has been through some rough waters and turbulent times. Maybe you have weathered an affair, or a serious illness, or any number of circumstances and situations which may have put undue strain on your relationship. Now that you are through the worst, it may be a great idea to reaffirm your love and commitment to stand firmly on the marriage covenant which you made together.
3. To connect with friends and family
It could be that your original wedding day was a very small celebration with just a few close family members. Or maybe you didn't have any celebration at all but simply went through the formalities of marriage at a magistrate's office. But now that you have been together for a certain amount of time, you may feel that you would like to arrange a celebration for family and friends to witness as you publically renew your marriage vows.
Perhaps by now, you have decided that this is definitely something you want to do with the special person in your life.
So here are a few practical considerations to take into account as you begin to plan the celebration for renewing your marriage vows:
1. Decide who will host the occasion
Often the couple themselves will decide to host the special day on which they renew marriage vows. Depending on how long you have been married, you may have children or grandchildren who would like to step into the hosting role as they coordinate the celebration for their beloved parents or grandparents. There may also be close friends or family members (such as the original maid of honor and best man) who would be happy to do the honors for the renewal.
2. Choose the venue
If circumstances allow, you might even be able to renew your vows in the exact same place as the first time. Or you could choose any other suitable venue, especially if it has sentimental meaning for you both. Possibilities could include a place of worship, or at your home. Perhaps you might prefer a beautiful setting in nature such as at the beach or in a luscious garden or park, in the mountains or on a cruise ship at sea.
3. Ask someone to officiate
As a renewal of marriage vows is not a legally binding ceremony, you could ask anyone you choose to officiate. You may like to have a clergyman officiate, or perhaps one of your children or a close friend or relative – someone who has a sense of occasion and will tap into the atmosphere of the celebration.
4. Select your guest list
Depending on the kind of celebration you have in mind when you want to renew marriage vows, this may not be the time to invite all your colleagues from work. Remember, it is not a wedding but rather a renewal of the marriage vows. So if you are looking for an intimate reaffirmation of your relationship, probably close friends and family members would be the best ones to include on your special guest list.
5. Find your outfits
If you are one of the few lucky ones who can still fit into your original wedding outfits, then, by all means, enjoy them all over again and renew marriage vows! Or choose something else like a formal evening gown or a pretty cocktail dress, and maybe some flowers in your hair, or an elegant hat. You could certainly carry a bouquet of flowers and wear a corsage. For the groom, a suit or tuxedo and tie could be in order, with some smart cuff links and a single rose or carnation on your lapel.
6. Plan how you will walk down the aisle
Unlike on your wedding day, you are together already, so you would probably opt to walk down the aisle as a couple. If you have children, they may be the ones to joyfully escort you to the front where you will be renewing your vows to each other. Depending on the ages of your children, this can be a very profound and uplifting experience for them too, as they witness the love and devotion that their parents are publicly expressing for one another.
7. Prepare the format of the ceremony
So what exactly happens during a marriage vow renewal ceremony? Obviously the main thing is saying your vows to each other and this is a great opportunity for you both to really think about what your relationship means to you and how you feel about each other. Then you might like to exchange rings again – maybe your same wedding rings which have been engraved with the date of your renewal. Or you might like to get some new rings! The ceremony could also include special song items and readings by your children, or relatives and friends.
8. Decide what to do about the gifts
A celebration of this sort where you renew marriage vows inevitably tends to include some gift-giving, but by now you probably don't need more kitchenware or items for your home. So why not share the joy and suggest that your friends make a donation to a charity of your choice.
Share this article on
Want to have a happier, healthier marriage?
If you feel disconnected or frustrated about the state of your marriage but want to avoid separation and/or divorce, the marriage.com course meant for married couples is an excellent resource to help you overcome the most challenging aspects of being married.
More On This Topic
Recent Articles
You May Also Like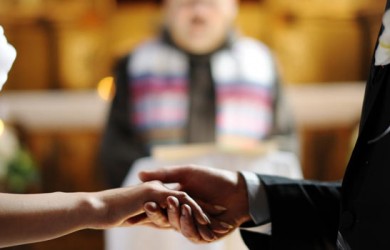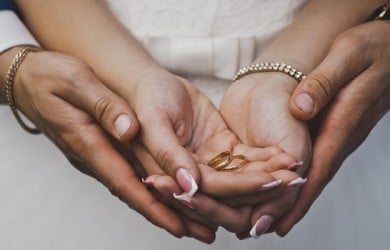 Popular Topics On Getting Married