How to Get a Kiss from a Girl You Like: 10 Simple Tricks
How many of you believe in magic moments? A magical moment is a jiff where you are just conscious about how you feel and not what is happening in the surroundings. These are rare in life. This may sound like a cheesy Instagram caption.
One of those magic moments we know is kissing someone you like. But why do people kiss? Well, kissing feels special. That 'butterflies in the stomach' feeling with the touch of the lips is truly unparalleled. This all gets even better when it's the first time. Firsts are always exceptional.
Why do people kiss?
People kiss for many reasons: they kiss for love, to greet each other, to feel good, for luck, etc.
There are many theories about how kissing came into the trend, but nothing has been proven for sure. Some researchers believe ten percent of people don't kiss at all. Some scientists suggest that kissing is rooted in human biology.
However, some reasons lead to kissing, have a look at them.
1. Because of rooted attachment
Kissing releases a burst of oxytocin also referred to as the love hormone. Oxytocin helps bond people with a partner and stay monogamous.
Oxytocin is also released during childbirth in a considerable amount that helps to strengthen the mother-child bond.
Many researchers believe that kissing originated from the practice of premastication kiss-feeding.
Kiss feeding is common in birds. It's a process popularly used by birds where they feed their chicks from their beak.
Similarly, some mothers used to half chew their food and feel their child from the mouth. Some mothers still practice kiss feeding.
2. Because of romantic feelings
When you have a crush or feel attracted to someone, your brain releases Dopamine.
Similarly, when you feel good, a dose of Dopamine and other happy hormones are released. It can be due to cuddling, spending romantic time with your partner, kissing, and other intimate activities.
The burst of Dopamine and happy hormones makes you want it more, and you engage in the activities such as frequently kissing to feel giddy and happy.
3. Initiated because of sex drive
Some people kiss solely because they are sex-driven at the moment.
People have always believed that kissing is a way to determine whether a person wants to hit the sheets or not. It is said, how you kiss can make or break your chances of getting to the next level of physical intimacy.
Kissing is also responsible for steaming up the level of arousal while getting intimate. The more saliva and tongue you swap, the more things heat up.
Related Reading: 

Why Kissing Is Super Important in a Relationship
Why is the first kiss such a big deal?
The first kiss plays a monumental role in the relationship. It releases dopamine which leads to the craving to have more. The first kiss is a sign of chemistry and passion. Not just this, it is also a powerful connector that binds both partners even more.
For the most part, the first kiss might not be perfect, but it definitely plays a big role in building the bond between both partners.
How to get a girl to kiss you?
If you think to get a woman to kiss you is difficult, or women are hard to please, you are not just aware of the right hacks, my friend. She is as simple to understand as she can be. You have to know the right way.
So, how do you get a girl to kiss you? We are here to guide you through this. Read this carefully! Here's spilling the beans on how to get a girl to kiss you:
1. Kiss ready
First impressions matter, right? You have to look good and tidy. So as the first step for how to get a girl to kiss you when you go to meet her, make sure to:
Look fresh and wear well-ironed clothes.

If you are a

sweaty person

, use antiperspirants and wear breathable fabric.

Trim that beard. Set your hair well, and perhaps use a gel!

Smell good as it is essential. A foul odor is such a no-no, and good smells are mood-lifters.
When you come well-dressed for a date, it conveys how excited or interested you are in meeting her. You emit that vibe.
The minute you arrive, her mind should whisper- Damn, something is appealing about him today!
2. The setup is a game-changer
If you have to 'create a moment,' understand that your surroundings and the environment play a significant role in shaping your mood and channelizing your energies.
Good food, beautiful lighting, and good smells bring you into the zone. So invest some time in planning the setup instead of wondering how to get a girl to kiss you.
If you two have regular conversations over text, you can ask her how she defines a perfect evening or a

romantic date night

. That will give you an idea of what she likes, and you can then hit the bullseye.

If you don't want her to know about the date or are too shy to ask her about this, play safe and neutral. Fancy dinner dates, roof-top dates with some live music, etc., are things every girl is fond of.
But we do not imply splurging a lot of money on that date. You can plan a date at home. It can be as simple as star gazing. It just has to be romantic so you can 'create a moment.'
Pro tip: Please ensure that the place you choose gives you some privacy but at the same time is not so secluded to scare her off!
Related Reading: 

Tips for How to Kiss a Guy
3. That sultry confidence
A little nervousness is pretty normal and all good, but make sure it does not show on your face and body language. Confidence is beautiful, my friend. There is something irresistible about a confident man.
The way you order that food, the way you talk to her and carry yourself are supposed to have confidence, and she will be drawn to your personality.
Sweating over can I get a kiss won't help. Working towards it will.
Watch this video to learn confidence hacks for dates:
4. Don't forget- 'The emotional need'
Girls tend to have more emotional needs than men, and that is a universal truth. So you have to take care of these things before you ask a girl for a kiss to keep her happy:
Make her feel protected- because that's what gentlemen do.

Listen to her when she speaks (put that damn cell phone aside).

Make her feel that she has all your attention.

You can also add some friendly gestures like getting her flowers or opening the car door for her. She is going to drool over that pleasantness!
All these things help in building intimacy and a bond.
Also Try: 

What is Your Kissing Profile?
5. Look for the stars in her eyes
If you wish to build that fiery connection and want that intense and passionate kiss, you have to unlock the magic by locking your eyes with her. Look straight and confident into her eyes. Both when she is talking and when you are talking.
Now, again you have to find a mid-way between being too creepy and being too averted. You are not supposed to stare at her uncomfortably, and neither should you look here and there while talking.
Eyes communicate your desires like none. So make her blush, make her tuck that hair flick behind her ear, and make her excited with those eyes! It can certainly make your girlfriend kiss you.
6. Shower compliments like confetti
Wondering how to make a girl want to kiss you or how to ask a girl for a kiss indirectly? We are no masters in Women's psychology, but another thing we know about girls is that they love hearing compliments. That compliment blush works better for them than cheek highlighters.
So give her some genuine admiration and

compliment her

. Tell her that the color of her dress suits her or you like that nose pin on her face.

Healthy flirting is another accelerator. Unleash the power of those dialogues that keep coming into your head (or perhaps the ones you saw on social media).
Give her cheeks that red tint and make her laugh and call you crazy. A good sense of humor and witty comebacks will make a girl kiss you!
Related Reading: How to Be a Good Kisser
7. Hugs? Yes, please!
You haven't kissed her yet, but you can give her a friendly hug. Hugs are so underrated, but they build a feeling of trust and security like none.
When you give her a friendly, warm embrace and make her feel protected, she will automatically find you as a person very attractive. Do you bet?
Hugs are a great way of how to get a girl to kiss you without asking.
Pro tip: Rub her back a little when you are about to conclude the hug. You're welcome!
8. Never underestimate the power of tease
When we say 'the tease,' we mean to make her want more of you, you have to play it smart when it comes to the tease. Instead of asking a girl to kiss you, you can get her to kiss you with these teasing tricks.
Lean in a little and say something in her ear. Better if she can feel your breath on her neck. (So steamy!) It will make her want to kiss you.

You can check out her voluptuous lips (the teasing way).

Pull her cheeks. If you both are comfortable, you can even kiss her cheek or forehead or both. In this case, if you wonder how to know if a girl wants to kiss you, she should crave more of your touch.
But again, teasing means giving a little and not giving all of it at once. So don't be too touchy in one go. You have to drop some signs, fella. One good thing about the tease is that when she finally gives you that kiss, the euphoria will be multiplied.
Related Reading: Men's Kissing Tips: How to Do It Right!
9. Maintain eye-contact
Keep eye contact to the maximum to communicate the feelings that you are not able to express in words. Eye contact triggers the emotions of love. It opens the door to honest communication and vulnerability, which is a great step towards
10. Approach gently
When she finally kisses you, be gentle initially and then gradually increase your ferocity and pace. That way, your kiss will be long, passionate, and intense.
Other tips and tricks
If you are wondering how to make a girl kiss you on the lips, here are some bonus tips to your rescue:
Always be natural. Do not try to be someone you are not just to impress her.

Simping over someone is a turn-off. Keep some attitude. It is much more manly and attractive.

If you are asking a girl for a kiss, and she is not responding to your teasing or hugs or not liking the cheek kisses, understand that she is not ready yet. Give her some time and space.

Although the above ways to get a girl to kiss you are most successful if the final kiss thing goes wrong!

Learn about the various kissing techniques, so you know

how to kiss better

.
Related Reading: 

Kissing Tips for First-Timers to Seasoned Lovers
Signs to know she's ready for it
If you are wondering how you will find that the above hacks are working or she is ready, look for the following signs:
When you look in her eyes, does she reciprocate the same intensity? If yes, you are almost there! If she is a little shy and looking here and there, you have hope, buddy.

While you are teasing her with those whispers, leaning and accidental skin brushes, does she tease you back? Is she letting you do it? So if the answer to any one of the questions is yes, congratulations on your 'about-to-happen' lucky moment.

If she's trying to maintain a distance, as we mentioned above, you still need to make an effort to make her comfortable.

Her hugs will also tell you if she's ready for the kiss. Was the hug formal or a steamy one? Yes, you'll have your sign.

Does she flirt back with you? I hope you understand when she does that.

Does she ask you to go to a better place with more privacy? This one is loud and clear!
Related Reading: 

What Will My First Kiss Be Like?
Conclusion
So by now, you must have understood that how to get someone to kiss you is not rocket science. You have to take care of little things, and the big things will take care of themselves then. You won't have to ask a girl to kiss you; you will make her do it (smoothly) with these hacks we swear by.
We wish you all the best for that dreamy kiss.
Share this article on
Want to have a happier, healthier marriage?
If you feel disconnected or frustrated about the state of your marriage but want to avoid separation and/or divorce, the marriage.com course meant for married couples is an excellent resource to help you overcome the most challenging aspects of being married.
More On This Topic
You May Also Like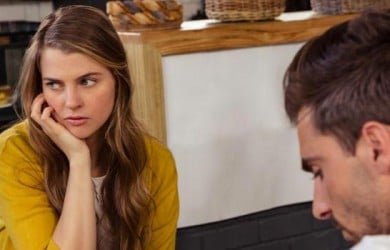 Popular Topics On Married Life