Six Tips For Solid Communication in Couples
Relationships involve some of life's most profound challenges and while we acknowledge that several factors contribute to the success of a marriage or long-term partnership, communication in couples, or lack thereof, can either make or break the marriage.
If you are a couple who is experiencing a lack of good communication, here are some of the best communication in couples tips that you can use to improve the way you communicate with your significant other
1.) Develop listening skills
One of our most significant communication in couples challenges (or for relating in general for that matter) lies in how we listen to our partners.
When we are engaged in conversation, we're often not fully present.
Whether that be because we are focusing on how we feel at that moment, what we are going to say next, are distracted by something else that is occurring in our lives or are reacting to how the person we are communicating with has just made us feel. Whatever the cause, we don't pay full attention to what our partner is saying by default.
Developing skills in listening actively will enhance communication among couples for the better.
Listening actively involves taking the time to stop and listen to your partner, being mindful of what they are saying and making an effort to integrate that into our minds and respond accordingly, at the appropriate time (instead of butting in, cutting short, or becoming defensive).
When a person listens to us genuinely, they will show love and respect without saying a word because they have demonstrated that you are worth listening to!
It will also avoid misunderstandings and defensive communication, especially when combined with other skills that are also useful for great communication in couples.
2.) Curb the criticism
'Familiarity breeds contempt' so they say, and nothing can be closer to the truth when it comes to communication in couples – especially because of the multitude of communication challenges we face as a couple – the good, the bad and the ugly.
Words can be emotive, and our non-verbal body language can represent over 80% of our communication, so even the occasional eye-roll, sigh, or dismissive shrug that you may not realize that you are expressing can cause a world of conflict in a relationship.
If you can pay attention to how you express yourself verbally and non-verbally, and if you can work hard on editing your criticism (which includes acknowledging and respecting how your partner perceives criticism from you even if you don't agree) you'll reap the rewards.
Because you will develop an inspirational relationship that demonstrates how paying attention to communication in couples can really enhance a relationship.
Afterall, criticism causes defensive behavior and when defences are up the chance of effective and loving communication in couples is extremely low.
This strategy will keep defences low and invoke a loving and supportive communication style.
3.) Be compassionate and gentle
As we live our day to day life, we can forget to check ourselves and the way that we speak to those we love. Which is why communication in couples can be a challenge, especially when we may forget to express love, compassion, and gentleness to those who we value the most.
If you can bring up your concerns with those around you gently and respectfully without blame, or any other underlying emotion (except for love and gratitude), you'll create a better outcome than the outcome you could expect when you express yourself more aggressively.
To do so, bring up your issue without blame in a gentle tone, but one that is balanced (e.g., not passive, or aggressive) and if you do, your positive communication in couples has just enhanced tenfold!
4.) Seek first to understand vs. being understood
When we are arguing with our partner, we will naturally tend toward our needs and our desire to be understood, and if both of you are approaching your 'discussion' from this stance, it's going to be impossible to find equal ground.
To shift the dynamics in how you discuss emotive matters all you need to do is seek to understand your partner.
It's a simple technique for effective communication in couples and one that will set the tone for healthy discussions instead of emotive conflict.
5.) Stay calm
We might be stating the obvious here, but if you can stay calm, you have more of a chance for being able to get to the root of the problem that you are experiencing with your partner.
This is one of the most common techniques for robust communication in couples.
To maintain your equilibrium, if things escalate, try to take a break and follow up the next day – calmly.
6) Assess your self-talk
We often don't pay attention to the way that we communicate with ourselves, but when we do it can be very telling.
We can assess how we perceive the world through our negative self-talk, for example; if you think everybody is criticising you, you are going to notice any possibility of criticism in any conversation you have whether it's justified or not.
If you believe internally that your partner never takes you seriously, you'll notice this pattern in every conversation you have.
When you notice these patterns, you can become consciously aware of them and challenge them, by looking for an alternative but positive explanation for why you might feel that way.
As you do this, you'll start to lower your defences concerning your emotive triggers and be able to trust yourself to see when you are 'unreasonable' and when your partner might be unreasonable (which will enhance the potential for positive communication in couples and fewer arguments and conflict).
Share this article on
Want to have a happier, healthier marriage?
If you feel disconnected or frustrated about the state of your marriage but want to avoid separation and/or divorce, the marriage.com course meant for married couples is an excellent resource to help you overcome the most challenging aspects of being married.
More On This Topic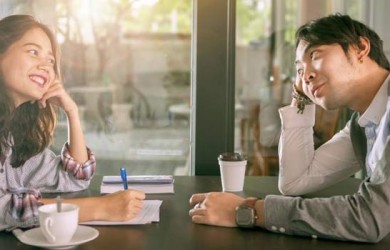 You May Also Like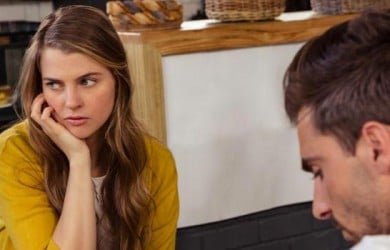 Popular Topics On Married Life