10 Tell- Tale Signs When to Give up on a Relationship
No one ever dream of a relationship that reaches a dead end.
During the initial few years, you both wish that the spark continues till you die. You try nothing to shake up your strong foundation. However, we don't always get what we wish for, isn't it?
You may have come across one time in a relationship where you are clueless of the future. You don't know where you're headed and are not sure if you would like to continue this relationship. It is that phase when you want to give up on a relationship.
Nonetheless, it's important that we all should be aware of when is it time to give up on a relationship and move on with life.
To help you identify, listed below are a few signs that will tell you when to give up on a relationship.
1. There isn't any happiness left
A relationship is supposed to bring a smile on your face. It's supposed to make your day and ignite the hidden happiness within you.
People in relationships are visible in the crowd because of their happy and smiling face. However, this doesn't mean that every day is a happy day for them. There will be ups and downs in their life, but the happiness continues.
If, in the worst case scenario, the gloomy day continues and over a period you start to feel that the happiness has vanished from your life, take a moment to think. The sad or unhappy days should not extend in a happy relationship.
Perhaps, this is a sign of when to give up on a relationship.
2. Missing past than thinking of future
It's human nature to think of good times when one is going through bad days.
When you're in a happy relationship, all you think of is a happy future. You start to plan things ahead and dream of something exceptional. All you want is a better and exciting future.
This takes a complete turn when you're in a bad relationship. In such a situation, you forget about the future and start missing your past. You suddenly start looking at your past years as one of the best and dream of having it back.
For once you start regretting your present and miss your past badly when you were alone and happy.
3. You excluded your partner from your future
A relationship is never about 'oneself', it's always about both of you.
In a happy relationship, you would never exclude your partner from your future plans. For you, they have to be a part of it. They're there to witness your every success and failure, and support you in every way possible.
However, in a toxic relationship, things take a turn.
You start to exclude your partner from your promising future. You may do it knowingly or unconsciously, but you would realize that your partner is not at all a part of your future.
So, if you're looking for a sign to know when to give up on a relationship, see if your partner is there in your future plans.
4. Remember painful moments than cherishing happy ones
Every relationship, as said above, goes through ups and downs. Some couples cherish the happy ones whilst some are hooked to bad memories.
In a happy relationship, there isn't a place for bad memories. You may remember them for a bit but will eventually sideline it to focus on good things.
However, if you're hooked to bad memories for longer than expected, then this is an answer to when to give up on a relationship.
There is no future for such relationships.
5. Conflicts are always open
One of the prominent things in a relationship is to never go angry to bed.
Couples who practice this, live a happy life. Everyone tries to attain this and ensure that they come to a conclusion and put every argument to bed before they call it a day.
In an unhappy relationship, the argument is always open. You sleep with it and wake up agitated and angry. Consider this as an answer to when to give up on a relationship.
6. When you're a victim of mental abuse
How to know when to give up on a relationship?
See if you're going through mental abuse. Physical abuse is a crime and one can easily spot it. However, identifying mental abuse is a bit tricky. You might feel low and maybe are insulted by your partner on a regular basis, which eventually is devastating your self-confidence.
Look for such mental abuse signs and take a decision to walk out of it if you think it's too much.
7. When you've to pretend to be happy
There is no need to be pretentious when you're in a flourishing relationship.
Things are clear and the happiness shows on your face. However, in bad relationships, you have to pretend to be happy. You wake up every day trying to convince yourself that you're in a good relationship. You start to ignore a lot of things and suddenly everything around you seems staged.
If this happens, then you've an answer to when to give up on a relationship.
8. Differences between you grow strong
You both are individual beings. You're bound to have different choices and certain differences. In a healthy relationship, these differences are overpowered by the love and similarities you both share.
In a bad relationship, differences between both of you grow stronger and start to control your relationship.
If this happens, then it's time to walk out of the relationship.
9. There is no care or love left between the two of you
Love and care dictate a relationship. Their existence means a lot.
However, when things are not going good, they start to vanish. Suddenly, you would find yourself living with a person for whom you've no love or care left.
If you're into one of this situation, then it's good to leave and start afresh than to just hold on to it just for the sake.
10. There is no desire to have sex
Sex is important in a relationship.
It is a sign that there is a spark in a relationship. In a healthy relationship, sex is quite frequent as opposed to a bad relationship. When there is no love left, you just don't feel like having sex with your partner.
If this problem continues, think if this is a sign to when to give up on a relationship, and take a call.
Share this article on
Want to have a happier, healthier marriage?
If you feel disconnected or frustrated about the state of your marriage but want to avoid separation and/or divorce, the marriage.com course meant for married couples is an excellent resource to help you overcome the most challenging aspects of being married.
More On This Topic
You May Also Like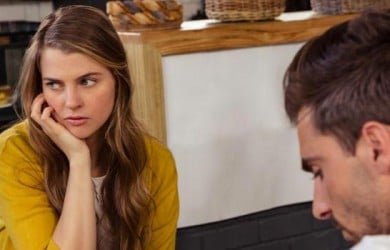 Popular Topics On Married Life