What Is Weaponized Incompetence in Relationships: Ways to Overcome
You might be ask yourself the question, "What is weaponized incompetence?"
Before getting an answer though, please picture this for one second.
You are out with a couple of friends one fantastic evening, and your significant other is there. You just got ushered into the bar, and the waiter has just taken your first round of orders.
Suddenly, a need arises, and it needs to be fixed urgently. This might not even be something big, but suddenly, your partner claims they cannot do it – much to your bewilderment.
At this point, you are more confused than you have ever been in your life. For one, this task is something you have seen them perform many times without stress. They can complete it easily, even if they just rolled out of bed or haven't even gotten the chance to have breakfast.
This leaves you wondering…
Is this an act of toxic incompetence, or is there something you may be missing? Is your partner sick without your knowledge? How do you start dealing with weaponized incompetence if this is it?
We will give you all the information you need to discover what weaponized incompetence is and how to deal with it in your relationship.
What is weaponized incompetence in a relationship?
In this context, weaponized incompetence happens when an individual (one partner in a relationship) pretends that they cannot perform a simple action to get out of it and allow another person to act on them.
Weaponized incompetence is also known as strategic incompetence. It manifests itself in many ways, including in the workplace, at home (for married people and couples who live together), between siblings, and almost in every setting where humans have to interact.
The goal of the person who tries to pull the weaponized incompetence card on another is that they can wear the other person out and make them believe that they should do whatever they want by themselves.
The concept of weaponized incompetence started becoming more popular in 2020, as social media users on Tiktok began identifying the common signs of the different forms of weaponized incompetence.
Before this time, many people had to go through this on their own, dealing with it and thinking that they couldn't talk to anyone else, until this concept went viral on social media, with over 62.5 million views on Tiktok alone.
In addition, the definition of weaponized incompetence and a quick look into this phenomenon reveals that this is one of those things that can quickly ruin a relationship if left unchecked. For one, studies reveal that deceptive incompetence can ruin interpersonal relationships, especially when the victim discovers that they have had to put up with so many things they shouldn't have.
And by extension, weaponized incompetence can harm your relationships if not addressed early enough.
5 signs of weaponized incompetence in your relationship
Now that you know what weaponized incompetence is and the kind of damage it can do to your relationship, these are some signs you should keep your eyes open for.
If you notice these weaponized incompetence signs, you may want to pay closer attention to what's happening.
1. They're quick to say, "you are better at this than I am"
Now, while this may be the absolute truth, there's no rule that says that a human cannot learn a new skill or trick if they commit their minds to it. Science has proven that learning new skills keeps the mind sharp.
So, even if your partner is in their 70s and 80s (which is most likely not the case), they can learn anything if they can just put their minds to it.
Weaponized incompetence shows up in this context if your partner is quick to brandish the "you are better at this than I am" card as their way of keeping from exerting themselves.
So, the first time they tell you that you are better at something might be because they believe that. However, when this becomes a song they use every single time, that could be a red flag.
2. They "fall ill" at the most convenient times
No one is immune to getting sick every once in a while. Some are even more prone to sickness than others. If your partner always comes down with one symptom or the other at the most convenient time, you may want to look again.
A typical case in point.
Do they always fall sick every other Friday? Once they know that the next day is for lawn mowing or doing the laundry?
Yes? Oops…
3. They may not take their calls when you want them to help you
So, you rushed home from work, and you forgot to stop by the grocery store to pick up something you need in your pantry? That's cool until you call your partner to help you do that on their way home and discover that they aren't taking your calls.
While this might not be anything except an unfortunate coincidence, pay closer attention if it starts looking like an unhealthy pattern.
If your partner only takes your calls when they think you don't want to ask them to help you with a little errand that won't even stress them out a lot, that may be because they are using weaponized incompetence on you.
4. They make a mess of the simplest tasks to say, "I told you so."
When your partner uses weaponized incompetence against you, they will make a mess of a minor task when you insist they try it out.
The aim of doing this is so that they can shrug and say, "I told you so," when you ask them about the mess they have made.
In addition, they hope that the stress of having to fix whatever mess they have made this time will keep you from ever asking them to do this again in the future.
Does this sound like your partner?
5. They do the same things they told you they couldn't when you might not notice
One second, they'd tell you that they would burn everything if they attempt to toast a few slices of bread. However, when you follow them to their parents' house, you may find them grilling tons of meat with ease and a huge smile.
When you are dealing with weaponized ignorance in relationships, your partner gives you the impression that they cannot do something, only to do it flawlessly (or complete a more challenging task) when they think you aren't paying attention.
Examples of weaponized incompetence
After figuring out what weaponized incompetence is, the next step is to keep your eyes open for common examples. Here are some typical weaponized incompetence examples you may find in many relationships around you. Maybe even yours.
You ask your partner to help you do the dishes while you put the children to bed, maybe after a long day. After minutes of grumbling, shuffling around, or playing "deaf," they get up and go to do the dishes. Or so you think.
They end up doing such a lousy job that the following day meets you loading up the dishwasher once again; to redo the dishes, they say they washed the previous night. While doing that, you can't help but wonder if it won't be more profitable never to ask them for help again…
Your partner suddenly pulls up the "I can't cook to save a life" argument when you ask them to help you make a quick sandwich while you do something equally important.

The same person who one of the first things you noticed about them when you started going out was their stellar cooking skills.
Your partner refuses to go grocery shopping because "they don't know their way around the grocery store," even if it means waiting for you to finish up every single stressful thing on your list for the day.
This list is endless. Weaponized incompetence can take a multitude of forms. When left to drag out, however, it can have many terrible outcomes, including resentment, bitterness, and failed relationships.
How to stop weaponized incompetence
Here are a few ways to deal with strategic incompetence in your relationship.
1. Talk to them about it
Instead of shutting out and allowing the anger to brew inside you, why not start by talking to your partner about what you have noticed? While bringing up the subject, ensure that you don't come off as being confrontational because this can also cause them to get defensive.
And you may just end up in a nasty fight that could have been avoided from the start. Talking to them is the first step toward ending this in your relationship.
How to have difficult conversations with your partner? Watch this video to understand better.
2. Let them talk to you as well
You may be surprised to know that your partner doesn't even see what they are doing as not being good. It could be a little habit they picked up when they were younger, which has followed them into adulthood.
When you bring up this conversation, do well to step back and allow your partner to speak to you. Let them tell you what they know and why they think they act the way they do.
When they have done this, it is easier to find a middle ground and consciously start working toward helping them become and do better for the relationship.
3. Don't be afraid to seek professional help
Sometimes, weaponized incompetence could result from low self-esteem and past trauma. Under these conditions, your partner may need an expert's help to get through whatever is holding them back.
You may want to suggest this as time passes and go for it when they see the need.
The bottom line
What is weaponized incompetence?
How does it affect my relationship?
What do I do if my partner is guilty of this?
All these and more have been answered in this article. While you can help your partner overcome their penchant for weaponized incompetence, remember that it is primarily up to them to decide if they want to do better or not.
So, keep yourself in mind as well, and be sure that you aren't staying in a place where you feel emotionally stressed simply because your partner has refused to be of better help to you.
Share this article on
Want to have a happier, healthier marriage?
If you feel disconnected or frustrated about the state of your marriage but want to avoid separation and/or divorce, the marriage.com course meant for married couples is an excellent resource to help you overcome the most challenging aspects of being married.
More On This Topic
You May Also Like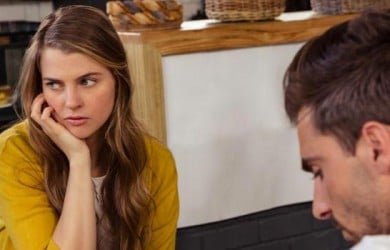 Popular Topics On Married Life