How Intimate Relationships Help Us Be Our True Self
"A true healer finds joy in each client's recovery." Marvin L. Wilkerson, CH.
Who are we
The prime directive of the human being is a clarification of who we are.
From the time of birth, we begin our programming. Programming comes from parents, teachers, siblings (first personal relationships), friends & peers, society, and whoever we hold a pedestal.
This programming becomes our dominant language to use to describe our reality. Along the way to adulthood, we pick-up emotional experiences which connect to our feelings and emotions.
By the early age of twenty as adults ready to take on the world and our dreams. We are fully programmed.
The beautiful part of our abilities as a human being is that of being a creator. How?
Whatever we think we create. The more focused our thinking, the more real that thought becomes. We have all learned from many masters; we are the creators of our life.
Being such a powerful being producing our realities brings responsibility.
Since our thinking or programming, along with experience manifests, we then are the projector of our life.
However, problems arise because of the difference between the conscious and subconscious mind.
Reality is C, and the subconscious mind is where the actual memory and higher ideals are stored.
The conflict – Conscious vs. subconscious mind
The two minds differ in their jobs as well. The conscious mind is where our ego/personality drives us toward pleasure and gain.
The subconscious mind is the more powerful mind as our protector, keeping our bodies operating, and identifying threats to our existence. But it doesn't stop there.
The subconscious is where our visualization conveys a message to other parts of the brain that ultimately bring the form to our desires.
In the subconscious, the soul powers are at work, giving subtle messages of guidance called intuition.
These two minds communicate back and forth using programming, experiences, feelings, emotions, and intuition, or guidance.
Does the question then become to whom do we respond?
More often than not, we react to what we think, which is more comfortable since it's known. Tying this all together is our ego/personality desiring the pleasure and gain of our programming and experience.
The conflict with this is the response to our decisions.
Society certainly has something to say about our perspective of things. Of course, it gets sticky when we form personal relationships and become intimate, divulging all our programming of life along with our experiences that may hold fear, guilt, doubt, shame, and judgment.
Also watch: Conscious vs. subconscious thinking

Finding your true self
We seek clarity first and foremost to achieve our ideals of what we want out of life.
Clarity means we must move on from certain beliefs and ideas about the world and others that include love, friends, and of course, our dreams to be clear about who we are inside.
We literally must become conscious of our subconscious programming, which automatically responds in the way we learned and experienced life.
Getting clarity on why we do what we do is problematic, especially when you consider the subconscious mind responds to life in two milliseconds while the conscious mind gets to a decision in fifty-five milliseconds.
And once it does make a decision, it is one filled with ego/personality, fear, guilt, doubt, shame, and judgment if we haven't discovered our programming so we can choose a better option which should resonate more honestly with how we feel.
Feelings are truth; thoughts may or may not be the truth.
Choice
The easiest way for choice and awareness for being your authentic self is through personal relationships, more specifically from intimate or marital relationships. In other words, you try finding yourself in a relationship. And why?
Because we attract what we need to grow, we've projected our relationships into our lives to become the objectification of what we think and feel. Now programming and unprocessed experience are in full manifestation.
So we are attracted to another on the basis they represent something we think, like or admire. Of course in this attraction is a characteristic we admire but don't seemingly possess.
The truth is, "we have in our selves what we recognize in others." But, we sign a contract because our future partner brings that extra something to the table to build our ideal life. The polarization begins.
On the path of finding yourself in a relationship, your conflict has already started within yourselves, between what you think and what you feel.
So what you've attracted is the antagonist that will challenge you to de-program and choose who you want to be, where thinking and feeling must come into agreement.
Intimacy
Once the intimacy begins, the real challenge of finding yourself in a relationship is in full swing.
The into-me-see is divulging all our thinking, feelings, guilt, doubts, shame, and fears from our life. The relationship's job is to overhaul our model of the world and ourselves.
Yes, its work! No one said evolution was smooth and easy. And coming from someone to whom you're so vulnerable can make the challenge even more difficult. But, you attracted them to show you who you are as an individual, and they help you in discovering your authentic self.
The primary goal of a relationship is to show you your intentions and motivations for doing and being who you've become in every moment of your life. So, where is the responsibility in the conflicts in a relationship?
The truth is when someone pushes your buttons. It is a trigger to one of your programs or an unresolved experience. It is your responsibility to realize the fallacy of your perception and why we attracted the conflict, which, in reality, is a conflict within ourselves.
In summary
All problems start with your programming and your model of the world. All conflict resolutions end with taking responsibility and learning from the conflict.
Thinking is the basis for the reality you created. Feelings and emotions are the truth of who you are.
So, you should confront and share what you feel and try being yourself in a relationship. Not what you think.
When thoughts and feelings are in alignment, you stand in your authentic self. Joy is the final product.
Share this article on
Want to have a happier, healthier marriage?
If you feel disconnected or frustrated about the state of your marriage but want to avoid separation and/or divorce, the marriage.com course meant for married couples is an excellent resource to help you overcome the most challenging aspects of being married.
More On This Topic
Recent Articles
You May Also Like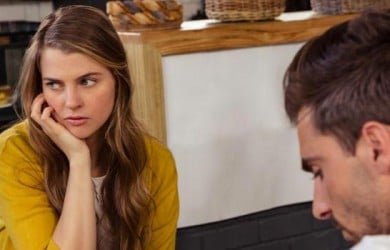 Popular Topics On Married Life