Why Unhappy Marriage Quotes Make Sense
Have you ever felt that you have so much to tell but don't know where to start? Have you ever felt so empty or lonely that you just want to reach out and maybe someone out there would really see that you are going through something?
We're all guilty of feeling like this because we know how to love and to love means you're ready to be hurt. Have you ever found yourself searching for the best unhappy marriage quotes that can describe what you are feeling right now?
We've gathered some of the deepest unhappy marriage quotes.
Why we turn to unhappy marriage quotes
Emotions are so hard to understand and sometimes these quotes can actually describe what we are feeling. If you are in an unhappy marriage or in a toxic relationship, sometimes, you just see one quote that actually describes what you are feeling today and as we share this quote, it actually helps us to feel a little bit better.
Let's face it, not all of us have the creativity to create on-point quotes or even poems so searching for these quotations comes as a release for many of us.
Unhappy marriage quotes and what they really mean
If you are someone who is feeling empty and is looking for unhappy marriage quotes then you are in the right place. We've gathered some of the deepest and some of the most worthy quotes that will touch your heart.
"Love doesn't self-destruct. We choke it with unkind words. We starve it with empty promises. We poison it with toxic blame. We break it by trying to bend it to our will. No, love doesn't die on its own. We kill it. Breathe, by bitter breath. Wise are those who realize that they hold the fate of their love in their hands, and blessed are those who keep it alive." –Unknown
Love never goes away but it fades. Just like a plant we need to water and nurture it with actions and words for it to flourish. Without these things, love will wither and if you start feeding it with poisonous words, hurtful actions, and neglect — will you even be surprised if it fades?
"You can hurt her, but it will be temporary.

She knows how to love,

but she also knows how to love herself.

And if you cross that line where she has to choose, understand you will lose.

– JmStorm
No matter how much you love someone, no matter how much you are willing to sacrifice — there's always a limit. Sooner or later, one is to wake up in the reality that a one-sided love will never be enough.
"Never lose yourself while trying to hold on to someone who doesn't care about losing you." – Unknown
Sometimes, we love so much that we begin to lose ourselves in the process and it seems that even if we give our all – it's never truly enough. Then one day we just realize that we are left with nothing but a broken heart.
"Divorce isn't such a tragedy. A tragedy is staying in an unhappy marriage." – Jennifer Weiner
We often fear divorce as the one who will give us a broken family but we fail to see that being together and staying in an unhappy marriage just for the kids is as empty as an absent parent. What's more, is that you may be together but the emptiness that you feel is greater than of a broken family.
"The truth is; we're better off apart. It just kills me to admit it." — Unknown
Admitting the truth hurts and sometimes unbearable. That is the reason why there are still people who choose to stay in a relationship even if it hurts.
"I never knew I could feel so much pain, and yet be so in love with the person causing it." —Anonymous
Is it really love that you are feeling? Or are you just addicted to the pain and the longing for that person who you used to love? Pain changes us and has this weird way of making us believe that we are still in love.
"Have you ever just randomly started crying because you've been holding in all of these emotions and pretending to be happy for way too long?" –Unknown
Do you feel like giving up? Have you ever felt so alone even when you're married? How is it that a relationship so ideal has turned into an empty feeling and loneliness? How long will you let this happen before you realize that you deserve so much more?
"Between what is said and not meant, and what is meant and not said, most of the love is lost. – Khalil Gibran
When sweet words mean nothing and those actions without words can hurt you. It's just funny how love can diminish and be replaced with rejection and hurt.
Related Reading: Marriage Quotes You Will Love
A true hopeless romantic
Indeed when we love, we love wholeheartedly. We give whatever we can and endure everything just for the sake of our marriage. If needed, we can be more than willing to sacrifice as long as we see that our spouse or partner is happy. Sadly, some people take advantage of this and use love as an excuse to use and manipulate. How much can you endure for the sake of love?
Being a hopeless romantic is very much different from being a martyr or even an emotional masochist. A hopeless romantic feels deep love and can turn a simple tune into music, words into poems, and a simple gesture as an act of love. While someone who endures pain and being miserable despite the fact that they know that the marriage is no longer working isn't a sign of being romantic – it's a sign of refusing to face the truth.
Unhappy marriage quotes can help us when we are feeling down or a way to put into words what our hearts feel but we're not really addressing the issue here. The real issue needs to be dealt with honesty, it needs action and acceptance. If your marriage is no longer healthy then maybe you need to start accepting the fact and start moving on.
Share this article on
Want to have a happier, healthier marriage?
If you feel disconnected or frustrated about the state of your marriage but want to avoid separation and/or divorce, the marriage.com course meant for married couples is an excellent resource to help you overcome the most challenging aspects of being married.
Learn More On This Topic
You May Also Like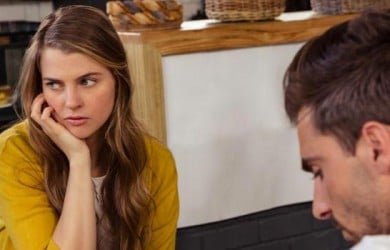 Popular Topics On Married Life