10 Smart Goals Examples to Improve Your Relationship
Have you ever considered setting examples of relationship goals to improve your relationship? If not, this article offers tips to set smart goals for relationships.
When you hear the statement "smart goals," what comes to mind? A job or personal life? You aren't alone. Many people associate setting goals with their job or personal development. You and your partner can also benefit from goals for a healthy relationship.
You may not realize this, but you must have seen some examples of relationship goals in the media. Perhaps your favorite actor has been married for decades without any issues. It can serve as a criterion on which to base your relationship. Similarly, your parent's marriage and friendship are also examples of relationship goals you need in life.
Regardless of your relationship goals and ideas, knowing how to set them is essential. Alternatively, having a list of examples of relationship goals might give you several options. In this article, we offer ten reasonable long-term goals for relationships to prevent you from getting random smart goals for relationships. Also, you will learn how to set relationship goals easily.
Watch this video to learn how to improve yourself instantly:
What are smart goals?
Using intelligent goals for relationships ensures you set a good foundation. It is a way of creating an intentional and healthy, and life saving partnership. Also, it ensures you and your partner are on the same page regarding your needs and expectations. Finally, setting goals for a healthy relationship gives you a sense of direction, motivation, and focus in life.
So, what exactly are smart goals? Smart goals are set to help you succeed in any endeavor. Smart is an acronym for "Specific; Measurable; Achievable; Realistic; and Time-bound." Now, what do these words stand for?
1. Specific
Do you want a relationship where you assure each other of your love? Do you hate distraction? Do you want a long-term relationship, or do you want to go with the flow? Identifying the exact thing you want from your relationship is the first step to setting smart goals.
Then you can narrow these goals to specific actions like spending time together and supporting each other.
2. Measurable
Putting a quantity to the relationship goals and ideas you want is essential. For example, suppose you want to purchase a house with your partner. In that case, you must determine how much goes into your monthly savings. Also, each partner must have a specific amount they contribute to achieving this goal of owning a home.
If your relationship is still early, you may ensure your goals by choosing a time to spend together or setting time since you both have other vital things that need your attention.
3. Achievable
For any goals in a relationship to work, they must be achievable. Do you have the means to buy a house with your partner? Have you considered whether their income is enough to cover the house expenses? Can you and your partner afford to see each other three times a week with your work schedules?
These are questions you must answer before going ahead with setting examples of relationship goals. Don't go on vacation, no matter how tempting it is when you are on a strict budget. Instead, focus on short-term achievable goals like saving, staying healthy, exercising, and going on regular dates.
Related Reading: 

35 Relationship Goals for Couples & Tips to Achieve Them
4. Relevant
Are the goals in a relationship realistic and relevant? For your relationship goals to be relevant, they must align with your personality and activities in life. Also, they must have a purpose to motivate them when the push comes to shove.
For instance, your purpose for saving to buy a house in a year might be because your landlord is troubling you or because you want to have children in your house. Reminding yourself of these facts will help you achieve your goals.
5. Time-bound
How long are you setting long-term relationship goals, and to what end? If you want your relationship to last, what do you mean? Do you plan to get married after two or four years? How long do you plan to keep saving for that house? Setting a time limit for examples of relationship goals helps make them more achievable.
Also, they make you accountable. Saying we would buy a house doesn't sound achievable, like saying we will buy a house in two years. The latter statement makes it more urgent and likely.
Related Reading: 

Why Timing in Relationships Is Important?
Why smart goals are essential for relationships?
What are relationship goals examples, and why do you need them? You may be wondering why setting smart goals for relationships is important. Why not just date and see how it goes?
First, smart goals are important for relationships because feelings sometimes differ. Feelings fluctuate, and your partnership may not be as smooth as you started. That means you require more effort to maintain positive energy.
When you struggle with issues like communication, conflict resolution, and compromises, smart goals can help you stay on track. Also, it reminds you why you started and gives you reasons not to give up.
Also, smart goals make you more responsible. You become more aware and conscious of every action and behavior in your relationship. You are more intentional, focused, and goal driven. It makes you more mature and respects your partner.
In addition, you need smart goals because they help you build a solid and healthy relationship. A typical healthy relationship involves partners who are mainly on the same page. It is characterized by honesty, trust, patience, respect, and constant open communication. Partners make an intentional effort to stay together. If there is a crack, they come together to fix it without letting their ego take the glory.
Smart goals are essential because they give individuals a sense of purpose. You act rationally and logically when you have a sense of direction in life. You see your partner beyond a lover, but a respected friend with whom you value. In every decision you take, you think about them.
Finally, there is no power imbalance when partners have smart relationship goal ideas. They both respect each other's independence and make decisions without fear. Also, they relate with each other freely. After all, they are working towards the same thing – no secret! No lies! Learn more about relationship goal examples below.
10 smart goals examples to improve your relationship
The following examples of relationship goals can help you and your partner improve your relationship.
1. Communicate often
One of the top examples of relationship goals you need is communication. It's specific, measurable, and achievable. All you need is to maintain a culture of constant communication, especially when there's an issue.
Related Reading: 

The Importance of Communication in Relationships
2. Go on a date at least twice a month
You may be in a relationship now, but it's crucial to maintain the same energy or boost your relationship. One way to do this is to agree to go on a date at least two times a month during the weekend. This goal is specific, measurable, achievable, relevant, and time-bound.
3. Start a saving culture
One of the great examples of relationship goals is in finance. You can set your goals by stating: "We will start saving by month end by putting 10% of our income into an account. Within two years, we will buy a house."
This goal is specific enough because you are saving. It is also measurable because you only put 10% of your paycheck aside. It is achievable since you work, and 10% can't affect other expenses. It is relevant because buying a house is an outstanding achievement that further boosts your relationship. Finally, it is time-bound because it's for two years.
4. Settle your disputes before going to bed or within a week
It's hardly impossible for couples not to fight. How you react to these arguments and fights will determine your next step. Deciding to settle fights before going to bed is a smart goal because it is specific, measurable, achievable, relevant, and time-bound.
Related Reading: 

5 Steps to Resolve Conflict With Your Partner
5. Forgive each other
No relationship can survive hardship without forgiveness. Setting this goal is a must because you will always have reasons to disagree with each other. Not forgiving or ignoring some things might threaten your relationship. This goal is a smart one that will improve your relationship.
6. Cook together
Cooking a meal with my partner once a week will allow me to spend more time together. It will also help us community better and check on each other.
7. Take a stroll together during the weekend
Another way to set a goal that allows you to spend time with your partner is agreeing to take a walk together. It's specific, easily achievable, relevant to every couple, and time-bound.
8. Save for a vacation
Another valid goal in examples of relationship goals is saving to travel together as a couple. It's as simple as: "My partner and I will set aside $100 for a trip to Maldives by December 2023."
Related Reading: 

5 Tips to Reconnect with Your Spouse on Vacation
9. Go to the gym together
Do you need examples of relationship goals? Attend a gym session together. Exercise is a way to maintain your health. Since you want to be with your partner for as long as possible, deciding to stay healthy together will ensure you achieve many goals. Going to the gym helps you spend more time together and know your partner better.
10. Put my partner first
"I plan to put my partner first in any decision." Setting this goal ensures you value and respect your partner.
Related Reading: 

15 Ways to Prioritize Your Spouse
How to use smart goals in your relationship?
Now that you know how to set relationship goals, you must know how to use them. Learn how in the following paragraphs:
1. Ensure you agree with your partner
Whatever examples of relationship goals you set, ensure there is an agreement between you and your partner. That way, there won't be deflection in your journey. When one partner doesn't agree, it will be challenging to achieve the goals.
Related Reading: 

5 Tips To Communicate With Your Partner When You Disagree
2. Consult a relationship therapist
It's not until there is an issue that you go for relationship counseling. After setting goals for a healthy relationship, consult a relationship counselor to review the relationship goals checklist and suggest more ways to achieve them.
3. Paste the list in your bedroom
Once you have your relationship goals checklist, copy them on paper and stick it somewhere you can easily see them, like the fridge or back of your bedroom door.
Related Reading: 

7 Things Couples Should Do in Bedroom
FAQ
Let's discuss the most asked question about the importance of smart goals to improve your relationship.
How do you write a smart goal for a healthy relationship?
To write a smart goal for a healthy relationship, ensure it identifies what you and your partner want. Also, qualify your goal and make sure you can work on them. While you set huge goals, they are doable and realistic to achieve. Finally, let there be a time-bound, so you stay energized while working to achieve the goals.
Final thought
Goals aren't just restricted to professional and personal development. Setting examples of relationship goals is a perfect way to improve your relationship and help you stay focused. Your relationship will sometimes change as issues might arise.
In addition, setting smart goals will ensure you stay on track and do not deflect. This article offers ten smart goals to improve your relationship. We hope they help you and your partner.
Share this article on
Want to have a happier, healthier marriage?
If you feel disconnected or frustrated about the state of your marriage but want to avoid separation and/or divorce, the marriage.com course meant for married couples is an excellent resource to help you overcome the most challenging aspects of being married.
Learn More On This Topic
You May Also Like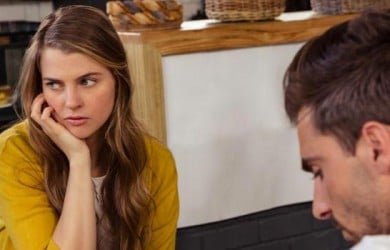 Popular Topics On Married Life