Silent Treatment in a Relationship: Signs & How to Respond
Relationships can be a rollercoaster of emotions, and at times, they can be challenging to navigate. One common issue that many couples face is silent treatment in a relationship.
It can happen to anyone, whether you're dating, engaged, married, or in any other relationship. Silent treatment is a form of emotional abuse that can leave you feeling hurt, confused, and alone.
Let's take the example of Sarah and John. They have been together for four years, and they used to have a great relationship. They would laugh together, have fun, and communicate well. However, lately, things have been different.
Sarah noticed that John had started giving her the silent treatment whenever he was upset or angry. It was like he would disappear into a shell, and she would feel as though she was talking to a wall.
The silent treatment is not only frustrating but can also lead to long-term problems in a relationship. Let's explore the signs and effects of silent treatment on relationships, and how to respond to it effectively.
What is the silent treatment?
Looking for the silent treatment meaning?
Silent treatment is a form of emotional abuse where one person in a relationship stops communicating with the other. It can involve refusing to speak, ignoring messages or phone calls, and giving silent treatment to express anger, hurt, or frustration. It can leave the recipient feeling isolated, confused, and hurt.
Silent treatment is a passive-aggressive behavior that aims to control the other person's emotions and actions.
It is a harmful way of dealing with conflict, and if left unaddressed, can lead to long-term problems in the relationship. It is essential to recognize the signs of silent treatment and seek help to address the issue effectively.
5 signs of silent treatment in relationships
Silent treatment is a toxic behavior that can have a devastating impact on a relationship. When one partner refuses to communicate, it can cause the other partner to feel isolated, helpless, and frustrated. Here are five signs of silent treatment in relationships:
1. Withdrawal
One of the most common signs of silent treatment is withdrawal. The person who is giving the silent treatment in a relationship may withdraw from conversations, social activities, and any form of communication with their partner. They may also avoid eye contact and refuse to acknowledge their partner's presence.
2. Passive-aggressive behavior
Passive-aggressive behavior is another common sign of silent treatment in a relationship. The person giving the silent treatment may use passive-aggressive tactics to express their anger, such as slamming doors, giving the silent treatment, or making sarcastic comments.
These behaviors can be frustrating and confusing for the partner who is on the receiving end.
3. Refusing to address issues
Another sign of silent treatment in a relationship is when one partner refuses to address the issues in the relationship.
They may avoid discussing problems, dismiss their partner's concerns, or pretend that everything is fine, even when it is not. This behavior can lead to resentment, anger, and further relationship problems.
4. Punishing behavior
The silent treatment can also involve punishing behavior. The person giving the silent treatment in a relationship may refuse to do things for their partner, such as cooking, cleaning, or running errands.
They may also withhold affection, sex, or emotional support as a way of punishing their partner for perceived wrongdoings.
5. Blaming the other person
Finally, the person giving the silent treatment in a relationship may blame the other person for their behavior.
They may argue that they are giving the silent treatment because their partner did something wrong or hurtful. This can be a way of deflecting responsibility and avoiding accountability for their own behavior.
5 ways to respond to the silent treatment in a relationship
Silent treatment is a tactic used by some individuals to punish or manipulate others by refusing to communicate or respond to their messages, calls, or other attempts at conversation.
It can be frustrating, hurtful, and confusing for the person on the receiving end. So, how to deal with the silent treatment? Here are five ways to respond to the silent treatment in a relationship:
1. Give the other person space
If your partner is giving you the silent treatment, it may be because they need space or time to process their thoughts and emotions.
Sometimes, the best thing to do is to give them that space and let them come to you when they're ready. Respect their boundaries and don't try to force communication.
2. Try to understand the reason behind it
While the silent treatment can be used as a manipulative tactic, there may also be legitimate reasons behind it. Perhaps the other person is going through a difficult time, dealing with stress, or struggling with something personal.
If you can understand the reason behind their silence, it may help you to empathize with their situation and approach the situation with more compassion.
3. Communicate your boundaries
While it's important to give the other person space, it's also important to communicate your own boundaries. Let them know how their behavior is making you feel and what you expect from them in terms of communication. Be clear and assertive, but also open to hearing their perspective.
4. Don't take it personally
It's easy to feel hurt and rejected when someone gives you silent treatment, but it's important to remember that their behavior is not a reflection of your worth or value. Try not to take it personally and focus on taking care of yourself in the meantime.
5. Seek outside support
If the silent treatment is a recurring issue in your relationship or if it's causing you significant distress, it may be helpful to seek outside support. Consider relationship counseling and talking to a therapist who can offer you guidance and support as you navigate the situation.
How to stop giving the silent treatment
Silent treatment is a form of communication where one person chooses to withdraw from the conversation or ignore the other person altogether. It is a passive-aggressive behavior that can hurt relationships and hinder communication. If you find yourself giving the silent treatment, here are some ways to stop:
The first step in stopping the silent treatment abuse is to acknowledge that you are doing it. Recognize that this behavior is not healthy and is not effective in resolving conflicts. Take responsibility for your actions and commit to making changes.
Explore the reasons why you feel compelled to give the silent treatment. Is it a response to feeling hurt or angry? Do you feel like you are not being heard or understood? Understanding the root cause can help you find healthier ways to communicate your feelings.
Practice active listening:
Effective communication involves not only speaking your truth but also actively listening to the other person's perspective. Practice active listening skills such as repeating what the other person said to ensure you understand their point of view.
A study found that active listening skills were positively associated with higher relationship satisfaction. Additionally, the study suggested that repeating what one's partner said to ensure understanding, a technique called "reflective listening," can be particularly effective in improving communication in relationships.
When communicating your feelings, use "I" statements instead of blaming or accusing the other person. For example, instead of saying "You never listen to me," say "I feel unheard when I speak to you."
If you feel like you need time to process your emotions, communicate that with the other person. Let them know that you need a break to collect your thoughts and emotions and that you will come back to the conversation when you are ready.
If you struggle with giving silent treatment, seek support from a therapist or counselor who can help you develop healthy communication skills and coping mechanisms.
Commonly asked questions
The silent treatment can be a form of emotional abuse and can cause harm to relationships by creating feelings of isolation and resentment. This section sheds more light on this form of abuse:
Is silent treatment good for relationships?
No, the silent treatment is not good for relationships. It can lead to a breakdown in communication, hurt feelings, and can be a form of emotional manipulation. It can create a toxic environment and make it difficult to resolve conflicts.
Healthy relationships require open communication, respect, and the ability to work through disagreements together. If you find yourself or your partner using the silent treatment, it is important to address it and work towards finding healthier ways to communicate and resolve conflicts.
A study investigated how being on the receiving end of the silent treatment affects self-esteem and self-concept clarity.
The results showed that receiving the silent treatment led to lower self-esteem and a decrease in self-concept clarity, which could have negative consequences for the individual's well-being and relationship satisfaction.
The study also found that forgiveness did not necessarily improve the recipient's well-being, as it could lead to a feeling of being a "doormat" or losing self-respect.
What kind of person gives silent treatment?
There is no specific type of person who gives the silent treatment. It can be a behavior exhibited by individuals with different personalities, backgrounds, and experiences.
A study examined the perceptions of the reasons why people use silent treatment as a communication behavior. The results showed that participants identified a variety of reasons for giving the silent treatment, including avoiding conflict, seeking attention or control, and expressing anger or frustration.
People may use the silent treatment as a form of passive-aggressive behavior, a way to manipulate or punish the other person, or because they struggle with effectively communicating their emotions.
It is important to understand that giving silent treatment is not a healthy or effective way to communicate in relationships, and working towards more constructive communication patterns can lead to stronger and healthier relationships.
Discover why abusers resort to silent treatment in this eye-opening video.
Silence is not the treatment!
In conclusion, silent treatment can be a challenging and hurtful experience, but there are ways to respond to it in a constructive and healthy manner.
By giving the other person space, trying to understand the reason behind their behavior, communicating your boundaries, not taking it personally, and seeking outside support, you can move towards a resolution that is respectful and beneficial for everyone involved.
Share this article on
Want to have a happier, healthier marriage?
If you feel disconnected or frustrated about the state of your marriage but want to avoid separation and/or divorce, the marriage.com course meant for married couples is an excellent resource to help you overcome the most challenging aspects of being married.
You May Also Like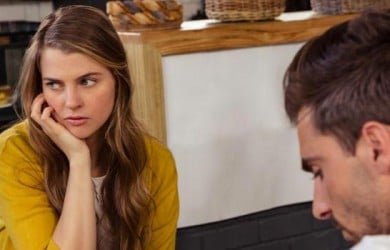 Popular Topics On Married Life