20 Obvious Signs She is Afraid of Losing You
Many people harbor a fear of losing their partner, whether it stems from a previous rejection or traumatic loss from the past. The defensiveness acts as protection from experiencing similar pain despite it preventing partners from developing the sort of connection most long for in a partnership.
With a new relationship, especially each person faces a "fear of the unknown," with neither knowing what to anticipate. Still, this can be amplified when one partner shows signs she is afraid of losing you.
The obvious choice then for this partner is to avoid the potential risks associated with falling in love by keeping the emotions in check. That means disallowing exposure to vulnerability or giving trust to this individual.
Love triggers deep-seated fear; the greater the emotion, the more fear of losing you. It is vital to comprehend and sort through the underlying cause of being afraid and learn how it's preventing opportunities for fulfilling, healthy, and committed partnerships.
What does it mean to be scared to lose someone?
Defining what it means to have a fear of loss is a tough one. We're not sure any of us really know what it means to "fear loss," except that when you love someone, and that person is no longer in your life, the pain is immeasurable.
No one wants to experience that grief.
We can all say we suffer to a degree from what is referred to as thanatophobia.
The reasons why a partner might be scared to lose you are many. Lots of people, again, fear losing their partner, if not all of us. Still, not many thoroughly understand it or know for sure what it stems from.
It can be compelling for some individuals, causing them to concentrate specifically on being afraid of that loss. For these people, it can be related to a previous rejection or a past traumatic loss, or even magnified personal insecurities.
Perhaps this partner is not necessarily treating you the best, and rightfully should leave, but there's a part of you that holds tight, refusing to let go. Why? Comfortability, familiarity?
I would let go – would you? Everyone is different, expresses loss differently, and experiences it uniquely. It has a whole other meaning for each of us as individuals.
Some are terrified of it and avoid it at all costs; others are stronger and can withstand it. What does it mean? It's subjective, really.
What causes a girl to be scared of losing you?
There can be many reasons she doesn't want to lose you. If the partner has tremendous love for you, the loss would be excruciating. The idea of losing love might be a reminder of a previous rejection dealt with that might have been harsh.
Perhaps the individual has insecurities bordering on the extreme, causing them to be afraid of you walking away at any moment due to a feeling of them not deserving of you as a partner.
It could be genuinely anything from past trauma from a poor childhood to an emotional disorder. A priority is the ability to express being afraid. Once it's recognized, better decisions are afforded because there is a "why."
20 signs she is afraid of losing you
Generally, as people start to fall in love, there is an emotional vulnerability associated. However, for some partners, while you are vital, you'll find barriers or emotional walls around their hearts to prevent pain.
If you recognize the inability to commit or desire to do so in the present moment, it's essential to avoid having a partner fall for you due to the potential harm it can cause.
When you do become involved with a partner in a partnership, it's vital to hold yourself responsible for protecting your partner from hurt, particularly when you note signs she is afraid of losing you. Some of those include:
1. Your girlfriend prioritizes you
In an effort to ensure you never become upset, instead, feel happy with how the partnership flows, your partner will ensure that you are the priority and everything else comes after.
This podcast with Dr. Stephanie S. Spielmann discusses partners who settle for less in romantic partnerships for fear of being single.
2. Appearance is vital
A partner who is scared of losing you will put particular time and attention into their appearance, often going above and beyond. That can mean looking too good for even casual occasions to ensure you find them attractive and will seek that approval for their effort.
3. Transforming to develop an emotional connection with you
Among the signs she is afraid of losing you is a willingness to change who she is to please you.
When you express dissatisfaction with a particular trait or a dislike for a specific habit, the partner will go to great lengths to improve those things. The desire is to be the best partner you've had and will have.
Related Reading: 

How Important Is An Emotional Connection In A Relationship?
4. The epitome of the perfect mate
In that same vein, as the perfect mate, this partner wants to ensure that they meet any possible standard you might have in order to call them your best significant other yet.
While the partner wants to possess positive characteristics that you appreciate, this can be a negative because no one should stray from being an authentic version of themself in order to make another person happy.
5. Decisions are easy
Signs she loves you but is scared of losing you dictate that any decisions that need to be made are relatively easy because they often revolve around what you prefer.
A partner afraid of losing you won't want to involve themselves in conflict. While there will be suggestions, ultimately, the decision will be yours to make.
Related Reading: 

Ways to Make a Strong Decision Together
6. The partner is easily made jealous
More signs she is afraid of losing you is the tendency towards jealousy, worrying there might be an attraction developing when there's interaction with another person.
That can even include work colleagues, people you follow on social networks, or mere friends, all of whom she tends to stalk on their sites.
7. There is a discussion about the fears
Your partner expresses fear that you will leave, and you sense her paranoia over losing you. In some instances, when they fall in love, some people develop anxiety or pain at the thought of that person leaving or losing that individual.
It can cause some people to fight their feelings in order to avoid the trauma. Check out this book on insecurity and fearing abandonment in relationships.
Related Reading: 

Learn How to Deal with Paranoid Partner and Stay Happy
8. Crying is not difficult
When sharing feelings concerning the fact that she is afraid of losing you, the partner is not challenged by showing emotion or crying in front of you when expressing that she loves you but is scared.
Vulnerability isn't always easy; in fact, in some cases, she is fighting her feelings for you to self-protect.
9. A strong partner but sharing weaknesses
When you see signs she is afraid of losing you, it's essential to assert more sensitivity in the way you treat her. Even a strong partner has weaknesses. The potential for breaking trust and causing exceptional hurt lies with you.
That doesn't mean you can never walk away from the partnership. You need to do so with exceptional forethought and respect.
Relationships sometimes don't work out, and even individuals with fear of loss need to be able to come to terms with that if the two of you end up not being compatible.
10. Your faults are accepted
A partner with a fear of losing you often has a much higher tolerance of those little quirks and flaws that can sometimes become annoying after some time together.
While she might offer a comment or make a suggestion here and there, these are not as burdensome as they might be to many, and she prefers to avoid conflict.
11. Reconciliation is first and foremost if there is a disagreement
Regardless of who might have initiated the argument, a partner will not want to let go of you so readily, instead preferring to settle the dispute with an apology and an attempt at reconciliation.
That doesn't mean your partner is always the one to blame for the issues that rise up in the couplehood, only that your significant other prefers to salvage the union with their best effort.
Related Reading: 

How To Deal With Disagreements In A Relationship
12. Discussions on the future tend to include you
If your relationship progresses to the point of discussing the future, it will show that she doesn't intend to let you go as far as her future is concerned.
Most likely, any plans made will include the two of you, and the anticipation will be that you'll do the same.
13. Affection is a priority
A partner will want to ensure that you know that you're cared for and share an emotional connection unlike any other. One way is by being so affectionate.
Your partner will always show excitement to see you, engage in open and honest conversations, physically touch and hold you, and express how much love they have for you.
Here are some ways your partner might be showing affection in the relationship. You can also use these tips to reciprocate some love:
14. The partner will crave your attention
In that same vein, the partner will hope to receive the same attention from you and do what's necessary to make this easy, like encouraging walks after dinner, hand-holding, and planning date nights.
While the partner will avoid bombarding the phone with a million phone calls and texts throughout the day, they will, instead, hope you'll be thinking of and missing them enough to send your own message or maybe a quick call since you're both busy when you're apart.
Related Reading: 

Attention Seeking Behavior in Relationship : Examples & How to Stop
15. Investments in the relationship are important
Signs she is afraid of losing you mean that a partner will invest in the relationship in many different ways, including emotionally, mentally, physically, and often financially.
The partner won't be afraid to take their turn in wining and dining you or showering you with kind gestures to show how they feel, nothing expensive or lavish, just tokens to express the fact they care.
16. No one else compares
Of course, when you notice signs she is afraid of losing you, you'll recognize there's no need for jealousy. This partner only has eyes for you, with no one else getting a second glance.
Even when there's an event or social gathering where other people are mingling and being flirty, a partner who has a fear of losing you will not be phased by the interactions of the evening.
17. A partner is loyal and faithful
In that same vein, you can count on a partner who fears losing you to be loyal, supportive, and faithful.
The individual can be counted on to encourage and motivate in every situation, whether it be a career opportunity, a life event or milestone, or chasing dreams; it's their intention always to cheer you on, standing in your corner as a faithful companion would.
18. The partner is entirely selfless
Of all the signs she is afraid of losing you, the most endearing is her selflessness. She ensures to give of herself so freely without asking for anything in return.
If you need a ride to the airport, she's there; if you need food when you're ill, she cooks; if you need help with a project for a deadline and colleagues are unavailable, she does her best; she is a gem.
Related Reading: 

15 Ways to Be Selfless in a Relationship
19. Your partner is a flirt
Not only at home, but when you go out on the town, your partner likes people to recognize that you belong to them and are the best-looking person in the room to stroke your ego.
This person will ensure to flirt and show you off so everyone is aware of your presence but not so aware that anyone has the opportunity to get close because that would arouse jealousy.
20. Your partner values and seeks your opinions
A partner is very interested in what you have to say and will seek your opinion on every topic. Your thoughts are valuable. The two of you generally engage in deep conversations.
When there are challenges or difficulties in any life circumstance, the individual will look to you for advice and often check with you on their decisions to see if it was the best one for that situation.
Final thought
Many mates hold onto a fear of losing someone like a partner. It can stem from many things, but often it's related to a past experience that renders them wounded emotionally, mentally, in their heart.
In many cases, speaking with a counselor can help progress you beyond that trauma with the appropriate coping skills, so you don't feel compelled to fight feelings of love or put a stronghold on a partner for fear of letting them go. It's wise to reach out.
Share this article on
Want to have a happier, healthier marriage?
If you feel disconnected or frustrated about the state of your marriage but want to avoid separation and/or divorce, the marriage.com course meant for married couples is an excellent resource to help you overcome the most challenging aspects of being married.
More On This Topic
You May Also Like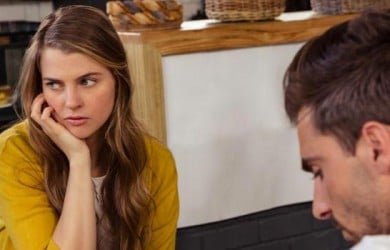 Popular Topics On Married Life