20 Signs He Is Jealous but Won't Admit It
What are the signs he is jealous? Are there subtle signs of jealousy you can spot immediately, or do you have to notice things over time?
All these and more are some of the questions that run through the average person's mind, especially when they begin to notice signs that a guy is jealous and likes them.
In this article, we will help you put some things in perspective. You will find out how to tell if a guy is jealous and what that should mean to you.
What does it mean when a guy gets jealous?
Before we start examining some male jealousy signs we will look over in this article, it is important to bring some context into this conversation. What does it mean when a man gets jealous?
Jealousy in a man can mean many things. However, the most common underlying meaning of jealousy as exhibited by a man, is that he feels threatened. When a man sees another as a threat/rival and at the verge of getting your attention and love over him, there's a possibility that he may get jealous.
The whole "getting jealous thing" isn't extraordinary. Research has shown that males tend to exhibit the "male territorial body language," which is the man's way of establishing himself as an alpha male and keeping every kind of competition at bay.
These research findings show that the average male wants to be secure in his relationship with who he considers to be his significant other. When a guy starts getting jealous, it is most likely because he has begun to sense some competition for your attention.
If a guy gets jealous, does he have feelings?
The simple answer to this is yes.
When you start noticing the signs of jealousy in a guy, especially if you have suspected he has feelings for you, it is because he does.
Most times, a guy will not get jealous and start exhibiting the signs we will discuss in this article if he considers you to be just a platonic friend. However, before deciding for sure, you may want to pay close attention to the other signs he is jealous of sharing your time and attention with others.
If you can find a couple of them, you have your answer.
20 signs he is jealous but hiding it
Jealousy can change a man's behavior even if he tries to hide it from you. Sometimes a man may exhibit signs of jealousy even without realizing it himself. `
When a guy gets jealous, he begins to act in a specific way. Here are some signs he is jealous but doesn't want you to know about it.
1. Has become more inquisitive
Usually, he wouldn't flinch when you tell him that you have been hanging out with the girls. Although he tries to prevent you from feeling spooked, you cannot help but notice that he no longer ultimately believes you when you say these things to him.
Then again, your conversations have begun feeling like an interrogation.
2. Gives your answers a different meaning
When a man asks you questions concerning how your day went and where you have been, one of the signs he is jealous is that he may no longer take your answers at face value.
When he suddenly gets paranoid and curious when you tell him stuff about your day and probably ask for more details, that could be because he is getting jealous.
3. Gets angry when you admire another man
One of the easiest ways to know when a guy is jealous is by checking how he reacts when you talk about other men in his presence.
Does he try to point out how you may be overreacting? Does he listen to the conversation cooly and try to change the subject immediately?
These could be some of the signs he is jealous.
4. Competes with any man you compliment
"This guy dresses well."
'Yes, he does. You know I do, too, right?"
Does this sound like what he would do when you point out the good attributes of other men? If he is quick to respond by reminding you that he has the same qualities, it could be because he is getting jealous.
5. Becomes uncharacteristically nice
You would notice this even more if you have been friends with him for a while. He has been his usual self all along, only to act too nice suddenly.
He has suddenly gotten too attentive and is the first to call you on special days to wish you well. He has also suddenly become your biggest cheerleader.
All these could be signs he is jealous and afraid that if he doesn't make you see him as a viable option (by being uncharacteristically nice), you might leave him and commit to a relationship with someone else.
Also Try: 

Is He Flirting or Just Being Nice?
6. Tries to make you jealous
The desire of a jealous man to make you feel the same is usually a reflex action. One of the signs he is jealous but hiding it is that he tries to make you feel jealous as well.
You might notice that he is suddenly putting himself out there to find a date. He makes an extra effort to look good, even when you want to hang out with the group.
A jealous man talks about how all the ladies are flocking around him every chance, and he seems to be mirroring everything you do.
So, if you go on a date with someone else, he does the same.
7. He is defensive when you ask about his love life
Defensiveness is another sign to look out for. How does he respond when you ask him if he is seeing anyone at the moment?
When a guy isn't interested, he may answer in a way that is normal to him. So, if he likes to play a lot, he would probably throw in some humor simultaneously. However, does it feel like he gets into "beast" mode whenever you ask about his love life?
That there could be one of the signs he is jealous.
Check out this video to learn more about how to not be defensive in a relationship:
8. He always wants to step in and save the day
When a guy is jealous, he usually does all he can to step in and save the day. As far as he is concerned, he would like you to know that he will always be there for you.
Give him a call when your car breaks down in the middle of nowhere and he will likely be on his way to pick you up or send a driver to get you.
He revels in the idea that he can be the one who saves the day.
9. He checks up on you more frequently
At first, he was probably satisfied to just talk to you a couple of times a week. However, one of the easiest ways to spot jealous men is to look at how often he checks up on you.
He'll start doing it more often. Although he may try to mask his actions with humor and every other tactic he can, it still doesn't change the fact that he may be jealous.
10. Asks your friends questions about you
One of the signs he is jealous is that he may try to reach out to your friends in a bid to get information from them.
Usually, the questions may center around what's happening between you and a specific guy. Doing this is one of the signs a guy is jealous of another guy.
11. Stalks you on social media
He likes all your posts. He comments every single time you drop a picture on Instagram.
What makes this worse is that he probably wasn't even big on social media before this time. However, here he might be following you on every single post you make online.
Related Reading: 

The Harsh Truth About Social Media and Relationships' Codependency
12. Tries to check your phone
A jealous man would try to read your messages and social media chats. Reports point at the adverse effects of mobile phones on trust among couples, as you might find a jealous man checking your phone at some point.
He might be subtle about this (by trying to check your phone when you are not around). On the other hand, he can ask you straight up to let him see your phone.
All these are signs that he is jealous.
13. Hovers around you constantly
One of the easiest signs he is jealous is that he tries to hover over you like a hawk when you go out together – even as friends.
When you step into the club, he might take your hand (to help you step inside, he'd say) or lean in close when he wants to talk.
You might not see that he is sending a non-verbal message to other guys in the room to steer clear.
14. Dramatic and uncalled-for mood swings
One second, he is bubbling and full of joy. The next minute, he is down and wouldn't even speak to you. If he suddenly has mood swings and wouldn't even tell you what you did wrong, it would be because he feels jealous.
To confirm this, can you check if there is a method to these mood swings? Does he get moody only when he sees you talking to another guy?
Related Reading: 

How to Deal With Mood Swings in a Relationship
15. Becomes cold when he meets your male friends
If he makes it a duty to be cold, rude, or simply tell you that he doesn't like most of your male friends, it could be because he is getting jealous.
16. This coldness soon extends to you
What's more frustrating is that he may not tell you why he is acting so cold toward you, even when you try to ask. When a guy is jealous, he tries to make sure that he communicates his feelings to you.
Sometimes, he would do this by giving you the cold shoulder without any tangible reason.
17. Others tell you that something is up with him
One of the common signs he is jealous is that the people in your life (especially those closest to you) have whispered things like these in your ears.
The fact remains the same whether they said it in a light-hearted or grave way. If they have said it, it is most likely possible.
18. Become aggressive when other men are around
Before now, he used to be cool and acted normal when other guys tried to work their way into your space. However, one of the signs he is jealous is that he may suddenly try to throw his weight around whenever he sees another man hanging around you.
He may not be doing this in a downright annoying way. However, this is his way of letting other guys know they should back off you.
19. He finds a way to stay by your side
Go for a group hangout, and you may not be able to get off his side that easily. Even when you finally weasel your way across the room, it wouldn't be a long time until he materializes by your side again.
20. He has probably started dropping hints
Dropping hints is one of the more evident signs of jealousy in men. Although he may not come clean about it, he may start hinting that he wants to be more than just a friend.
He could do this by telling you stories from his past relationships (when you didn't ask) or asking specific questions that give off those vibes.
How to handle a jealous guy?
Jealousy of a guy can become troublesome when it starts getting in the way of your peace of mind or life.
According to Psychologist Mert Şeker, if you are dealing with a man who exhibits jealousy and displays suspicious behavior by constantly looking at your phone or trying to check your messages, it's essential to address the situation calmly and directly.
Remember, addressing jealousy and trust issues is a process that requires effort from both partners. If jealousy continues to be a recurring problem and it negatively affects the relationship despite your efforts to address it, it might be necessary to reevaluate the compatibility and health of the relationship.
Does your man fit the description from the last section of this article? Well, here's what to do when you have seen the signs he is jealous
1. Confront him
He might be doing all these because he likes you and is frustrated by his inability to ask you out. If you feel the same way toward him, you may want to confront him on the subject.
2. Set clear boundaries
Jealousy in men isn't always a sign that they like you. It could be a part of himself playing out, a not-so-nice part of himself.
This is where boundaries come into play. Tell the jealous man what you like, can tolerate, and what is a no-no for you. When the cards are all laid out on the table, it becomes easier to navigate your relationship.
Related Reading: 

Why Setting and Maintaining Healthy Boundaries in Dating Is Important
3. Don't be afraid to get him help
Jealousy could be the result of traumatizing experiences in his past relationships. If this is the case, he would need professional help to scale through.
Psychologist Mert Şeker says that while talking about the processes of jealousy, we should not pass without mentioning the Othello syndrome. Othello syndrome, also known as delusional jealousy, is a condition characterized by a delusional belief that one's spouse or partner is unfaithful.
Problems such as depression, substance abuse, and suicidal ideation can often be observed in people who experience this condition.
This is where therapy comes to play. Carefully bring up this subject appropriately and help a jealous man see why he should give therapy a chance.
4. Encourage self-reflection
Suggest that he reflects on the root causes of his jealousy and whether they are rooted in past experiences, insecurities, or unrealistic expectations.
5. Reinforce trust
Emphasize the importance of trust in a relationship and discuss ways you both can build and maintain trust. Be consistent in what you say to build trust. Fulfill the commitments you made to each other. Be clear and precise in your communication as well. These will give you a sense of confidence.
6. Set mutual expectations
Establish mutual expectations for healthy behavior in the relationship. Agree on how you both need to respect and build trust in each other's privacy. In this way, you will both respect your personal boundaries and set common goals."
Takeaway
There are so many signs he is jealous, most of which are covered in this article. When you are sure that he is jealous, you next want to take specific steps to help him sort through his emotions and get stronger.
Remember, in extreme cases, therapy might do him good. So, do not hesitate to discuss the subject the next time you get the chance.
Share this article on
Want to have a happier, healthier marriage?
If you feel disconnected or frustrated about the state of your marriage but want to avoid separation and/or divorce, the marriage.com course meant for married couples is an excellent resource to help you overcome the most challenging aspects of being married.
Learn More On This Topic
You May Also Like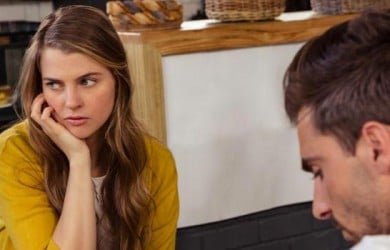 Popular Topics On Married Life