10 Signs a Monogamous Relationship Isn't for You
Most of us grew up seeing representations of monogamous relationships all around us.
Our families, our communities, the magazines we read and the television shows we watched all showed us that a loving relationship was based on loyalty and commitment between two people.
The monogamous marriage was the only form of marriage. So what is a monogamous relationship?
In simple terms, such a relationship, or a monogamous marriage, is one where the two partners are physically and emotionally intimate only with each other. There is no room for cheating. Both partners have vowed to uphold the traditional marital vows and be true only to each other.
If one of them strayed and slept with someone else, the relationship was over, or at the very least, trust was broken, and the relationship was never the same.
While monogamy may be the norm in many places, there is a growing interest around the world in polyamory which involves open relationships at an intimate or romantic level with more than one person at a time.
A polyamorous relationship can be formed by people of the same or different sexual orientations consisting of heterosexual, lesbian, gay, or bisexual partners.
Over the years, the concept of polyamory has become more acceptable with its popularity being visible even in pop culture and news. Take this CBSN documentary for instance:
Polyamorous parenting is also on the rise with the legal rights of such couples being upheld in the court of law at various places. Various research studies are also indicating a rise in this system, with one conducted in 2017 stating that out of 8,700 single adults in the U.S. more than one in five engaged in polyamory some time in their lives.
In contrast, a 2014 survey had reported only 4%-5% of Americans stating that they were polyamorous.
Still, you have supporters and naysayers on each side who believe their way is better. Let's examine these arguments to better understand if one or the other is right for you.
Monogamy vs polyamory: The arguments
Here are the arguments by many people who are pro monogamous relationships:
Are humans meant to be monogamous? Yes. It's been that way in the majority of cultures.

Monogamy is a way to ensure that the children can grow up in a stable household where they feel safe and secure in the love provided by one set of parents.

This kind of relationship allows both partners to

form a solid bond of trust and communication.

What does a monogamous relationship mean to couples? They

rely on each other

in good times and in bad. Monogamy offers a reliable and trustworthy partner. Some feel that polyamory doesn't come with that level of support.

Monogamy reduces the risk of both partners catching any sexually transmitted diseases since they only sleep with each other.
So is monogamy realistic?
When asked this question, some say monogamous relationships are unnatural as

we are built to express love in different ways with different people.
They say one person can't fulfill all of our needs, so the concept of monogamous marriage is outdated.
Some proponents of polyamory say

the new normal is to have an open relationship

. "It's the natural state for humans."

About 20% of single U.S. adults have engaged in consensual polyamory at least once in their life, as per this 2016

study

published in the Journal of Sex & Marital Therapy.

Polyamory expert and activist Elisabeth Sheff explains the following primary reasons why people say that they prefer polyamory:

It meets more needs

It provides the capacity for more love

It offers a sexual variety

It creates an opportunity to have a larger family with more love to go around
In her book Polyamory in the 21st Century: Love and Intimacy with Multiple Partners, American clinical psychologist Deborah Anapol said that it also satisfies polys' desire for freedom and rebellion.
Looking at both sides, it can be tough to choose, and you may have been wondering if you might be someone who would be happier in a consensually non-monogamous relationship.
You may even be looking for some traits or signs that can lay it all clear for you so that you can choose to be monogamous or polygamous.
Well, now you may finally decide by looking for the following ten signs a monogamous relationship isn't for you:
1. You are independent
If over the years, you are not getting comfortable with the idea of living your life with one partner and having kids in the due course of time then it's a sign that you may not prefer a monogamous relationship.
Living a consensually non-monogamous life may not be realistic if you have young children. Some experts say that young children traditionally fare better with a mono-parental or two-parent stable home base.
Well, if your children are able to take care of themselves, then a non-monogamous lifestyle may be possible. At the same time, polyamorous relationships mean there can always be one person at home to look after the child in the absence of other partners.
2. You crave having more loving relationships in your life
If you find this satisfying, above, and beyond the sexual variety this setup delivers, then you may be wired for non-consensual monogamy.
You have a lot to give, and living in a monogamous relationship just doesn't meet your needs.
You find that having multiple partners helps you grow exponentially, as each partner offers something unique that you don't find with anyone else. Your love is all the richer for this.
3. You don't get jealous easily
If you see yourself as someone who would not be jealous of sharing your partner emotionally and sexually with other people, you might enjoy polyamory.
Polyamorous people are typically not jealous people; it is a character trait that is not present in their personalities.
This allows them and their partners to enjoy sexual and emotional connections with other people without any feelings of possessiveness or threat that they may be replaced by a "better" partner.
Here's an interesting video of polyamorous and monogamous people talking about their take on such relationships and the role of jealousy in it:

4. It's not just out of boredom
You are self-aware enough to know the difference between boredom with your monogamous partner, and the true need to live an open relationship. It is normal in a monogamous marriage to have periods of boredom in the bedroom.
This is when sex toys, erotica, and sexual games can be used to spice things up but you need something more.
You may be considering opening up your now-monogamous marriage or relationship to polyamory.
5. You are okay with sharing
Consensual non-monogamy implies that you enjoy sharing. Those in monogamous relationships do not have to think about sharing their partner.
The thought of sharing your partners, your heart, your time, your bed, your personal space, and knowing that your partners are doing the same does not disturb you. You are okay with all of that.
6. The status quo does not matter to you
You never try to fit into any mold. You have tried to break every rule set by the society and do not think that relationships should match certain parameters. The mere thought of that feels suffocating.
7. You like challenges in relationships
If a relationship does not throw challenges in front of you, it does not excite you at all. Dealing with the ups and downs of the emotions of different individuals doesn't sound like a tough task for you.
8. You have trouble committing
The thought of being with just one person for the rest of your life scares you. It's not that you don't want a long-term relationship but sharing your life with just one person or taking major decisions with them doesn't sound very comfortable.
9. You feel trapped in the monogamous relationships
You have been there and done that but something feels awkward. It's not that you are commitment phobic but those monogamous relationships always end with you asking for more. You want to settle down but that one person never seems to appeal to the different sides of you. If you've been in a string of monogamous relationships feeling unfulfilled this way, it can be a sign that maybe that's not the path for you at all.
10. You appreciate a big support network
If you are a person who doesn't like to be dependent on just the person you are in love with, perhaps a monogamous relationship is not for you.
In a polyamorous relationship, you can enjoy the support of more than one person. You can have a stronger support network, be it physical or emotional support.
For example, you can have somebody to help you with your fitness regime. Also, you can have somebody else to take care of your emotional needs when you are bogged down with work pressure.
Now that you've have a look at the top 10 signs to know more about the monogamous and polyamorous lifestyle, you should ask yourself an important question:
Are you sure you don't want solo polyamory?
Before you totally make up your mind about not being cut out for monogamy, ask yourself this: is this just for you, or are you also excited about imagining your partner sleeping with other people?
Because if you are considering polyamory but just for you, that isn't truly polyamory. That is merely asking your partner for permission to step outside the monogamous relationship because you crave sexual variety.
That's a whole different scenario.
Let your heart lead
There are advantages as well downsides to both monogamous and polyamorous relationships.
No matter which choice you make, whether it is considering monogamy or polyamory – there's one thing that you should be certain about. This lifestyle or relationship path that you chose should come from a place of love so that you and your partner or partners can sustain a healthy relationship.
Share this article on
Want to have a happier, healthier marriage?
If you feel disconnected or frustrated about the state of your marriage but want to avoid separation and/or divorce, the marriage.com course meant for married couples is an excellent resource to help you overcome the most challenging aspects of being married.
More On This Topic
You May Also Like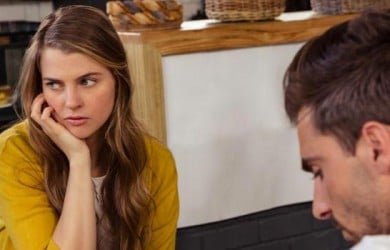 Popular Topics On Married Life