Should I Get Back With My Ex? 15 Signs You Should Go for It
When your relationship ends, the most common reaction is not wanting to see your ex again. Even the thought of them irritates you, and you just want to forget and move on with your life.
But, as time passes, you may ask yourself, "Should I get back with my ex?"
One of the viral Hollywood news lately is about Ben Affleck and Jennifer Lopez getting back together. Imagine how dreamy it is for "Bennifer" to be back in each other's arms after nearly 20 long years apart!
Of course, this news might also make you wonder if getting back with an ex is a good decision. Does rekindling the love and romance between an ex worth the risk?
How do you know getting back together will even work
Should I get back together with my ex? Would this be the right decision?
These are actually good questions. If you have heard of the saying," if they love you, they will come back no matter what," then this is the same thing.
If someone truly loves you, then they will prove to you that they are deserving of a second chance. Now, it's up to you if you would risk your heart again and give your ex another chance. Saying yes and deciding to get your ex back is just the first step of your second chance.
Remember that the relationship risk is always there. If you decide to give your love another chance, there is still the risk that your new relationship will not work out.
If you are still unsure and you are still asking yourself, "Should I get back with my ex or not, then here are some signs to consider.
Related Reading: 

How Can I Get Back Together With My Ex Girlfriend?
15 signs you'll get your ex back
Do you want to know the signs you and your ex will get back together? Or have you been contemplating the thought of "should I get back with my ex?"
If so, then we will give you 15 clear signs that you and your ex are meant to be.
1. You broke up because of a silly argument
"Should we get back together if the breakup was just a mistake?"
Has it ever occurred to you how petty your issue was? That you were both just too tired and stressed, and you had unresolved issues that led to your breakup?
If you think that this is what happened with your relationship, then most probably, you'll get back together. This time, you'll be more mature and understanding with each other.
2. You still think of your ex a lot
Do you still think of your ex all the time?
Missing your ex post-breakup is perfectly normal. It doesn't necessarily mean that exes always come back if you admit that you miss them.
But if you can't get your ex out of your head and you still have feelings for this person, then yes, that's a sign that maybe, you should try to get back with your ex.
Also Try:

 Do I Still Love My Ex Quiz
3. You defend your ex from your friends
Your friends are there to comfort you when you have a broken heart. And it's perfectly normal for your friends to bash your ex so you could feel better.
A sign that you want your ex back is when you end up defending them in front of your friends. You might start trying to justify what happened or refuse to take in negative feedback. Either way, it still means that your love for your ex is still as intense.
4. You can't imagine your ex being happy with someone else
You can't bear imagining your ex with someone else.
You don't even want to entertain the thought of your ex moving on and being happy with someone else because it just breaks your heart. Aside from that, you know deep inside that your ex was a really good person and partner.
5. You can't seem to find a match
The reality of being in a relationship with someone new is unbearable.
Everyone says you should be open to dating so you can move on faster, but deep inside, you can't even think of flirting with anyone. For you, there's only one person that you want to be with, and that's your ex.
If you have this realization, then maybe you can tell yourself that "we will get back together" and try your best to reconcile.
6. Your ex still tries to win you back
"My ex wants us to try again. Should I get back with my ex? "
Your ex wants to get back together, and you know deep inside that you miss the person. Should you go for it?
Before making any decisions, make sure of what you really feel. Do you still love your ex, or do you just miss the thought of being in love?
Choose what's best for you, and not because your ex is persistent. If you are already sure, then go ahead, but make sure that the both of you will work harder this time.
Also Try:

 Is It Normal to Still Love My Ex
7. Your parents ask you to give your ex another chance
Your parents miss your ex as well and think you should get back together.
When your parents approve of your relationship, then that's a big deal. We all know that all they want is what's best for us, right?
So, if your loving parents miss your ex and want you to reconcile, then maybe your love for each other does deserve a second chance.
Check out this video that talks about when you should give someone a second chance:

8. You treasure all the memories
"Will my ex come back? I miss my ex and our memories together."
Even if you were heartbroken, you still treasure your sweet and loving memories.
Usually, when you break up, all the memories that you have spent together would make you cringe. You may even ask yourself, "Why did I waste my time with this person?"
Now, if you go back to memory lane and still smile when you remember your ex, then maybe you should consider getting back together. Why? It is because the happy memories outweigh the sad parts of your relationship – even your breakup.
9. You and your ex were really great together
Your relationship was far from perfect, but you were an awesome pair.
Now, you miss each other and still try to make each other feel that you still have a chance to work it out. If you know this as a fact, then that's one of the signs you and your ex will get back together.
10. You are both single
"We haven't dated anyone, and we are still friends. Should we get back together?"
This is an obvious sign that maybe; you are both just waiting for the right moment to get back together. If both of you are single, then give the relationship another chance.
Sometimes, being friends with your ex can give both of you a different perspective of how you should have handled the relationship.
11. You haven't returned each other's belongings
"We still haven't officially returned each other's stuff. It can wait, right?"
Subconsciously, you are just making a reason to still be together. It can also be an excuse to talk to each other in the future or just miss each other to just give your relationship another shot.
12. You feel incomplete without your ex
Realizing life without your ex is not that fun after all.
Sometimes, in a relationship, we go through a phase where we are just stressed, suffocated, and irritated. It happens – a lot. However, most couples would rather break up than try to fix the relationship, only to realize that it wasn't the right decision.
If the both of you start feeling incomplete without each other, then maybe, you should give your relationship a second chance.
13. You both believe in second chances
How do you know if your ex wants you back?
You would know if your ex wants you back if your ex tries their best to win you back – no matter what. If you both believe in giving second chances, then go for it!
Sometimes, we all make mistakes that can cause us to lose the person whom we truly love. Sometimes, all you need to do is have a heart-to-heart conversation to fix everything and get back together.
14. You are both mature now
Sometimes ex-lovers reconcile after many years of being apart.
Some say that it's because time heals, but experts say that when people are more mature, they can make their relationship work for the better. From how you handle stress and arguments to how you approach your partner improves when you mature.
If the both of you are more mature now and can talk about your past without blaming each other, then maybe, it's time to talk about getting back together.
15. You still love your ex
"Should I get back with my ex? We still love each other."
One of the obvious signs that you'll get back together is when you are still head-over-heels in love with each other. If you are in love, you are willing to work it out and start all over again.
If you want to do better with your second chance, then use your feelings for each other to be a better couple.
Conclusion
If you can relate to any of these signs, then, most likely, you already know the answer to the question, "Should I get back with my ex?"
Again, as a reminder, don't rush in making any decision. You've been through the heartache, and you don't want to experience that again. So, before you say yes, remember to assess the situation first.
It's ideal if you are more mature as a couple and are willing to work together for a better relationship. Don't just get back together. Instead, work as a couple to be better together.
Share this article on
Want to have a happier, healthier marriage?
If you feel disconnected or frustrated about the state of your marriage but want to avoid separation and/or divorce, the marriage.com course meant for married couples is an excellent resource to help you overcome the most challenging aspects of being married.
More On This Topic
You May Also Like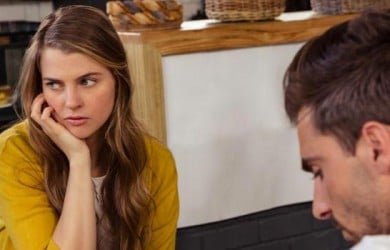 Popular Topics On Married Life