5 Signs Your Relationship is Making You Depressed
People fall in love. They enter into a relationship to be happy. While all partnerships have their ups and downs, there are cases where the "downs" are so much that they lead to relationship depression.
What is relationship depression? Why would some people fall victim to it? While romantic partnerships are supposed to be a source of strength and happiness, that is not always the case. Here is a list of warnings that you have relationship depression.
Depression in Relationship Symptoms
What does depression feel like?
How is my relationship making me depressed?
First off, not all relationships are toxic, and though there are times you want to scream at the top of your lungs because of your partner, it's all part of being in love.
Relationship depression is a whole different animal. It can cause severe trauma and ruin your life. While you find your partner eating the last piece of cake is annoying but ignore it, it might have long term effects on your mental health.
Here are some common signs that you are suffering from relationship depression.
1. You are having suicidal thoughts
It's common among manic depressives to have suicidal thoughts. But if yours only started since having a relationship or marriage, then your love life may be killing you.
People with suicidal thoughts are starting to give up on life. It is caused by a feeling of hopelessness and a lack of faith in future prospects. A relationship should be about raising a family, growing old together, and living happily ever after. If there's a disconnect between reality and the fairy tale love story, it could lead to suicidal thoughts and depression.
2. Your health declined
A lot of people would be happy to lose weight, but if you are losing a lot of weight without trying, it could either be a severe health issue or you are depressed in a relationship.
Rapid weight gain could also be a sign of deteriorating health. A lot of people binge eat when they are depressed in their relationship. Relationships are also found to have a direct influence on cardiovascular, endocrine, immune, neurosensory, and other physiological systems.
3. Escapism
Relationship depression could also activate a lot of defense mechanisms in the psyche to protect itself. Unfortunately, a lot of these defense mechanisms, such as substance abuse, can do more harm than good.
4. Partner Anxiety
Here is a list of partner anxiety examples.
You fear sex

You feel better when your partner is not around

You are afraid when they call your name

You can not relax when your partner is nearby

You dread the time when they are coming home

You get panic attacks when they raise their voice

Their mere presence is stressful
These are clear signs of a toxic relationship. Most of the time, depression in a relationship is caused by negativity from your partner. There are other reasons, such as the lack of money or in-laws, but when you feel partner anxiety, it means your partner is the source of your problems.
5. Lowered Self Esteem
The lack of self-esteem and depression are directly correlated. If you start to lose confidence after getting into a relationship, it could also be a toxic partner that leads to relationship depression.
While some people have low self esteem for various reasons, some only developed it to comply with their partner's demands. When it's the latter case, then it's a sign of a depressed relationship.
How to Deal with Depression in a Relationship
Depression and relationships are not usually correlated, but a lot of people do suffer from relationship depression. Ask yourself these simple questions, "Am I unhappy in my relationship or depressed?", "Is the relationship itself the cause of my unhappiness?"
The problem here is how honestly you can answer those questions. Denial is a powerful mental block and can prevent an individual from interpreting reality as it is.
It is a vicious circle, a challenge that most therapists face- breaking down the delusion that people build around themselves to protect their sanity. If the therapist does it too bluntly, it could result in more mental problems. The mind creates these delusions as a protective measure. However, without altering an individual's perception in-line with reality, it is impossible to get to the root of the problem, depression included.
Relationship depression with physical abuse is easy to spot. There are physical evidences that point to the source of the problem; there is also a legal framework that protects individuals for it. However, emotional and verbal abuse is different. It is a legal grey area, and opinions differ on what constitutes as emotional and verbal abuse.
If you are thinking about how to stop being depressed, the solution is to change the environment, your partner included. But it is never as simple as it sounds. A lot of partners feel trapped in their relationships because of the machinations created by the toxic partner. They can use coercion and hold other family members hostage. They could break down a person's self-worth to the point where they feel they could not survive in the outside world without them.
Relationship depression, like all forms of depression, can be mitigated with therapy and medication. Still, it is a stop-gap and not a permanent solution. While it is highly unlikely that the situation will change for the better if the problem is the partner, changing partners is a permanent solution. That is assuming they change partners for the better; some people dig their own holes, such as how codependents attract narcissistic partners.
Ending relationship depression means ending the relationship itself and finding happiness somewhere else, living alone with pets included. But most toxic relationships are complicated with interweaving traps and pitfalls such as money, children, and criminal threats. Each case is highly sensitive because there are toxic partners that respond with violence when their depressed partners attempt to leave.
Alan Robarge, Relationship Coach, and Psychotherapist discusses the art of ending relationships. According to him,
"When we contemplate how to end, we realize that there are a range of options available to us."
Check it out:
So how does one deal with relationship depression? The first step is to recognize it; and the second step is to reach out for help. It is not something the depressed individual can do alone.
Share this article on
Want to have a happier, healthier marriage?
If you feel disconnected or frustrated about the state of your marriage but want to avoid separation and/or divorce, the marriage.com course meant for married couples is an excellent resource to help you overcome the most challenging aspects of being married.
Learn More On This Topic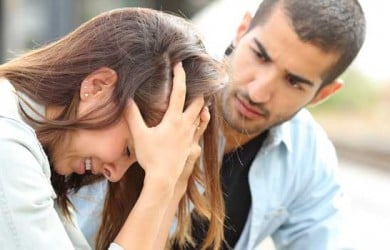 You May Also Like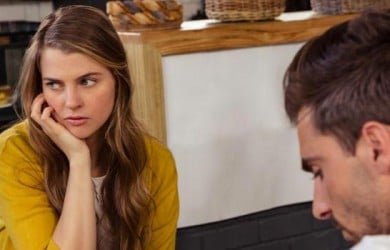 Popular Topics On Married Life