Marital Problems: My Husband Makes Me Depressed
Every time I hear this, or a variation of it, from someone. I do not judge and paint a negative picture of the husband right away. 7 out of 10 times, The wife is just overreacting to a slight disappointment.
So, before we delve into the messy and more sensitive issue of what a wife should do when her complain against her husband is that, "my husband makes me depressed." Let's first figure out first, if the wife is just overreacting.
So, I ask the most obvious question without malice.
Wife: My husband is making me depressed.
Me: Why?
You are just overreacting if…
Wife: He said, he will take me to [Insert Some Place here], but it's been years, and he never did.
Me: I understand the frustrations of broken promises, but if there are other priorities on his plate such as bringing home the bacon or trying to get a promotion to afford it. Then, just be patient.
As long as he is loyal, doing his best, and not spending his free time and money in the local red light district, Then it will come. Eventually. Maybe.
Do your part, take the high road of maturity, and be a loving wife when he is home.
Wife: He told me that he would spend all his days with me, Now, he is always at work. He comes home late and even works during holidays.
Me: Ok, there are two sides to this, either he is really working too much, or he is cheating on you. But I won't suggest the latter unless they do. The last thing we need is to give someone who is borderline depressed even more bad ideas.
Try to discuss it with your husband, Tell him to take care of his health and spend more time resting at home. Make him realize that working too hard will make him sick, and sick people don't work, and they also end up donating a lot of money to Doctor Quack Quack.
Try to bribe him to stay home. Drop your modern woman pride and learn traditional role servitude, such as cooking his favorite dish and all that. Come up with different excuses to get him to stay and talk about his job. Make sure it's all about keeping him healthy so he can continue doing his job.
Wife: He doesn't look at me the same way anymore, and when he is home, he is always hooked up with his phone playing games or simply surfing the internet.
Me: Try to understand his hobby and see if you like it. Most male hobbies are shallow but enjoyable. Who knows, you might like it, and your husband will talk to you a lot about it. Especially if it's about supporting a particular sports franchise.
If you still don't understand what's so exciting about 22 men kicking a ball around, then find something else interesting about it, instead of complaining that, 'my husband makes me depressed'.
I know this actual true story that the wife doesn't understand much about football, but loves watching it because Cristiano Ronaldo and Lionel Messi is hot.
Wife: We don't have sex as much as we used to.
Me: Try eating your favorite food every day for a week, see if you still like it. Too much of a good thing still gets boring. The answer to this is simple, Lose some weight, go to the salon, and look as young and fashionable as you can.
You're husband still loves you. Don't listen to all those crap about "he will accept you as you are bovine manure." He already does, you aren't divorced yet. But do your part and if you can do something to improve your sex appeal, then do it. Straight Men are simple creatures, Hot chicks are always appealing, no exceptions.
Those who say otherwise are either lying or a closet fruit.
Wife: He keeps forgetting important dates in the family (Such as Birthdays and Anniversaries)
Me: Yeah, some men are really like that. Luckily modern technology has a solution. If he still cares about you, which I'm assuming he does, he will let you enter all the dates you consider significant in his smartphone and notify him about it.
If you can look that far ahead, you can also slip in suggestions on what you and the kids want for that day.
You are not overreacting if…
Wife: He is cheating on me, I found amorous text messages in his mobile.
Me: This is bad, infidelity is inexcusable. It is never the victim's fault. If you hate your spouse enough to cheat, then break up.
Cheating is someone attempting to have their cake and eat it too. It is a malicious act of self-indulgence.
More often than not, when someone approaches me with this problem, they have yet to confront their husband of the problem, even if they have known it for a while.
I would suggest seeing a professional marriage counselor and lay all the cards on the table.
Wife: He verbally/physically/sexually abuses the kids and me.
Me: This is far more serious than cheating. Things escalate quickly when this happens. It also could result in irreversible psychological damage.
There are more than a few cases of death from physical abuse, but there are tons of dysfunctional adults with dilapidating mental problems from abusive spouses and parents.
Infidelity can be forgiven, and over time, wounds can heal, but the damage from abuse can last forever especially death. Most wives do not report incidents of domestic abuse in the hopes that their husband would change and things would get better, it never does.
The best case scenario for this is the husband changes, but the family will always live in fear of a relapse, the worse cases are unimaginable. It's a bad deal.
Thinking constantly about why my husband makes me depressed.
So, there you have it folks, other than two cases, that unfortunately happens more often than we would like in a civilized society, considering a lot of cases go on unreported.
I wouldn't say their concerns are trivial, but it is definitely within the range of hardships that people go through in life and relationships to survive.
This is where emotional quotient matters, they are just looking for glorified cheerleaders to justify their side. But there are people with weak mental fortitude and their depression is real. If confronted or ignored, they retreat further into their ego, and things will get worse.
So judge carefully, it's a problem that gets worse as time goes on, or if the person is at the brink of clinical depression, recommend that you see a professional.
Share this article on
Want to have a happier, healthier marriage?
If you feel disconnected or frustrated about the state of your marriage but want to avoid separation and/or divorce, the marriage.com course meant for married couples is an excellent resource to help you overcome the most challenging aspects of being married.
More On This Topic
You May Also Like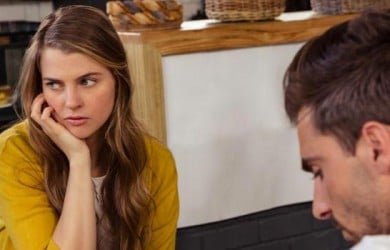 Popular Topics On Married Life