What Is A Promise Ring? Meaning and Reason Behind It
When people are in a serious dating relationship, one of the highlights is the attempts to prove their commitment and love to each other. In a bid to convince each other, some of them might decide to adopt the idea of using a promise ring.
This article explains everything that will help you understand what is a promise ring and how you can utilize it to strengthen your love.
In this book by Gary Smalley titled I Promise You Forever, you will learn five promises to create the marriage of your dreams.
What is a promise ring?
A promise ring is an agelong concept that modern couples have come to adopt.
A promise ring is a ring that couples give to each other with the promise of walking down the aisle. This ring is often a symbol of fidelity; it shows that they are dedicated to nurturing and protecting the relationship irrespective of the challenges.
What is the purpose of a promise ring?
The primary purpose of a promise ring is to signify love and commitment between two people in a romantic relationship. Beyond this, promise rings are also known to have other purposes. If you've asked questions like what is a promise ring, here are some answers that highlight its purpose.
1. It shows that you've taken
When you wear a promise ring, it may signify that you have a special person in your life that you're committed to. Therefore, when you look at the ring, you remember the promises made to each other, which spurs you to remain faithful to them.
Related Reading: 

Symbolism and Promise Around Wedding Ring Exchanges
2. It's a precursor before engagement in long-distance relationships
Another answer to the question, "What is a promise ring," highlights its purpose is that it serves as a placeholder before the engagement occurs.
For example, if you and your partner are about to be separated by distance for some time, the cute promise rings can be exchanged as a sign of promised faithfulness and love.
3. It serves as a reminder of your choices
Wearing a promise ring reminds you of some choices you made in your romantic relationship. The answer to the question, "What is a promise ring," could also signify a pre-engagement commitment that shows you and your partner care about each other while you prepare to get married.
Related Reading: 

How to Finance an Engagement Ring: 5 Ways
The history of promise rings
Regarding the answer to the question of what is a promise ring, its history is said to come in various versions. However, two versions stand out.
One of the versions of this history can be traced to ancient Rome several centuries ago, where these rings signified betrothal. It meant that the individuals intended to spend the rest of their lives together.
Usually, the husband will give the woman a ring as a vow of marriage until the wedding ceremony occurs. Later on, these promise rings stood as a symbol of romantic involvement. Over time, some people claimed that the promise rings for couples symbolize chastity.
There is another widespread belief that promise rings originated in England and were popularly called posy rings. This is because they were usually engraved with short romantic messages or poems.
Sometimes these rings had gemstones that spelled out words like love. Many centuries ago, only men gave out promise rings; however, in modern times, both parties have the opportunity to give this ring.
In this book by Don Lipper and Elizabeth Sagehorn titled The everything wedding vows book, you will learn how to personalize the most important promise you will ever make
What finger does the promise ring go on?
Concerning the question of what is a promise ring, some people may also ask for the finger that should hold the ring. It is essential to note that when it comes to unique promise rings, there is no clear-cut rule and what finger the promise ring should be.
It is up to the loving couples to decide where they want to fix their promise ring and what works for them.
What matters is the commitment that partners display towards each other, with the ring as an emblem of their special bond, thereby answering the question of what finger does a promise ring go on.
To learn more about rings in relationships, watch this video:
Some commonly asked questions
Here are the answers to some commonly asked questions regarding promise rings that can help clear any further doubts that you may have:
When should a promise ring be given?
A promise ring should be given when both parties have decided to be committed and loyal to each other. Partners can give each other promise rings as a thoughtful gesture of love and dedication.
What are the rules for promise rings?
When it comes to men promise rings, promise rings for women, and other types of promise rings, there are no clear-cut rules on how they should be worn. However, the fundamental idea behind a promise ring is that you express your long-term commitment to your partner.
The promise ring serves as a reminder that your heart belongs to someone else and you're not ready to compromise on that, which answers the question, what is a promise ring?
Final thoughts
After reading through this piece, you now have the answer to the question, "What is a promise ring?" If you have a partner whom you are considering getting married to, you can consider getting them a promise ring to show your commitment.
It is important to mention that a promise ring cannot substitute for an engagement or wedding ring. If you require more help in getting your relationship in the right direction, you can consider going for couples counseling.
In this book by Cala Gold titled Design Your Dream Wedding Rings, you will understand what it means to curate the perfect rings from engagement to Eternity.
Share this article on
Want to have a happier, healthier marriage?
If you feel disconnected or frustrated about the state of your marriage but want to avoid separation and/or divorce, the marriage.com course meant for married couples is an excellent resource to help you overcome the most challenging aspects of being married.
Learn More On This Topic
You May Also Like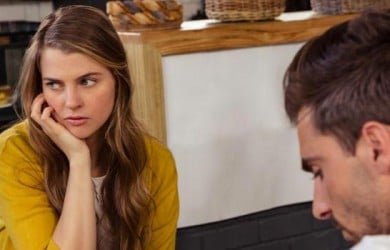 Popular Topics On Married Life