PMDD and Relationships: Support and Strategies for Couples
Every day is challenging for those experiencing PMDD, or Premenstrual Dysphoric Disorder.
Some may think an over-the-counter pill can resolve PMDD, but there is more to that than a simple rest-and-take-a-pill routine.
It's more complex than that.
People suffering from PMDD significantly impact a person's mental and emotional well-being.
Unfortunately, PMDD can also destroy relationships, causing pain, misunderstandings, and sometimes even breakup or divorce.
In this article, we will discuss PMDD and its impact on relationships.
We will also learn the importance of addressing PMDD and relationships and offer guidance on effective communication between partners.


What is the definition of PMDD?
Premenstrual Dysphoric Disorder also known as PMDD, is a severe form of PMS or what we know as premenstrual syndrome.
It is characterized by significant emotional and physical symptoms.
These symptoms typically manifest in the luteal phase of the menstrual cycle, usually in the week or two weeks before menstruation.
Individuals with PMDD experience symptoms that are more intense and disruptive than those associated with standard PMS.
If you know how painful PMS is, imagine a much more intense pain than that.
These symptoms often encompass severe mood swings, heightened irritability, anxiety, feeling overwhelmed, and a marked decrease in interest in daily activities.
Physical symptoms may include bloating, fatigue, changes in appetite, and sleep disturbances.
How does PMDD affect relationships?
You may have already heard of PMDD ruining my relationship, but how does this happen?
It's true. PMDD and relationships are connected.
The impact of PMDD on relationships can be profound and far-reaching.
The emotional turmoil and physical discomfort experienced during PMDD can strain relationships with partners, family members, and friends.
The heightened irritability, mood swings, and emotional sensitivity can make maintaining open and healthy communication challenging.
Partners may need help understanding the sudden and intense shifts in mood and behavior, leading to conflicts and misunderstandings.


Why is it important to address PMDD and relationships?
PMDD relationships are challenging, but it's not too late. Don't think that your love is a lost cause.
If you have PMDD relationship doubts or are facing challenges, the first thing to do is address and work on it.
Addressing PMDD within relationships is essential to foster understanding, empathy, and mutual support.
Ignoring or dismissing the effects of PMDD can exacerbate relationship strain and hinder overall well-being.
PMDD and relationships are connected. This is why it's vital to address PMDD and work together.
By acknowledging and addressing PMDD, individuals and their partners can work together to develop coping mechanisms, establish clear communication channels, and cultivate a nurturing environment.
This proactive approach helps minimize PMDD's impact on relationships and could even enhance the overall quality of life.
How do you communicate with your partner about PMDD?
Without open communication, PMDD destroys relationships. Effective communication is a cornerstone for managing PMDD within a relationship.
However, how do you start an open communication about PMDD and relationships?
1. Choose the right time and place
It's important to know that the timing and setting matter if you want to discuss PMDD and relationships.
Opt for a moment when both of you are calm and relaxed. A peaceful environment encourages a more attentive and receptive conversation. Avoid discussing this during heated arguments or stressful situations.
2. Be honest and expressive
Transparency is crucial when it comes to PMDD for partners. Share your feelings and experiences openly.
Articulate how PMDD affects you emotionally and physically. Help your partner grasp the extent of the challenges you face.
Honesty creates a foundation for empathy and support.


3. Educate your partner about PMDD
Knowledge is empowering. Educate your partner about PMDD, its symptoms, and how it impacts your life.
Provide reliable resources or suggest they do their research. Understanding the condition will enable your partner to offer informed support.
4. Encourage questions and active listening
Invite your partner to ask questions and express their thoughts. Encourage active listening, where they attentively absorb what you're saying.
To foster mutual understanding, it's essential to actively listen to the perspective and concerns of the other person through a two-way dialogue.
5. Establish a plan for support
Collaboration is critical to managing a PMDD relationship.
Work together to create a support plan. Discuss ways your partner can help during difficult times, such as giving you space or offering comforting gestures.
Establishing a supportive routine makes a significant difference.
Approaching the conversation about PMDD with patience and understanding will fortify your relationship.
Remember that it's open communication; with time, it can strengthen the bond between you and your partner.
Important self-care tips for people with PMDD
Imagining what PMDD feels like can already be too much for us.
Can you imagine having to deal with PMDD and relationships altogether?
Much like pregnancy mood swings ruining relationships, PMDD, without proper self-care, is as destructive.
This is why managing PMDD necessitates a holistic approach that includes self-care strategies to mitigate symptoms and enhance overall well-being.
Here are some essential self-care tips for individuals dealing with PMDD:
1. Maintain a consistent routine
Establishing a stable daily routine can help manage the emotional and physical fluctuations associated with PMDD.
Consistency in sleeping patterns, meal times, and exercise routines can contribute to a more stable mood and increased energy levels.
2. Prioritize stress reduction
Stress exacerbates PMDD symptoms; hence, adopting stress-reduction techniques is crucial.
Try to incorporate relaxation practices such as deep breathing, meditation, yoga, or engaging in hobbies you enjoy to alleviate stress and improve your overall mood.
3. Nourish your mind and body with a balanced diet
Adopting a balanced diet rich in fresh fruits, organic vegetables, whole grains, lean proteins, and healthy fats can aid in alleviating PMDD symptoms.
As much as possible, trying to limit caffeine, alcohol, and sugary foods may also positively impact your overall well-being.
4. Engage in regular physical activity
Regular exercise, such as jogging, brisk walking, or yoga, can significantly improve mood and reduce PMDD symptoms.
Physical activity helps release endorphins. These are natural mood enhancers contributing to well-being.
5. Seek professional support
If PMDD symptoms severely impact your life, seeking guidance from a licensed mental health professional, such as a therapist or counselor, can greatly provide valuable guidance and support for you and your partner.
These licensed professionals can assist you in developing coping strategies and navigating the challenges of PMDD.
PMDD and relationships can either be a way to strengthen your love or be the destruction of your partnership.
Use this opportunity to turn this trial into something you and your partner can work on.
Sometimes, when we're dealing with something, it makes us feel alone. Here are 10 actionable steps to boost your happiness and make new friends. This self-help tip is from licensed therapist Kati Morton:
Commonly asked questions
Now that you know the connection between PMDD and relationships, it's time to address some of the questions that we usually get about dealing with Premenstrual Dysphoric Disorder.
How can I support my partner who suffers from PMDD?
Supporting a partner with PMDD involves empathy, patience, and understanding.
It may not be easy initially, but it's not impossible, so don't feel discouraged.
Educate yourself about PMDD to comprehend the challenges your partner faces.
Be a good listener, validate their experiences, and offer emotional support. Please encourage your partner to seek professional help and actively participate in their self-care routines.
Can I live happily with PMDD?
Absolutely! PMDD and relationships can work together.
It's true that without proper management, PMDD can become a threat to the relationship, but finding happiness and leading a fulfilling life while managing PMDD is possible.
Implementing self-care strategies, seeking professional help, and fostering a supportive environment can significantly improve your well-being.
Remember, PMDD does not define you, and with the right approach, happiness is attainable.
How do I control my anger from PMDD?
If you are someone who experiences PMDD, it is crucial to take steps to manage it.
Controlling anger during PMDD involves recognizing triggers and developing healthy coping mechanisms.
Practice relaxation techniques, mindfulness, and deep breathing to manage anger and stay calm in difficult situations.
Communicate openly with your partner. Talk about your feelings, and consider professional counseling to work through intense emotions.
How can I eat a healthy diet during PMDD?
Maintaining a healthy diet during PMDD involves consuming a well-balanced mix of nutritious foods. Focus on whole grains, lean proteins, fruits, vegetables, and healthy fats.
Reduce intake of caffeine, sugary foods, and alcohol, as they can exacerbate PMDD symptoms.
Don't forget to stay hydrated and listen to your body's needs. A healthy lifestyle can help you manage PMDD and its symptoms.
How can I exercise during PMDD?
PMDD and relationships are connected, so find ways to manage PMDD and its symptoms. Regular exercise can be beneficial in managing PMDD symptoms.
If you can, use free time and moderate-intensity exercises like walking, swimming, or yoga. Listen to your body and choose activities that make you feel good.
Exercise helps reduce stress, improve mood, and alleviate physical discomfort associated with PMDD.
All you need is right approach and treatment
In conclusion, understanding PMDD and relationships is crucial for individuals and their partnerships.
By fostering open communication, incorporating self-care strategies, and seeking professional support when needed, it's possible to navigate PMDD and maintain a fulfilling life.
PMDD is not the end of your relationship. It may be a challenge, but it's something that you can work on together.
Empathy, patience, and a proactive approach can make a significant difference in managing PMDD effectively.
Conquer PMDD and have a stronger relationship.
Share this article on
Want to have a happier, healthier marriage?
If you feel disconnected or frustrated about the state of your marriage but want to avoid separation and/or divorce, the marriage.com course meant for married couples is an excellent resource to help you overcome the most challenging aspects of being married.
You May Also Like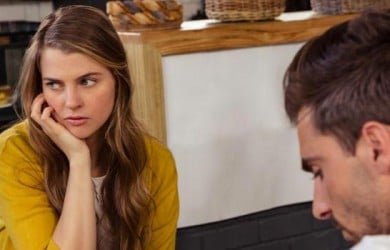 Popular Topics On Married Life