4 Signs of Platonic Love and Relationships
Have you ever felt a connection with someone that goes beyond friendship but doesn't cross sexual boundaries? A connection that is deep, meaningful, and unbreakable, but there are no romantic feelings?
If yes, then you may have experienced the wonder of platonic love.
But what does platonic love mean, and how does it differ from romantic love? Join us as we explore the depths of this unique and boundless connection that some consider divine.
What is platonic love?
If you've ever wondered, "what does platonic mean," the answer might not be what you expected.
If it hasn't clicked yet, the term "platonic love" originates from the eminent Greek philosopher Plato. Among the first idealists, Plato wrote extensively on the different types of love.
Particularly, in his text "Symposium," Plato describes ideal love as ascending from mere physical attraction to the love of beauty and goodness. For him, the highest form of love was something beyond physical and sexual attraction— something spiritual and divine.
The thought of separating love and sex (or romance) may seem ridiculous, but Plato believed that this form of love is the closest human beings can come to experiencing the divine.
Thus, "platonic love" describes a relationship based on a deep friendship and intellectual connection rather than physical attraction or romantic feelings. In a platonic relationship, sexual desire or romantic features are either non-existent or have been suppressed. Yet, it's something more than simple friendship.
Platonic love in different cultures in societies
In ancient Greece, platonic love definition was seen as a form of love that was divine and spiritual. Interestingly, similar concepts existed in other cultures and societies as well.
In Chinese culture and philosophy, for example, the concept of Qing can refer to non-romantic and non-sexual love. The Chinese word "qing" is comparable to the English word "dear."
Similarly, the Hindu concept of Sakhya Bhava refers to the mood or sentiment of friendship with Lord Vishnu or Lord Krishna.
Some cultures see platonic love as a spiritual and divine form of love, while others consider it a normal relationship between friends or family members.
Maybe this form of love isn't necessarily better than romantic love, as Plato suggested. But it's certainly not lesser.
4 causes of platonic love
In essence, platonic love is a kind of love that values something other than romantic feelings or physical and sexual attraction. Also known as non-romantic love, a platonic connection is a unique and powerful bond. But what causes this special kind of love to bloom?
The roots of this love are deep, resilient, and wide-spreading. Let's explore the various factors that can lead to the formation of platonic bonds.
Keep in mind that just because you experience these things doesn't automatically mean you platonically love them. For example, friends or colleagues may experience some of these factors, but a platonic relationship's meaning is something beyond friendship or a workplace relationship.
1. Shared interests and activities
When two people have a common goal or passion, they are more likely to form a strong bond. This bond is based on mutual understanding, interests, and support.
Imagine two colleagues working on a project together. The long hours, the stress, the triumphs, and the failures are perfect for brewing a special bond beyond the relationship between two coworkers.
2. Emotional support and trust
We all need a lending ear or a shoulder to cry on from time to time. Sometimes, we're lucky enough to find someone who understands us and accepts us for who we are, even in our worst moments. Not only that, but we want to reciprocate that kindness and become their confidant too.
When two individuals can confide in and rely on each other without fear of judgment, it's a solid foundation for platonic romance.
3. Effective communication
Clear and effective communication is the backbone of any healthy relationship, and platonic love is no exception. When two people can communicate openly and honestly, they value and respect each other.
Hence, they are more likely to form a strong bond based on mutual understanding and respect.
4. Absence of romantic or sexual attraction
This one might sound like a broken record, but it's worth reiterating: having a platonic friend isn't based on romantic or sexual desire.
That's not to say that no sexual or romantic attraction can pop up from time to time. For example, a night out when your platonic more-than-friend looks incredibly gorgeous.
But you never act on these thoughts. After all, you can appreciate beauty without wanting to take it to bed or make it breakfast the following day.
4 differences in platonic love vs romantic love
Picture a rainbow, with all the colors blending harmoniously together. But each color on that spectrum is still distinct and unique.
Romantic vs platonic love is like the different hues of that rainbow; they can coexist and complement each other, but they are fundamentally different. They each have their virtues and qualities.
1. Nature of the relationship
Platonic relationships are characterized by deep friendship and intellectual connection and may involve shared interests, emotional support, and trust. On the other hand, romantic and sexual relationships involve physical intimacy, emotional connection, and commitment.
Related Reading: 

15 Signs of a Superficial Relationship
2. Communication
In platonic relationships, communication is often focused on sharing thoughts, ideas, and experiences. In romantic and sexual relationships, communication may further include expressing deep feelings and making plans for the future.
3. Expectations
Platonic relationships are often more relaxed and less formal than romantic and sexual relationships. The latter usually involves expectations of exclusivity, prioritization, commitment, and long-term plans.
Related Reading: 

5 Glaring Facts About Expectations in a Relationship
4. Boundaries
Platonic relationships usually involve less defined boundaries. On the other hand, romantic and sexual relationships typically involve more defined boundaries, like not dating or being physically intimate with other people. If setting boundaries is difficult for you, relationship counseling can help.
To summarize, platonic or non-romantic love is a deep bond based on intellectual connection and shared interests. On the other hand, romantic love paints a picture of attraction, passion, and intimacy.
Both are beautiful in their way and can bring joy, understanding, and support to our lives.
4 signs your relationship is platonic
If you are confused about whether your love for someone is platonic or not, look out for certain signs. Here are some tell-tale signs of platonic love:
1. Less than lovers, more than friends
Imagine a relationship built purely on shared interests, mutual respect, and deep understanding. The connection is strong, and the bond is unbreakable. But there's no flutter in the stomach, no butterflies, no stolen or longing glances.
This is the essence of platonic love. It is a deep connection rooted in friendship and affection, not sexual or romantic attraction.
Hence, the individuals involved can interact and engage with each other without the added pressure and expectations of romantic and sexual relationships. Moreover, a platonic relationship is free from jealousy, possessiveness, and insecurity that can sometimes rear their head in romantic relationships.
2. Mutual understanding, trust and support
When building a strong and lasting platonic relationship, mutual understanding, trust, and support are the pillars that hold it together.
Mutual understanding is the cornerstone of any strong relationship, and platonic love is no different. It means that both people understand and respect, if not accept, each other's perspectives, opinions, and feelings. It means they can share their thoughts, ideas, and experiences without reservations.
Trust is the glue that holds a platonic relationship together. It means that both people have confidence in each other's integrity, reliability, and character. Moreover, they can confide in each other without the fear of being betrayed or exposed.
Lastly, support is the wind beneath the wings of platonic relationships. People in platonic relationships help each other navigate through difficult times and celebrate each other's victories.
3. Shared interests and experiences
Shared interests and experiences are the building blocks of platonic love. They provide a common ground, a topic of conversation, and shared journeys. They also ignite a shared goal or passion, which motivates the involved individuals to work together and achieve them.
When individuals have shared interests or experiences, they are more comfortable being around each other without fearing judgment or rejection. Hence, they make each other feel accepted and as if they belong.
Related Reading: 

How Important Are Common Interests in a Relationship?
4. Open and effective communication
Open, clear, and effective communication forms the basis of any strong relationship, but it's easier to achieve in platonic relationships.
The absence of pressure or expectations in platonic relationships allows individuals to be more comfortable and honest about their thoughts and feelings. There are no hidden agendas or unspoken expectations so that the individuals can express their needs and boundaries clearly and honestly.
Watch this video to learn more about setting boundaries:
Some commonly asked questions
Here are some of the most frequently asked questions about platonic love.
How do I know that I platonically love someone?
Platonic love refers to a relationship that is more than friends but less than lovers. Some signs that you may be in platonic love include:
An absence of sexual attraction and romantic feelings

Shared interests and activities

Emotional support and trust

Clear communication
Do I need platonic love in my life?
Platonic love provides emotional support, companionship, and a sense of security, happiness, and fulfillment. It can also serve as a source of inspiration, encouragement, and guidance.
What happens if a platonic love turns romantic?
Platonic love can turn into romantic love, and strong romantic relationships have the characteristics of platonic love. However, it's not always necessary that platonic love turns into romantic love, nor does it need to be "more valid."
Final takeaway
Platonic love can be just as powerful and meaningful as romantic love, providing emotional support, intellectual stimulation, and a sense of belonging.
Remember that platonic love can have some elements of romantic or physical attraction and vice versa. However, the two are ultimately different. The most important distinction is the lack of romantic feelings and sexual desire.
Though not as intense or passionate as romantic love, a platonic bond can last a lifetime.
Share this article on
Want to have a happier, healthier marriage?
If you feel disconnected or frustrated about the state of your marriage but want to avoid separation and/or divorce, the marriage.com course meant for married couples is an excellent resource to help you overcome the most challenging aspects of being married.
Learn More On This Topic
You May Also Like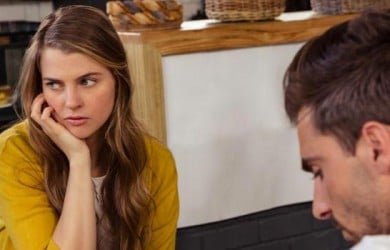 Popular Topics On Married Life