How to Be a Marriage Material?
You're ready to settle down and you just know it.
You just wake up one day and you realize you're not getting any younger, that you want to start a family of your own; your heart longs for a child and a family to go home to and you know in your soul that you're ready to get married. Before we begin another chapter of our lives, we have to ask ourselves first, "Am I marriage material?"
Signs that you are marriage material
Daydreaming about being the Mrs? Are you seeing yourself shopping for baby clothes? It's a whole different level of excitement when you realize that you're ready to settle down when you know that your partner is "the one" and you just know that this is it.
Before making plans on tying the knot, have you asked yourself, "are you marriage material?" and what are the signs that you're really ready to get married and have a family?
Of course, we don't want to rush into things that we aren't even sure of so it's better to really check if you are 100% sure that you're ready to get married and have a family. Here's the checklist to know if you are marriage material.
You're emotionally available to commit
You know when you are ready when you are emotionally ready to commit. This may be one of the most important factors to consider before getting married. No marriage will be successful if you are not emotionally ready. Marriage is not a joke and if you aren't emotionally ready, you might not last a year into marriage.
Matured way of handling conflict
There will always be arguments and conflicts within a marriage because there's no such thing as a perfect marriage. What makes marriages work is how you and your spouse handle your conflicts and differences and how you make things work out for the better.
Financially stable
One practical way on how to be marriage material is whether you are financially stable.
Gone are the days where the man is the only one who will provide for the family. Being ready to tie the knot also must mean that you are financially stable to get married and have children. Let's face it; having a family requires a stable source of income.
A great companion
You're marriage material when you are a great companion. Who wants to have a boring spouse? If you can be with each other for hours and days without getting bored then you're a keeper!
Sexually compatible
Let's face it, reality is – sexual compatibility is very important in marriage. You can't last long with someone who can't meet your sexual needs. It's a part of your married life and you shouldn't feel ashamed to consider this as part of your checklist.
Able to compromise and cooperate
You're definitely ready to tie the knot once you are able to compromise and cooperate. It is when you can love unselfishly and can put the needs of your family first before your own.
You're willing to sacrifice
Marriage will require you to work with another person, this means that there will be times where you will have disagreements and this may require the both of you to sacrifice something or at least meet half-way. Are you willing to sacrifice something important to you if it means being the best decision for your future family?
Ready to have children
Ultimately, what makes a woman marriage material is when she is ready to have kids and is confident that she can dedicate her life to them. It's easy to have children but being a dedicated mother is another thing to consider.
What makes a woman marriage material?
When you want to settle down but deep down you still think that you are not marriage material, maybe it's time to do little changes that will make your man sees that you are "the one" he needs.
A woman, just like a flower blooms when the time is right
You will realize in time when you are ready to stop being just the girlfriend and start showing that you are also a wife material, here are some tips on how you can prove that you're marriage material.
Show that you can agree on complete transparency
To be marriage material, show that you can agree on complete transparency. In marriage, it's important to feel comfortable doing this as it sets an example to your partner to be as transparent as you.
Someone who is ready to tie the knot is also ready to grow alongside his or her spouse. It's no longer just "you"; it's all about two people growing wise and matured together.
Show your partner that you are willing to talk things through. That instead of blaming each other whenever there's conflict, you'd rather want to talk and compromise.
Being marriage material also means that you can set aside your personal needs to meet the needs of your future family.
Let go of petty issues and jealousy
Once you have learned to let go of petty issues and jealousy, when you are able to respect your partner's privacy is a big leap into being wife material. This will greatly help you in having a harmonious married life.
What makes a woman marriage material isn't just age, rather it's all about being mature. When night outs are no longer as exciting as they use to be when flirting doesn't seem to ignite your senses anymore. It's when you realize that you are in the right age to settle down and start prioritizing different goals.
Marriage is a work in progress
Before asking yourself "am I marriage material?" you must first understand that everything about marriage is a work in progress. You and your partner might not mature at the same time, this may cause relationships to fail. It's important that both of you be ready to get married.
It's not just you who should be marriage material but the both of you. This way, you will be able to finally say that your relationship is ready to take on the next challenge of getting married.
Share this article on
Want to have a happier, healthier marriage?
If you feel disconnected or frustrated about the state of your marriage but want to avoid separation and/or divorce, the marriage.com course meant for married couples is an excellent resource to help you overcome the most challenging aspects of being married.
Learn More On This Topic
You May Also Like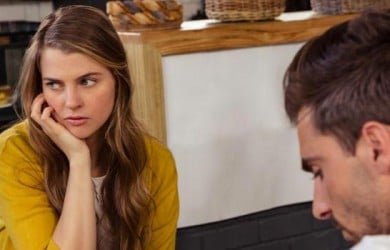 Popular Topics On Married Life