Marriage and Its Emotional Influence – How an Unhappy Marriage Affects You
"Marriages are believed to be made in heaven."
Everyone dreams about their ultimate perfect life partner, with whom they want to live happily ever after. But sadly, this fairy tale is rarely seen in real life. Most of the married couples soon find out that marriage is not a bed of roses. It has its conflicts, anger, happiness, and contentment.
How you balance these will decide the fate of the marriage.
Our fast-moving world in which we all are running at hectic pace, patience and forbearance are virtues not easily found in modern marriages.
So, the majority of the marriages if not ending in divorce, are just a compromise with no attachments.
Still, there are those who, due to any reason, do not opt to separate or divorce out of an unhappy marriage. Reasons might be children, financial support or just some figment of attachment that you feel that gives you a reason to stay in an unhappy marriage. But such marriages leave both partners unsatisfied and unhappy.
In this article, we will be touching the emotional effects of marriage and the turmoil faced by the partners locked in an unhappy marriage.
The emotional impact of an unhappy marriage
Usually, the emotional impact of unhappy marriages is far severe than the physical one.
Greater risk for depression
Unhappy marriage means that special bond between the partners has been severed. The support and trust that built the marriage, has been destroyed.
This leads to a feeling of loneliness and failure, which with time turns into depression.
The feeling of anger aggravates
Anger and rage are one of the dominant emotional outlets of an unhappy marriage.
That perfect marriage that was once there, the factors that destroyed it, now the everlasting blame game, all add fuel to the pent-up rage.
Thus, ever so often that anger bursts through even without any obvious stimulus.
General feelings of anxiety
Unhappy marriage leaves you on unstable shaky grounds.
There is no contentment, just apprehension. Feelings of anxiety and dread increase, as you venture into a future which has no stability and hope.
Everything is optimistic and goes well in a happy marriage. Both partners compliment each other.
An unhappy marriage brings doubt, anger, and frustration into the marriage. Ever increasing emotional stress, acts like a trigger, oscillating between calm and despair.
These mood swings are quite common and their frequency can increase with each passing day.
Mood swings can be very notorious. Their emotional impact can generate an angry outburst from you over nothing or drown you in an emotionless state, unresponsive to any stimulant situation.
Impatient behavior with oneself and others
When you are emotionally disturbed, it will definitely reflect on your behavior towards yourself and others.
Unhappy marriages, apart from other emotional stresses, bring agitation and impatience in your behavior. The calmness to deal with people, situations and even yourself, seems very difficult or even impossible.
To understand the rationale of a situation becomes beyond your comprehension. This leads to abrupt impatient behavior very commonly seen towards others and yourself.
A decrease in attention span
Calm content life with a stable marriage gives patients and the ability to concentrate and focus on people and your surroundings.
An unhappy marriage already has your mind preoccupied with your own sufferings. It becomes difficult to come out of that unhappy haze and focus on life around you. So, with time you find it very hard to pay attention for long, to what is happening around you.
Unhappiness has shown to cause memory problems. Lapses in memory, confusion and forgetfulness are not uncommon.
Emotional stress can overburden the mind so much that even remembering daily chores becomes impossible. These memory lapses can further trigger the other emotional factors that we have discussed above.
Risk of mental illnesses increases
A mind is a very powerful organ, with its positive and negative side.
Unhappiness, anger, loneliness, and depression closely associated with unhappy marriage can trigger the negativity of this organ. The extreme progression of these emotions can culminate into mental illness.
Risk of Developing Dementia and Alzheimer's Disease is Increased
Unhappy marriages have shown that emotional setbacks have led to an increased risk of developing conditions like dementia and Alzheimer's disease.
Thinking and decision making becomes difficult
Unhappy marriage destroys you emotionally. That means your cognitive functioning becomes impaired.
Unstable emotional state takes away your power to think and decide clearly. This effect can destroy your life as you continuously keep on taking the wrong steps and making the wrong decisions concerning your life.
An unhappy marriage can have a very scary impact on you. Many opt for soothing activities like smoking, drug use, alcohol, gambling, etc. But all these only aggravate the emotional stress factors further. We hope this write-up will be helpful for you in understanding the emotional impact of an unhappy marriage enabling you to start changing things for the better.
Share this article on
Want to have a happier, healthier marriage?
If you feel disconnected or frustrated about the state of your marriage but want to avoid separation and/or divorce, the marriage.com course meant for married couples is an excellent resource to help you overcome the most challenging aspects of being married.
More On This Topic
You May Also Like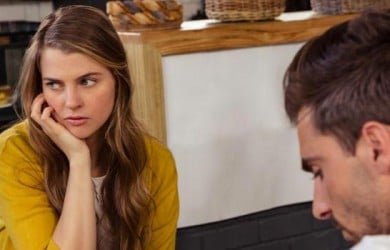 Popular Topics On Married Life