Is He Trying to Make Me Jealous? 15 Possible Signs
Being in love is so beautiful, but with those butterflies in your stomach, you may also experience mixed emotions.
Jealousy is one of the most common emotions we feel when in love. It's normal to feel jealousy because it's human nature.
However, if too much, jealousy could be annoying and even toxic. No one wants to be with someone who always tries to second guess what they are trying to say.
"Is he trying to make me jealous, or maybe he doesn't love me anymore?"
We've compiled a comprehensive guide that will help you figure out if a man is trying to make you jealous or not.
Is he trying to make me jealous? What does it mean?
Love and the feeling of being in love can become complicated when we try to do things the hard way instead of just communicating with each other.
It's true. Some men don't enjoy talking or are uncomfortable opening up about their feelings. Guys would rather get your attention through actions that they think would work.
"If he tries to make me jealous, what does that mean?"
This is a good question. There could be many reasons a man would choose to make you jealous rather than sit down and open up.
Some guys think that seeing you jealous also means you have the same feelings for him. It's also a way for him to get the attention he wants from you.
Immaturity is also an enormous factor in why he would go to great lengths just to see you jealous. It could also be one of the signs he's jealous, so he's trying to make you feel the same way.
15 possible signs your man is trying to make you jealous
"Now, I know why is he trying to make me jealous, but what are the signs to watch out for?"
Since you already know the reasons, you also want to know the different signs that he's already doing it. It might surprise you how much effort some guys will put in just to see you fuming with jealousy.
1. He suddenly starts to talk about others, a lot
"He is trying to make me jealous as he talks about other girls with me and then pays attention to my reaction."
He could say that he was up all night talking to a friend who is a possible competition. Or that he met someone new at work today.
A man who suddenly talks about women a lot, may it be true or not is just trying to see if he could use this to make you jealous.
This is one way he's trying to see if your mood changes. If you do, then he could confirm your jealousy.
Related Reading: 

How to Talk to Your Crush and Make Them Like You Back
2. He brags about his success
Did you just notice how he talked about all of his travel experiences? How about all his school achievements and now, even at work?
Maybe he's bragging about that new car he just bought or how he could afford a condo unit at an early age.
Whatever type of achievements he has, he's making sure that people know about it and he's not shy about bragging.
Aside from getting the attention he wants, he also wants to check if you'd be affected by all his achievements.
If he gets your attention and you get affected, then it's a win-win situation for him.
3. He starts flirting
"He's flirting even when I'm with him! Is he trying to make me jealous, or is he playing me?"
Remember that a player will flirt with other girls behind your back. Like a thief in the night, he's secretive and quiet and will deny all the evidence you have about him flirting.
It's the total opposite when he wants to make you jealous. To make you feel jealous, he'd show how he flirts with other women in front of you.
This is because his goal isn't to get another girl but to see how you get angry and jealous.
Related Reading: 

15 Ways to Tell if a Guy Is Flirting or Just Being Friendly
4. He starts talking about his exes
An old fling is back in town, or maybe just the thought of it.
You may start noticing him talking about an ex who lives nearby. He could say that they've accidentally met and since they're friends, they could hang out.
He's really not asking for your approval, and maybe that scenario isn't even going to happen. The primary goal is to see if you'd get angry at the thought of him seeing and being close to an ex-girlfriend.
5. He becomes distant
"Now, he's being distant with me. I don't know if this is one of the signs he is trying to make me jealous or if he's no longer in love with me. "
It's true. It could be heartbreaking to be involved in a game where someone who should love you will pretend not to care to see if you'd break down.
His goal is to make you show your jealousy that there's someone else, and she is the reason he's being distant. For some, this could happen when his attention diminishes and you feel the distance between you.
Related Reading: 

15 Reasons Why Guys Act Distant When They Like You
6. He would go out with his friends without you
Has he been trying to make you jealous by going out with friends more than he's spending time with you?
If you feel like he changed and started being too socially involved with his friends and going out, there's a chance he's trying to make you jealous.
Another way to tell is he would press you with questions about his behavior just to see if you'd give up and admit that you are jealous.
7. He becomes super busy
Aside from being distant, he may become too busy even to see you. He could try to do this if the other tactics didn't work. After all, some women get jealous not of other girls but of the time and presence of their partners.
If a guy tries to make you jealous using this tactic, then he's hoping for you to ask him to spend more time with you or even go out of your way and investigate if he's busy or not.
Either way, he just wants to see how this tactic will affect you.
Related Reading: 

9 Modern Romance Ideas for Busy Couples
8. Generous with other women
"He tries to make me jealous by buying her drinks, even if I'm there."
There's a big difference between trying to make you jealous and being a player. Again, like flirting, a player will never show this in front of you.
A player will show you that you're the only one. However, a man who wants to make you jealous would use this bold move when he sees that you're not the jealous type of woman.
Maybe you'd be fuming with anger and jealousy if he bought another person a drink.
9. He asks triggering questions
Another way he could try to make you jealous is to try to ruin your mood by asking trigger questions.
"What if you found out I still have feelings for my ex? What would you do?"
These types of questions aim to trigger a response of jealousy, and he's hoping that you would.
10. He compliments other girls when you're there
"Is he trying to make me jealous by complimenting other people, or is it because he's insensitive?"
You're together and he's leaving gracious comments about how beautiful, how cute girls are. This is another way he's trying to get your attention.
If he's watching your reaction, he likely only wants you to feel intense jealousy. Of course, for some men, women hate it when they compliment other women.
Related Reading: 

30 Compliments for Men That They Love to Hear More Often
Watch this video to learn more about the power of compliments:
11. He shows you that many women like him
Also, a sign of bragging and hoping you'll get affected is when he talks about how women swoon over him.
He may talk about the many instances where women would flirt with him and give him a motive.
Of course, he will say you're present to see if your mood changes.
Related Reading: 

30 Things That Women Like to Hear
12. He becomes happy when you show signs of jealousy
Here's another way to tell if a guy is trying to make you jealous. Did you notice a smile on his face? Is he paying attention when you finally get affected and show the slightest sign of jealousy?
He wins if your mood changes or you get angry and jealous. In these cases, you'll see his mood change. You'll notice that little victory smile on his face.
13. He's super busy with his phone and laughs a lot
When you're together but he's always looking at his phone, waiting for a chat and he also smiles and giggles a lot. Maybe he's chatting and flirting with another woman and wants to see if you'll grab that phone and get angry.
He's waiting and observing you to see if you'll show any signs that you're getting jealous because of this behavior.
14. Using his friends to make you jealous
"I think he's using his friends. Is he trying to make me jealous by making them tell me things?"
That's usually the case here. Most men and their peers may have the same mindset and will go to great lengths to see some results. They are also very patient.
His friends would be the perfect medium to relay a message to you. They might tell you he's flirting with another girl or that another girl is desperately trying to get him.
They might also watch how you react.
15. Does it more when he sees that you are affected
Unfortunately, it doesn't stop there when you've finally shown jealousy. Getting the satisfaction of feeding their ego would be too exciting, so they would do more of what ticks you.
The satisfaction can be addictive to the point where they forget boundaries, respect, and love. They would focus on seeing how they could trigger you.
Related Reading: 

Negative Experiences of the Past can Affect Your Relationship
Some commonly asked questions
Jealousy has various aspects to it and some people try to use it to unsettle their partners. Learn more about it here with some common questions that arise pertaining to this.
Why would a man want to make you jealous?
"Okay, is he trying to make me jealous using these techniques? Aren't these red flags?"
Throughout this article, you may have realized that these signs all point to immaturity and some even red flag signs.
Why would a man want to make you jealous? What's his purpose?
Immaturity can trigger this mindset, where a person would go to great lengths to make you jealous for him to have validation, assurance, and satisfaction for his ego.
Mature love isn't supposed to be like this. Relationship counseling could help couples address issues like this.
In the therapy, the couple would understand how mature love works and how using these tactics could bring more harm than good.
How can you tell if a guy is jealous in your relationship?
Guys, too, get jealous in your relationship. Though, they might show it in different ways. Most men aren't vocal when jealous, but you'll know.
Here are just some of the signs he's jealous.
He stops calling or texting

He ignores you when you're together

He flirts with another girl

He stops by unexpectedly

He starts spying
Final takeaway
"Is he trying to make me jealous?"
We all experience jealousy but might show it in different ways. If a man is trying to make you jealous, this may be his immature way of asking for validation and attention.
Unfortunately, these methods aren't healthy and might even cause the two of you to drift apart. Immaturity also plays a big role in these types of methods.
Talk to each other or seek professional help to help you properly express jealousy and other emotions.
If you think it has gone too far or is already considered a red flag, don't stay in a toxic relationship. You can always choose to protect your peace of mind.
Share this article on
Want to have a happier, healthier marriage?
If you feel disconnected or frustrated about the state of your marriage but want to avoid separation and/or divorce, the marriage.com course meant for married couples is an excellent resource to help you overcome the most challenging aspects of being married.
More On This Topic
You May Also Like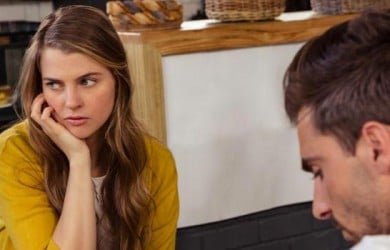 Popular Topics On Married Life